How To Get A Discount On Airbnb
Airbnb used to have a referral program that allowed up to $51 off to someone who used a referral link to sign up. 
As of Oct 1, 2020 the referral program is no longer open. That means there are no more sign up discounts. And if you still happen to come across the referral discounts and links that bloggers were pushing so hard, now you know that they are no longer valid. 
But that doesn't mean you can't find good deals on Airbnb anymore. 
Finding a discount on an Airbnb isn't always easy, but it's always worth it.
What Airbnb Says About Discounts
Airbnb has a special promotions page for hosts called Promotions You Can Apply.
It explains all the discounts that the host can apply and it allows us (guests) to understand what options we have if we want to book an Airbnb cheaper. 
Let's dive into all of them.
Length-Of-Stay Discounts
These are weekly, monthly and custom timeframe discounts.
Monthly discount example: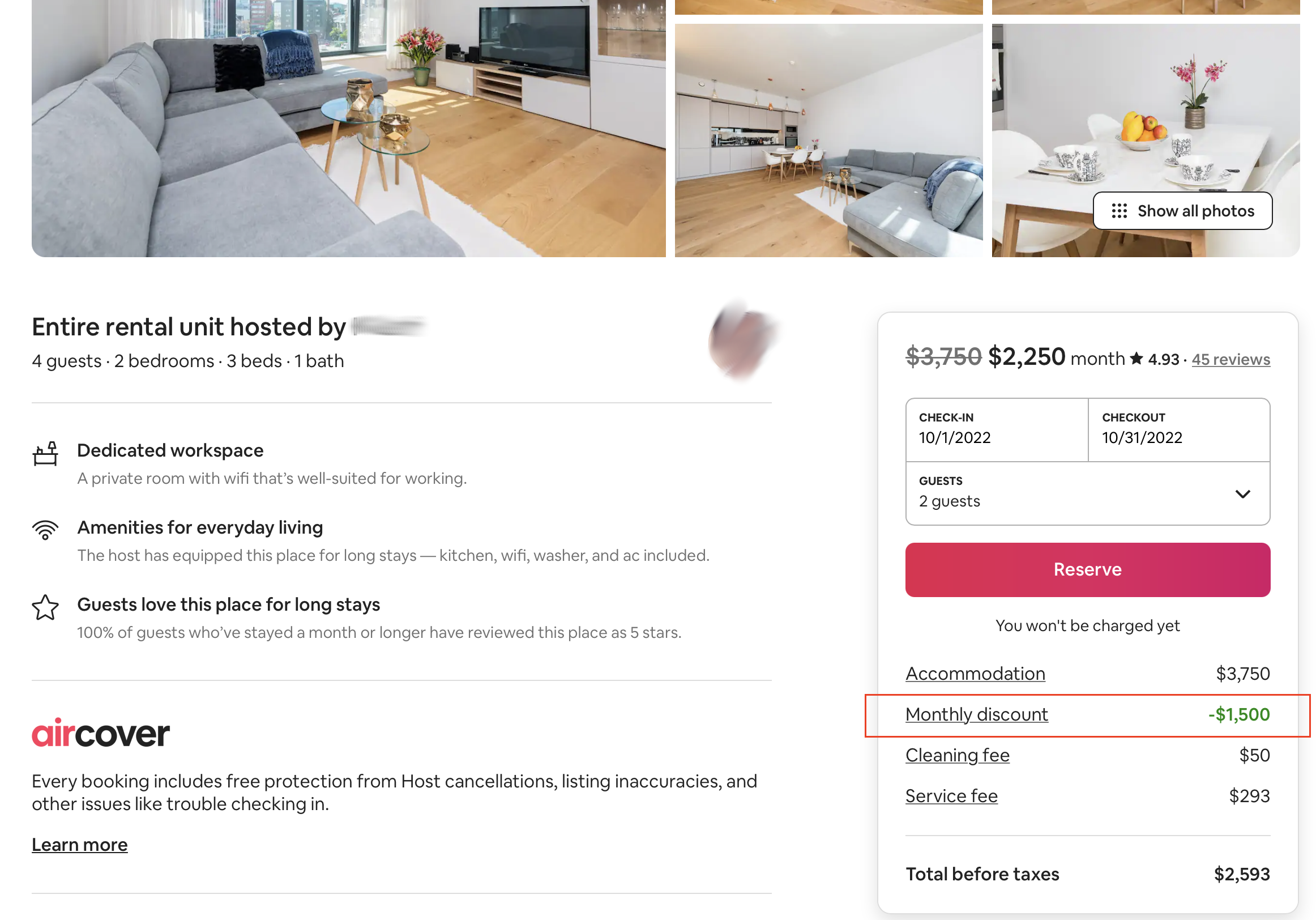 Weekly discount example: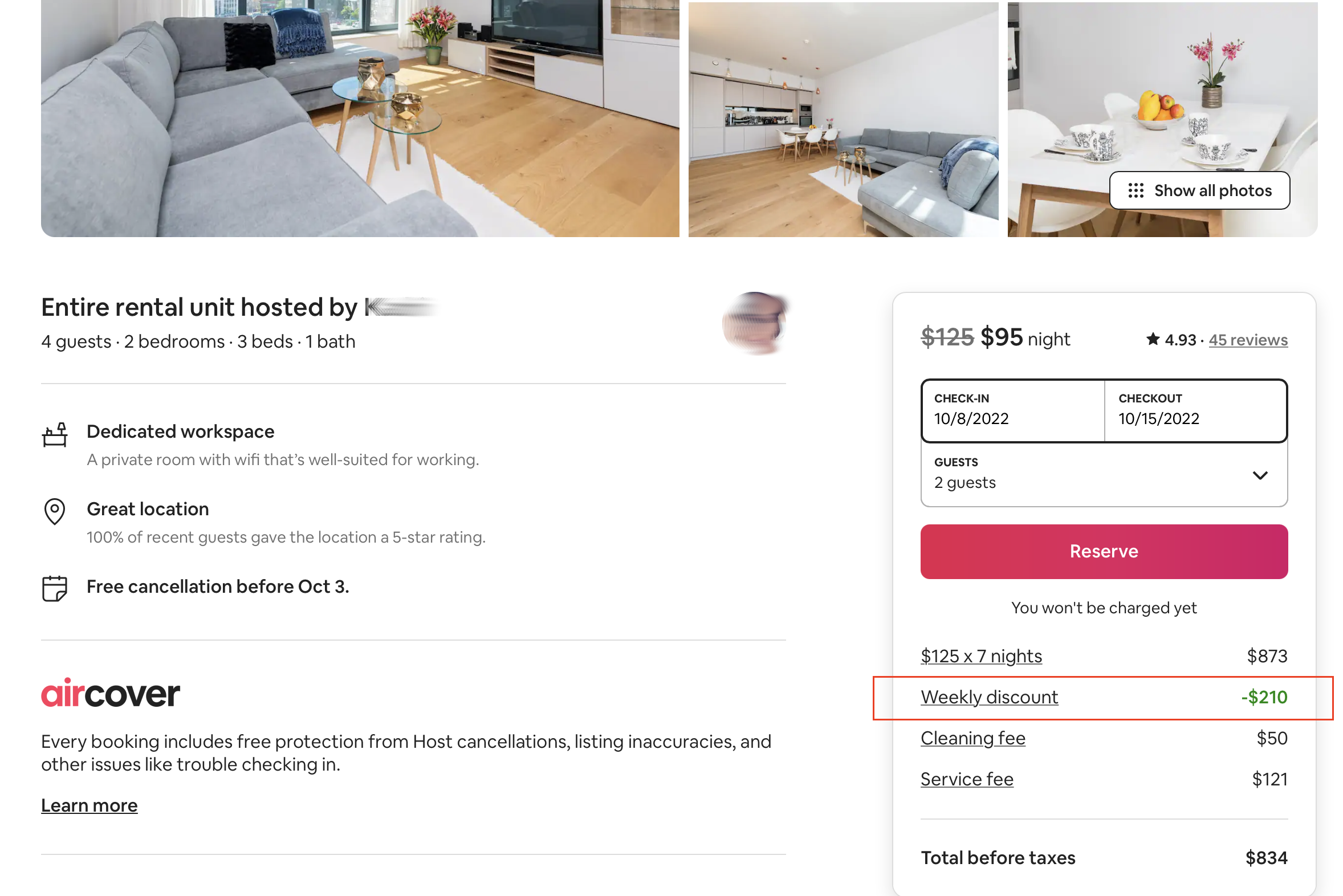 Custom timeframe discount example: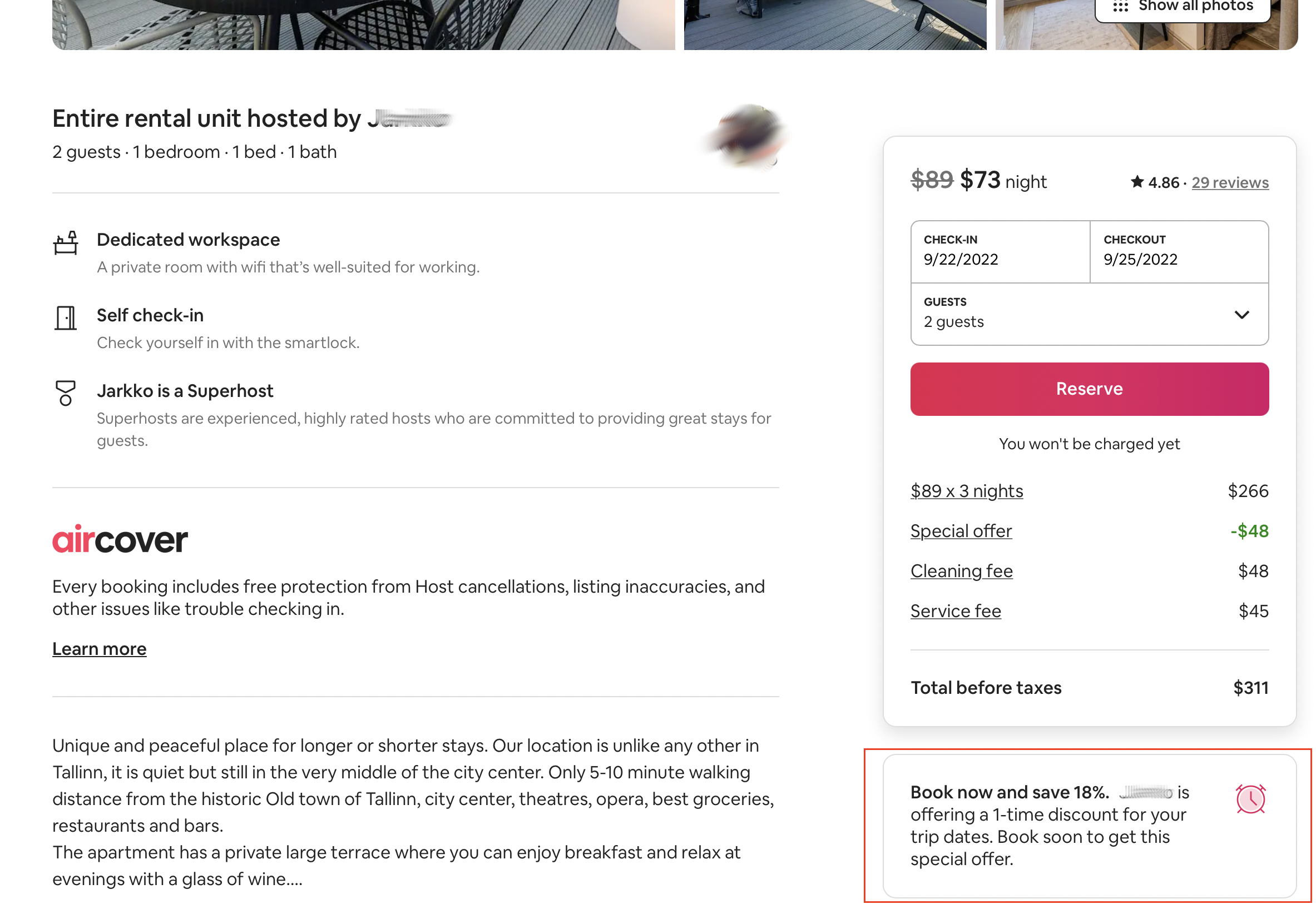 According to Airbnb less than 50% of hosts offer weekly or monthly discounts.
So play around with the dates and check out different properties to find those that do have length-of-stay discounts.
Beware the service fee. This is another reason longer stays provide so much value, you'll only be paying them once!
Early-Bird Discounts
With early-bird discounts hosts offer a discount to those who book their listing in advance. It's up to a host to offer this discount or not, so not all Airbnbs offer it.
If your trip isn't for another couple of months it's worth looking around to find the accommodation that offers this discount.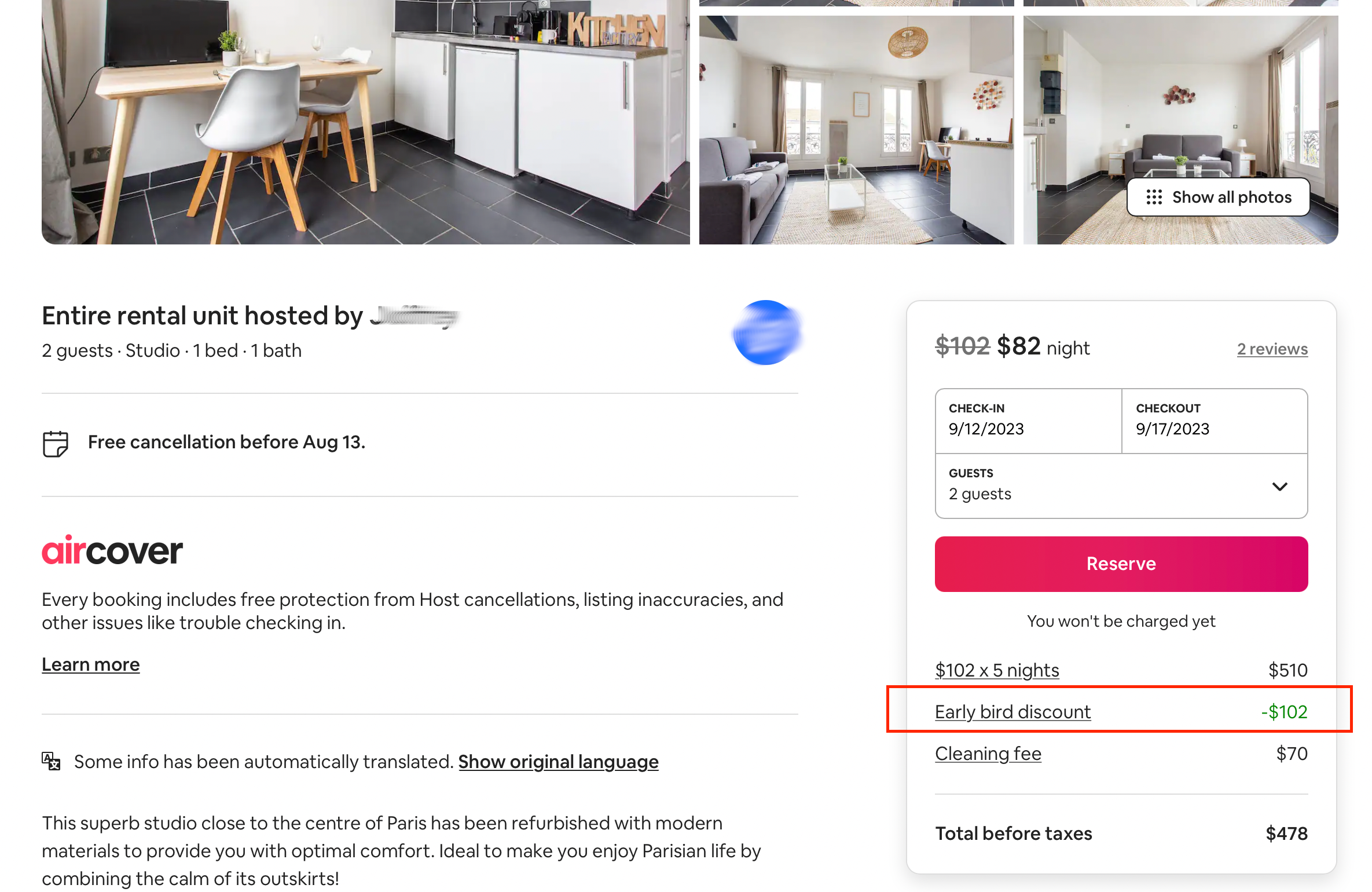 Judging from my experience they are way less popular than monthly discounts for example.
Book A Last-Minute Airbnb
The idea is that hosts offer discounted rates for bookings made at the last minute (usually within 24-48 hours of check-in). This helps them fill their space with guests instead of having an empty room.
This could be a great way to score a good deal if you're booking at the last minute.
It's a little bit risky, but as long as you're flexible with your dates and location it's a great way to get a discount.
New Listing Promotion
Become a first guest with Airbnb's "New Listing Promotion". This means 20% discount for 3 first guests for host's new and unbooked listing. 
It's a win-win for both hosts and guests. But it's also a bit risky for a guest since there are no reviews just yet.
I wouldn't recommend this option for solo female travelers.
But in my opinion, it's worth the risk if you are more than one person and the host already has a Superhost status on Airbnb.
Choose Between Non-Refundable And Flexible
When booking an Airbnb, you can choose either a listing's standard rate and cancellation policy, or opt for a 10% lower rate that is nonrefundable.
The nonrefundable rate is locked in immediately and cannot be changed or cancelled.
Use Airbnb's "Flexible Dates" Or +/- Feature
If you are flexible with the dates, this feature can be a great way to find the best deals.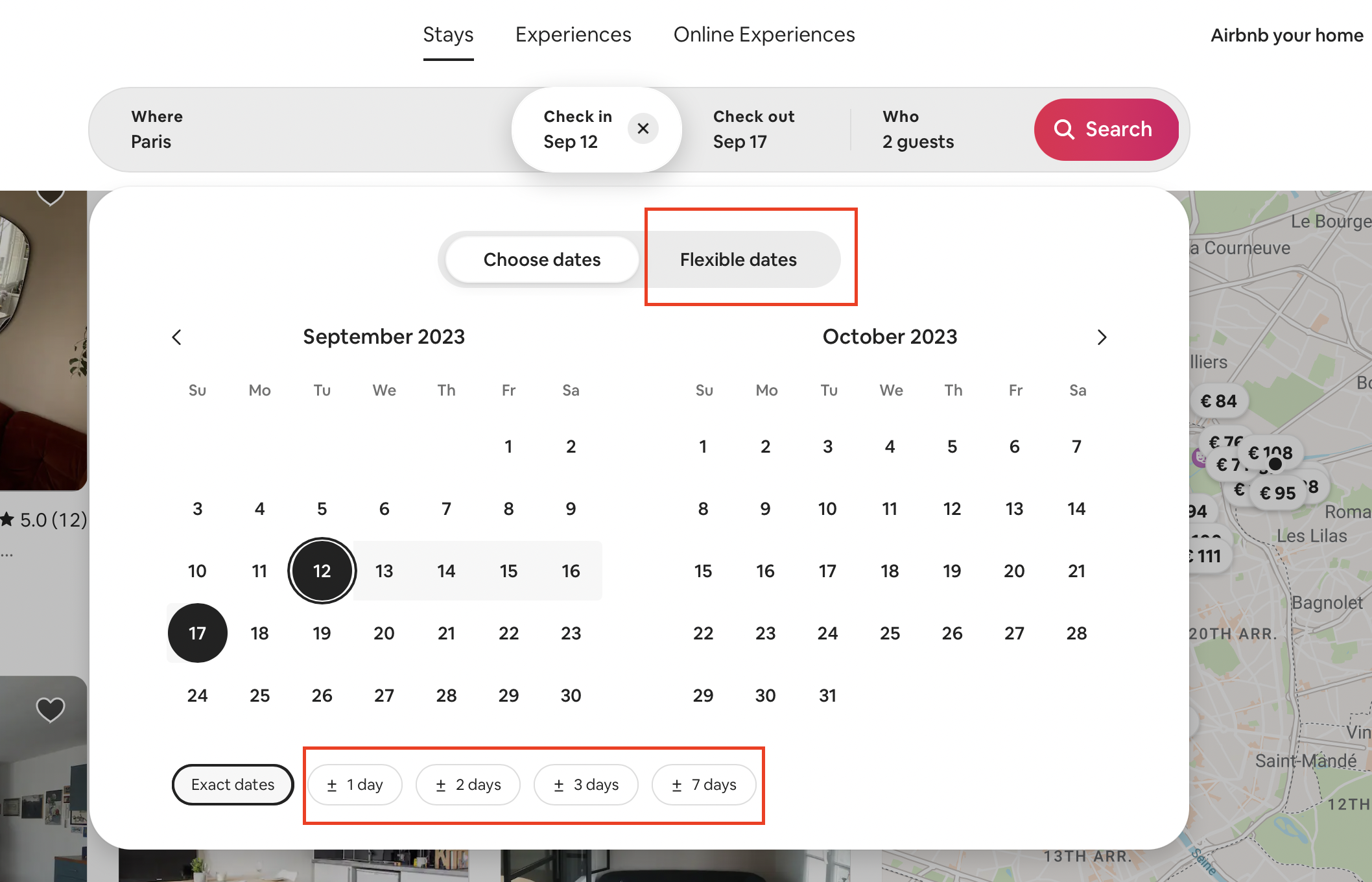 You can use the "+/- 3 days" filter on the search page and see what types of discounts have been applied.
How Airbnb Discounts Are Applied
You may be wondering what if the host has multiple discounts set up. How are they applied?
Read Airbnb's official response here.
What Else You Can Do To Get An Airbnb Discount:
Book Off Season
Airbnb prices drop significantly in the off-season.
If you don't mind traveling at that time, the rates will be more affordable.
Let me show you my example. I booked an apartment in Spain for the whole month of March 2023 with a long stay discount resulting in $1,405 in total.
The same apartment for August 2023 costs $4,807 with a long stay discount already applied.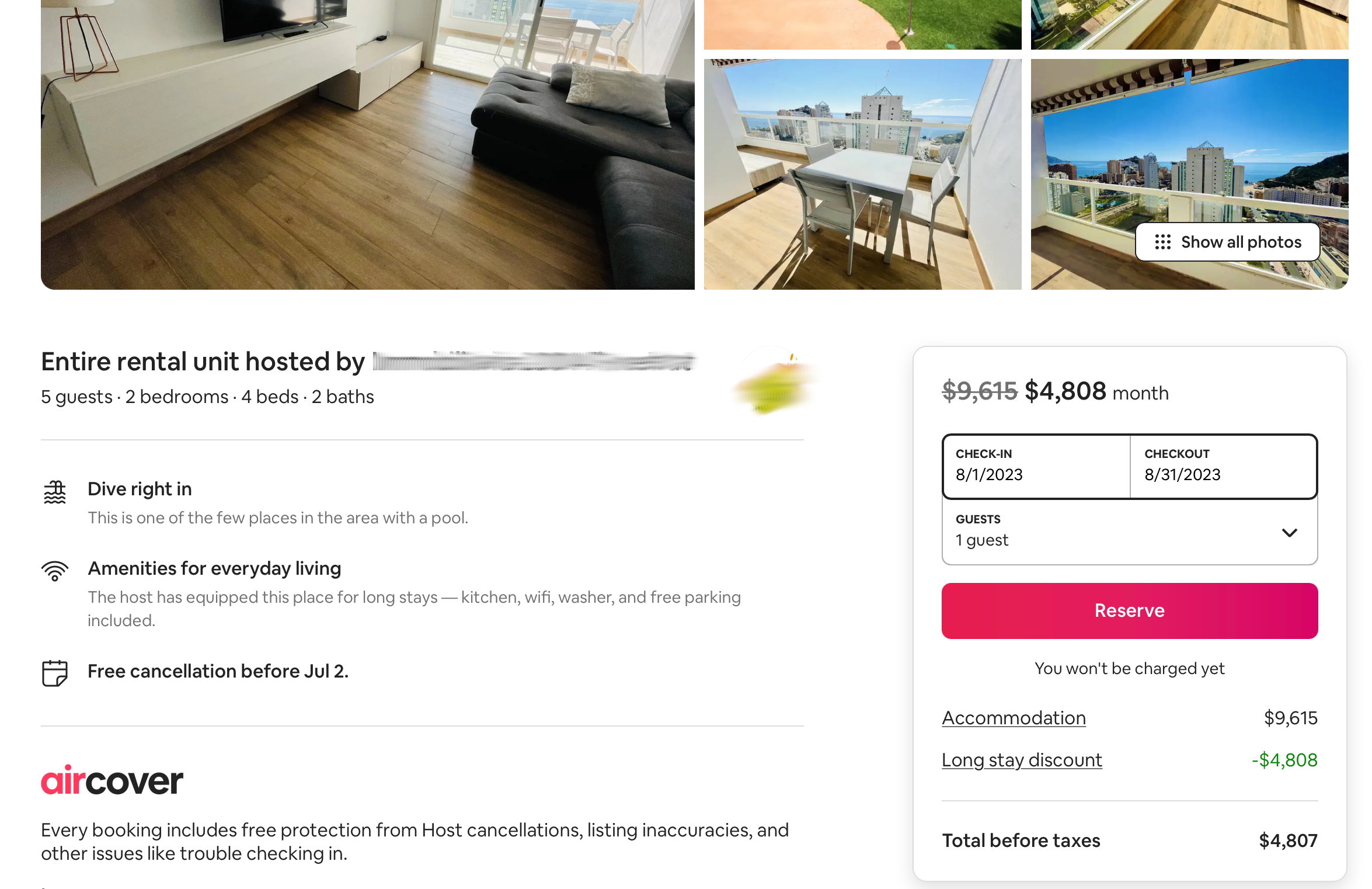 See the difference? $1405 instead of $4800 in the high season.
Travel With More People
Another obvious piece of advice, I know. But hey, the more people stay in a property, the more you can save.
Subscribe To Sponstayneous.com
And get the best Airbnb deals delivered to your inbox twice a week.
Use A Credit Card With Bonus Points For Airbnb
I'm no expert here, but you can check out Forbes' guide for best credit cards for Airbnb – https://www.forbes.com/advisor/credit-cards/best/airbnb/
Ask The Airbnb Host For A Discount
The best way to save money when booking an Airbnb is to get in contact with the host.
Instead of just clicking on the 'Reserve Your Stay' button, scroll down the page and find the 'Contact Host' option.
This allows you to get in touch with them and negotiate a better rate for your stay. You want to make sure you have your desired dates selected and as many discounts applied to the booking before messaging them. This will give you a good starting point for negotiations.
When crafting your message, make sure it sounds polite. You can let the host know what attracted you to their property and why you think they're a great option. You can also explain why you'd like a discount – perhaps you're traveling for work or it's your birthday.
Just be human. Offer some value to make their life easier. Sometimes the host just needs an honest detailed review of their Airbnb.
Once the message is sent, be patient! Hosts usually respond within 24 hours.
And if they send you a special offer you have 24 hours to accept it.
Before doing that consider polishing up your profile. Confirm your identity, phone number and email address.
There you have it.
Let me know in the comments below whether you found something useful and share your tips when it comes to booking an Airbnb.