2 Days in Riga Itinerary: Things To Do In Latvia's Capital
In this post we'll take you through the best places to visit in Riga, Latvia.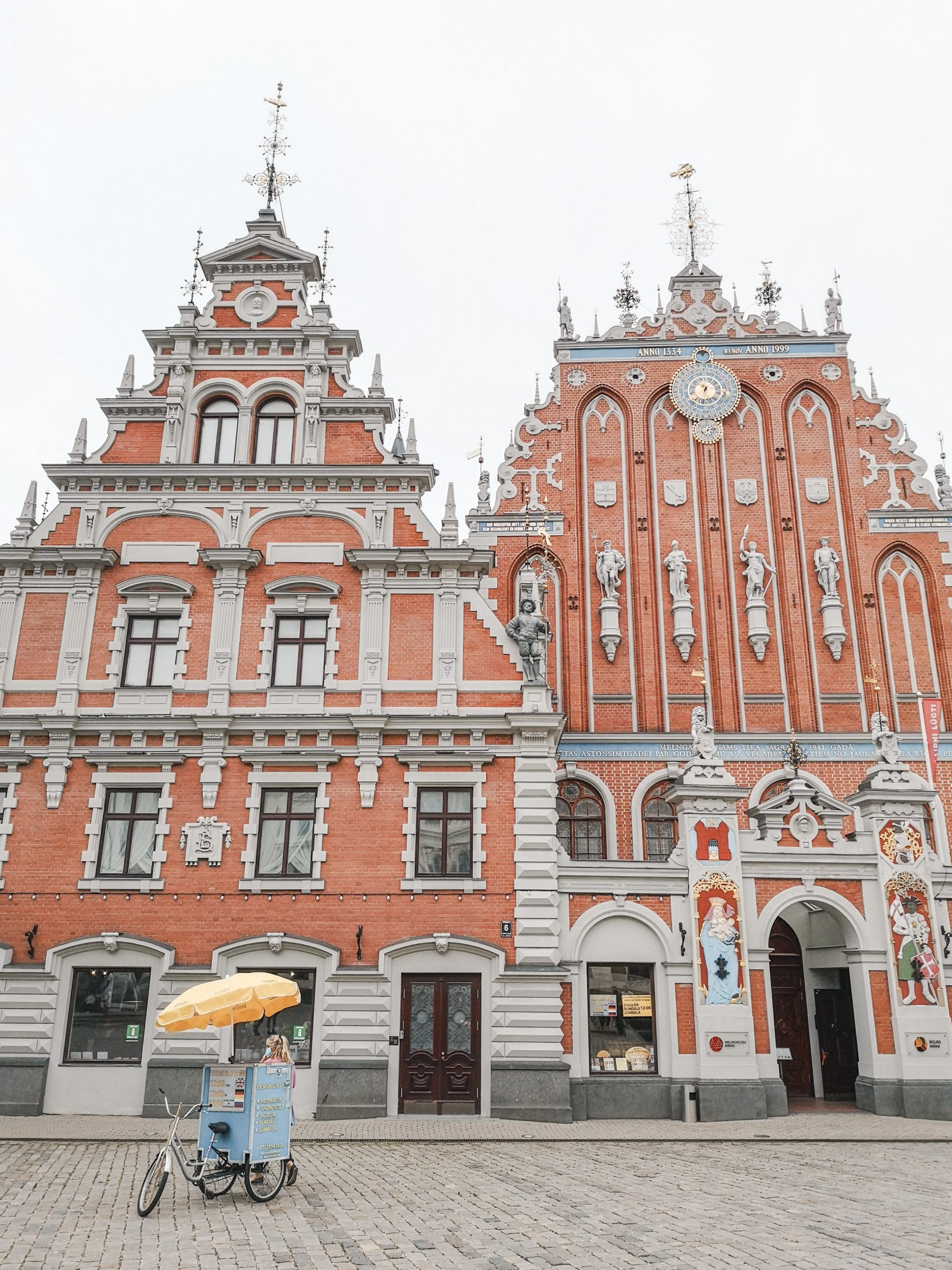 But before we jump right into the perfect Riga itinerary we put together, let's answer some of the questions you may have.
What language do they speak in Riga, Latvia?
The official language is Latvian. However, the country is pretty much bilingual, because 40% of the population speak Russian. You'll notice both Russian and Latvian on the majority of signs.
We had no problems speaking English, especially with younger people. 
How many days to spend in Riga?
I'd recommend spending at least 3 full days in Riga. 2 days exploring Riga and its major attractions and the 3rd day for visiting Jurmala and Great Kemeri Bog Boardwalk in Kemeri National park.
Whether you have a week or just a few days, here's the list of the top things to do in Riga.
Day 1
Go on a Free Walking Tour in the Old Town
All the major iconic buildings are located in the Old Town of Riga –  a UNESCO-protected area. And in just about 2 hours of the tour you'll see all of them – St. Peter's Church, House of the Black Heads, Dome Square, Swedish Gate, Cat House and more.
Your guide will also give you tips on where to eat and what to see.
Head to Lido for lunch
After the tour I'm pretty sure you'd like to have a bite. And Lido is a perfect place for that. There are several Lido locations around the city, but there's one in the Old Town. It is just steps away from where the tour ends. It's a buffet-style restaurant with a wide variety of options. A place where locals get a casual meal – fast, tasty and great value for money.
Go up St. Peter's Church for a view
For 9 euros per person the elevator takes you up the tower to this…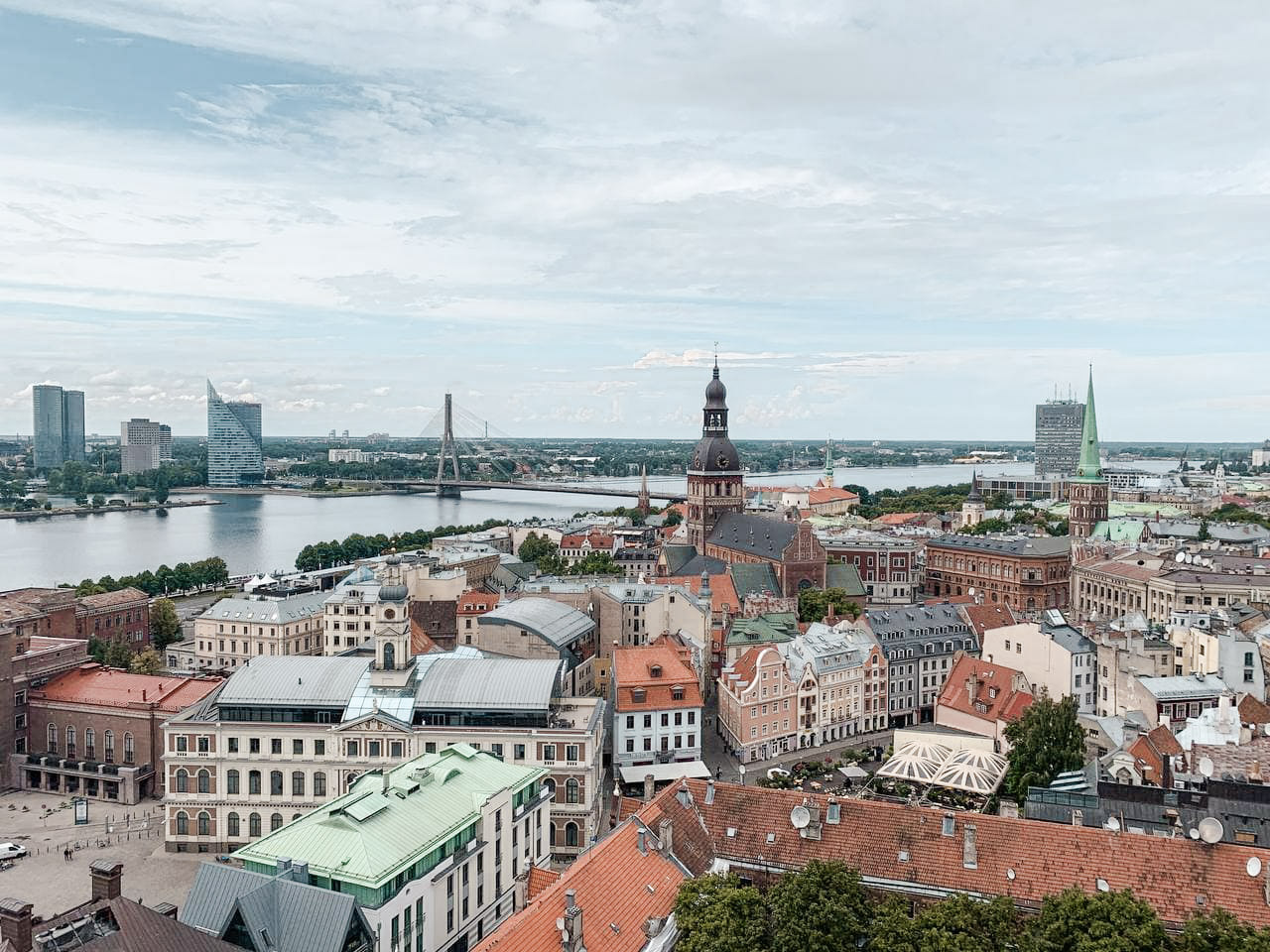 I'd say the tickets are overpriced but the view is still nice.
Opening hours: Tuesdays – Saturdays 10 am – 7 pm, Sundays 12 – 7 pm
And now when you've already seen the city from the top just walk around the streets of the Old Town. Soak in the atmosphere and simply enjoy.
Coffee break at Vilhelms Kuze (V.Kuze)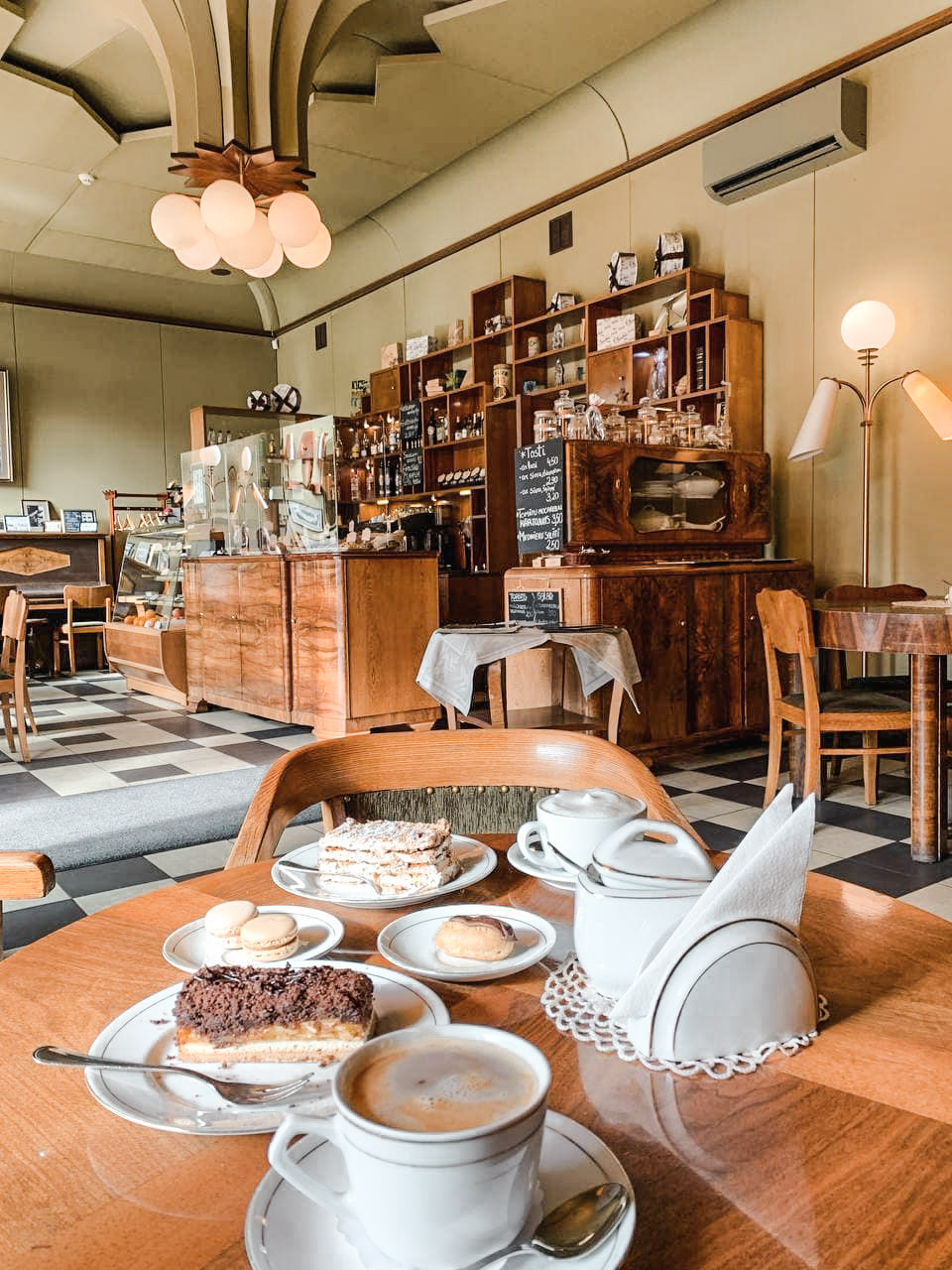 When you're ready for a coffee break I suggest you give Vilhelms Kuze a visit for an apple rum cake and a cup of coffee. Very nice retro place with cozy atmosphere and jazz music.
I've heard a lot about their hot chocolate, but haven't tried it.
Tip: You can't leave Riga without trying Riga Black Balsam. Here you can ask them to add it in your coffee or tea.
Relax in the park or enjoy a boat tour
There are several parks near the Old Town. You can take a walk in one of them or get on an hour sightseeing boat tour at sunset and here's what you'll see: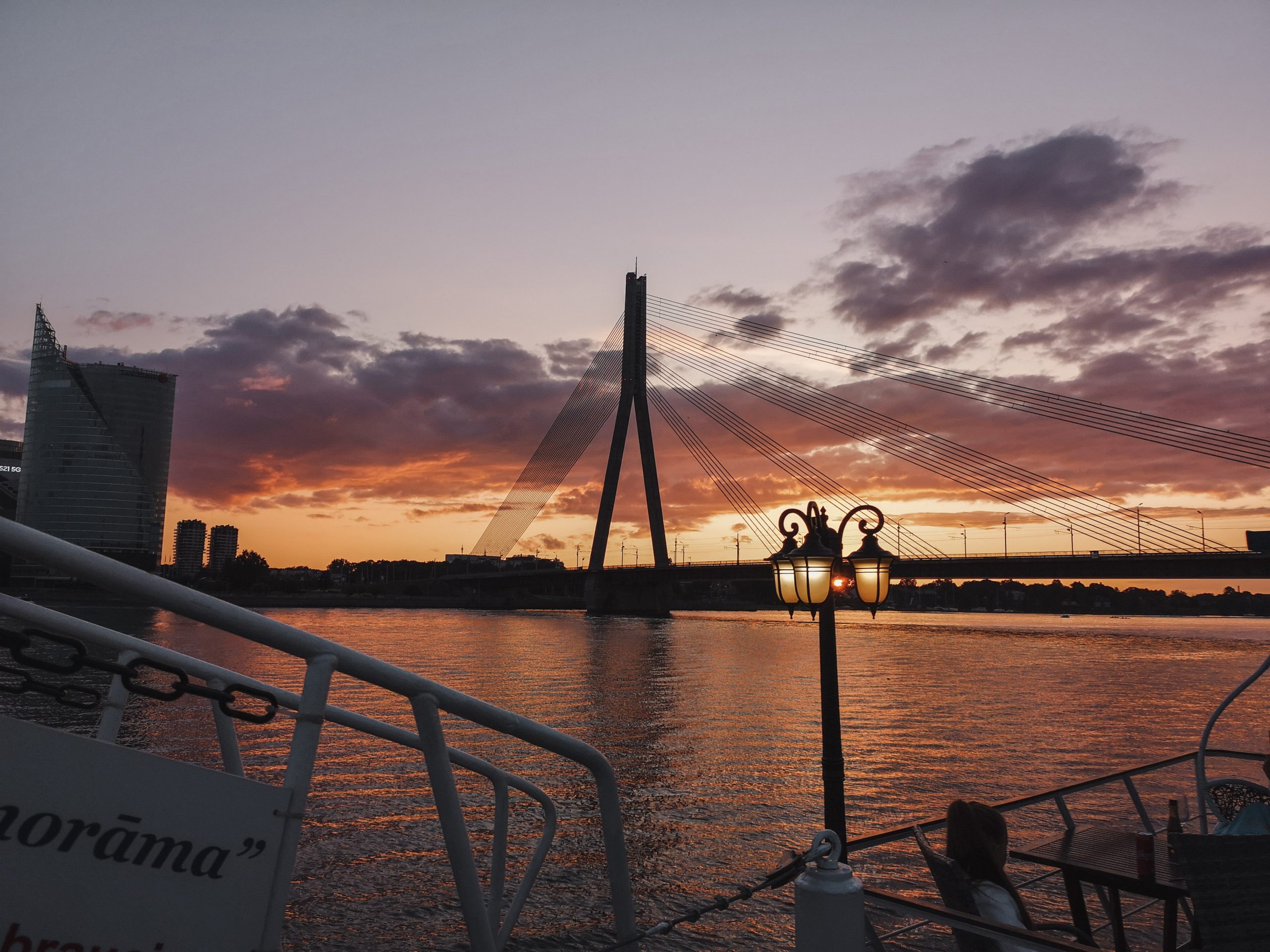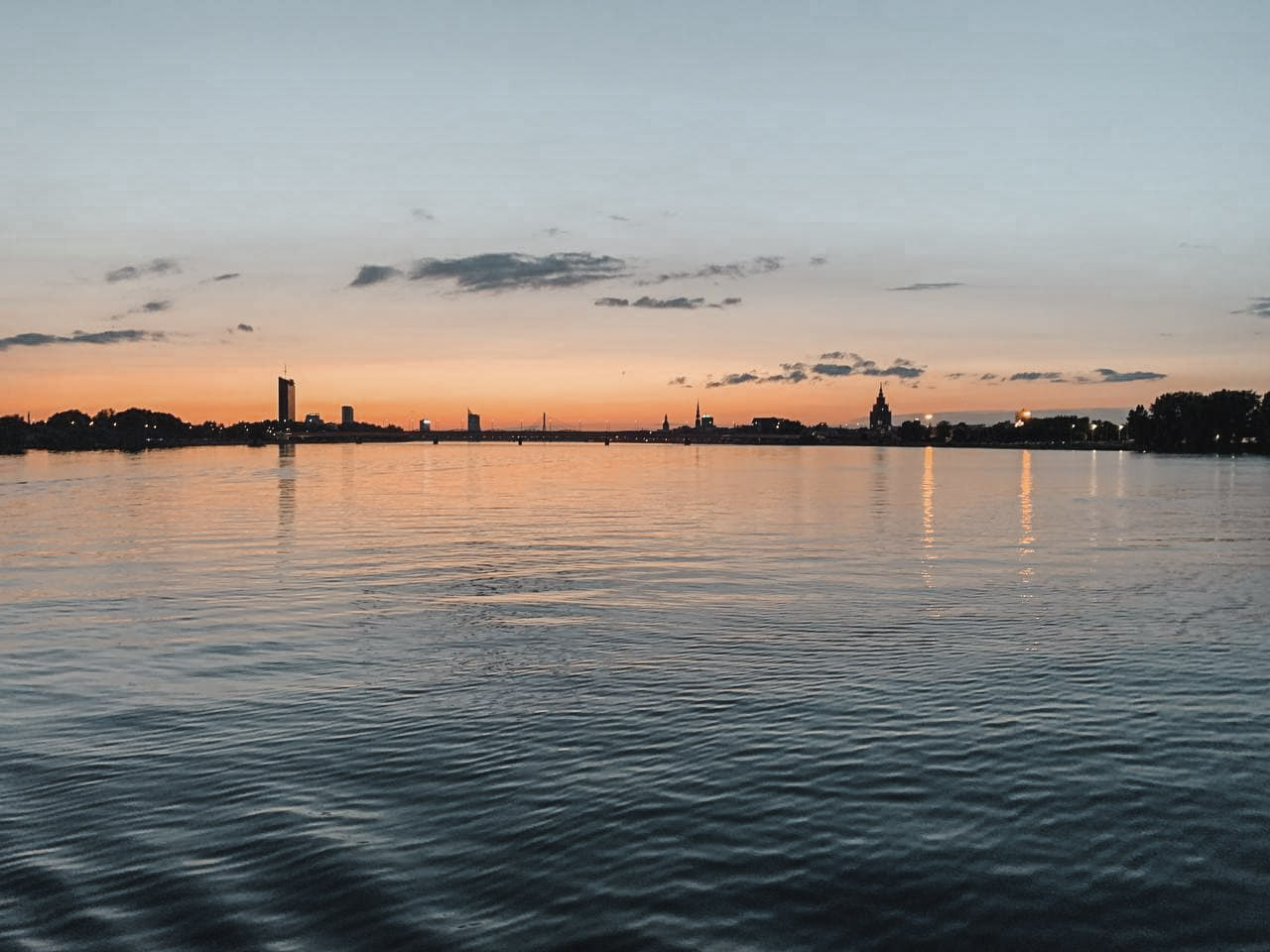 Enjoy dinner in the Old Town
Domini Canes or Gastro Pub Duvel's are great options for a nice dinner.
If you feel like trying some local beer, I know the place – Ms&Mr Beer. 10 EUR for 5 local beers. Nice rock music and very good suggestions from the staff on what to try.
The place has the biggest selection of beer I've ever seen. Just look at this menu.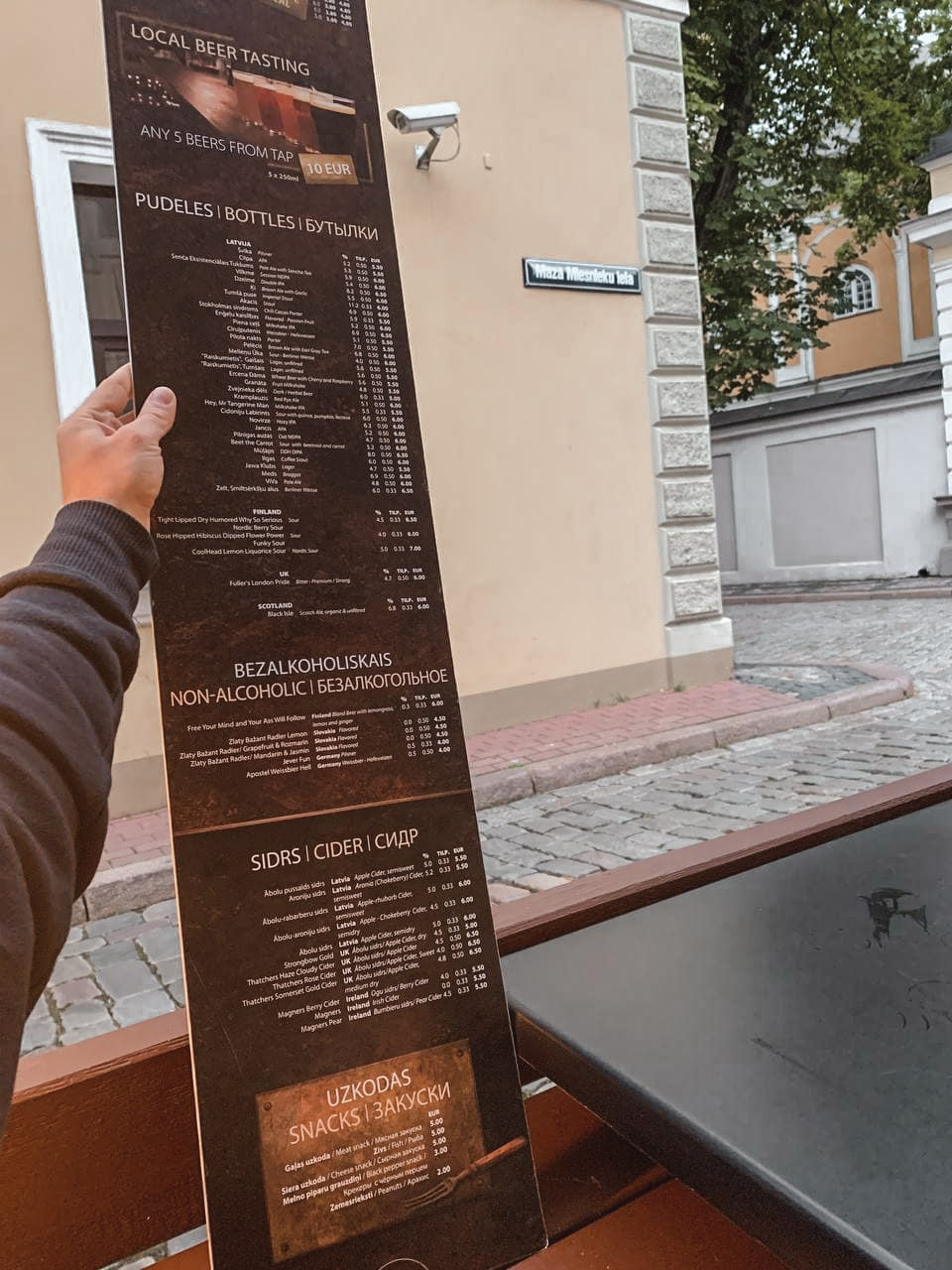 Day 2
Start the day with a perfect cup of coffee at Miit Coffee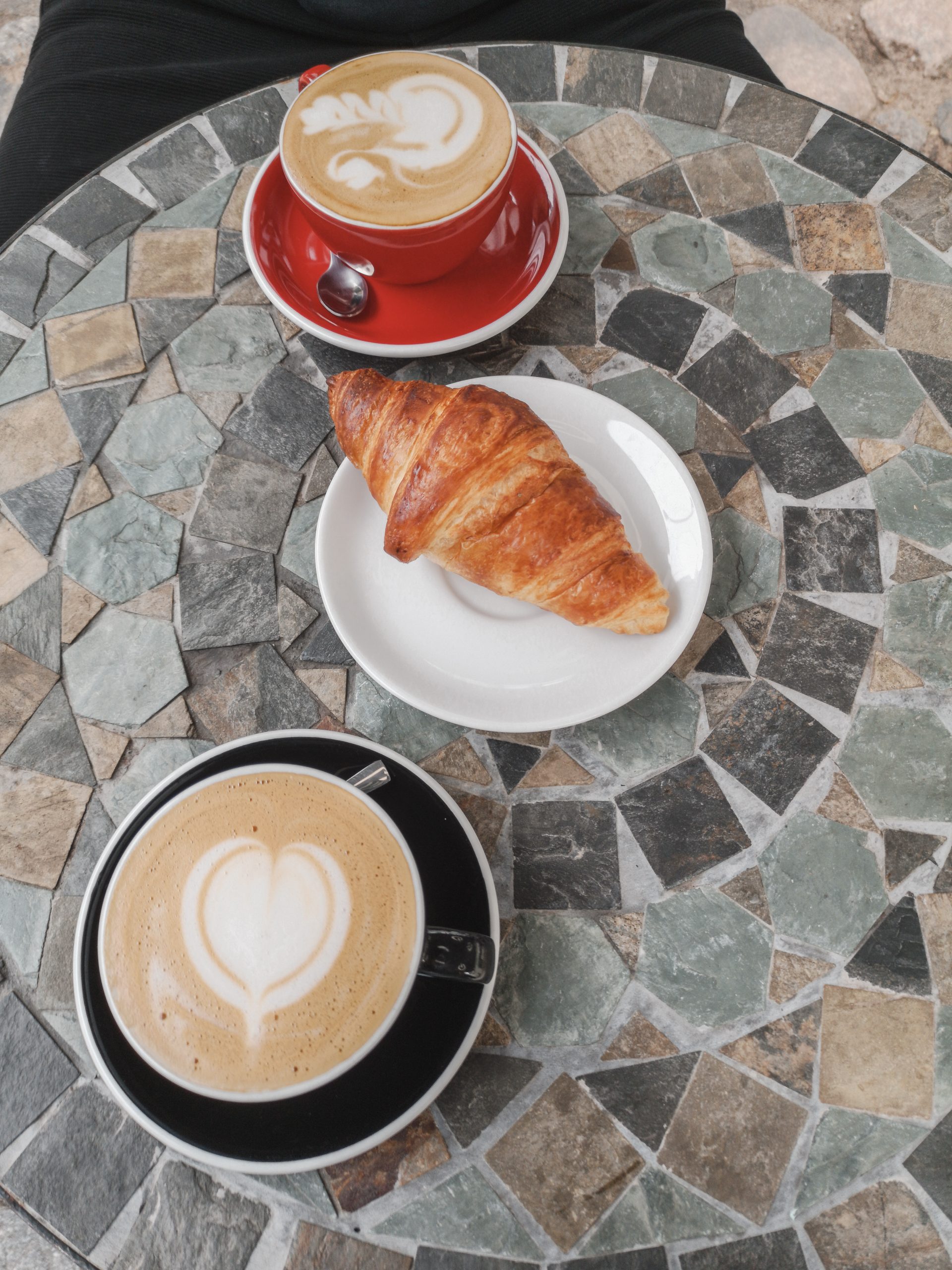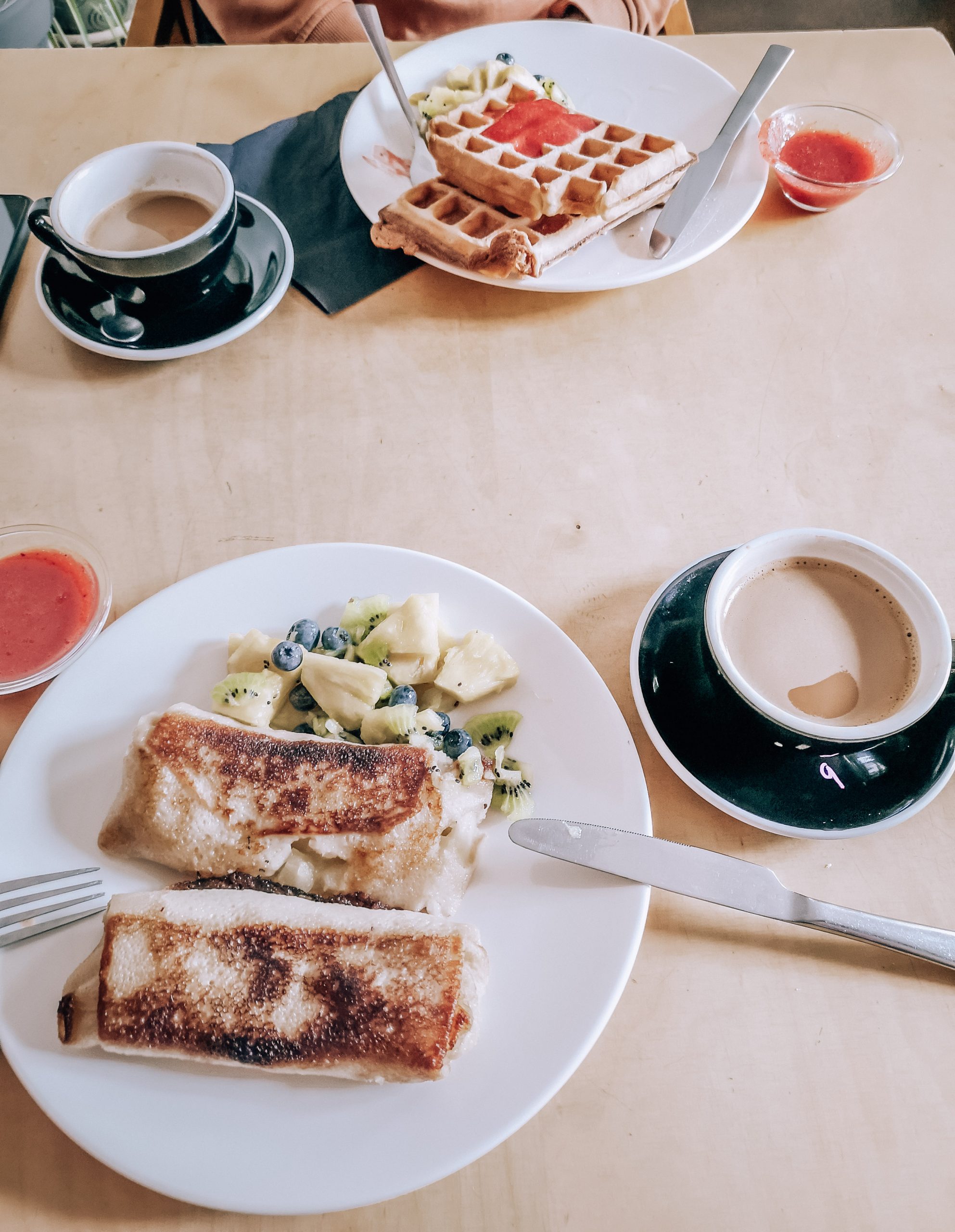 The place has a terrace and some comfy places to sit down with a laptop.
Everything I tried at Miit was delicious. I liked their breakfast options – waffles and pancakes. And that's the place where I tried quinoa milk for the first time.
More coffee spots: Herbārijs, Muffins and More.
Visit KGB House
Make sure to book a guided tour in advance. There is a free exhibition in the hall, but trust me you don't want to miss the tour. It's totally worth it and this place should be #1 must-visit in Riga.
Our guide spoke perfect English and gave a very detailed tour.
You'll see the interrogation rooms, the cells and the actual execution area. It's quite chilling and eye-opening, to say the least.
Head to Space Falafel for lunch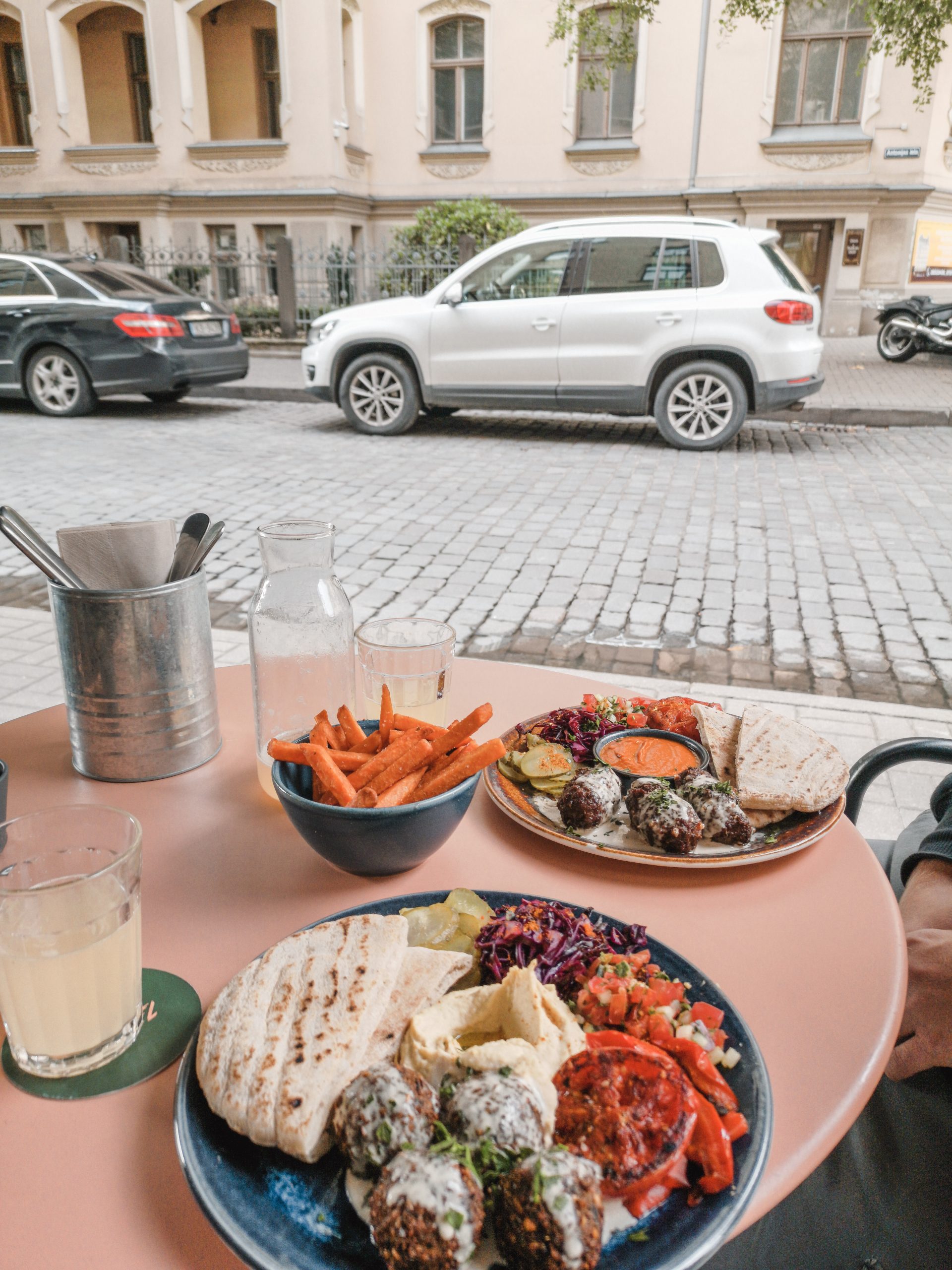 If you're a fan of Israeli food like I am you're gonna love Space Falafel. Delicious falafel and very friendly staff.
Walk around the Art Nouveau district
After lunch stroll around Elizabeth and Alberta streets to see some of the most impressive Art Nouveau architecture in the city.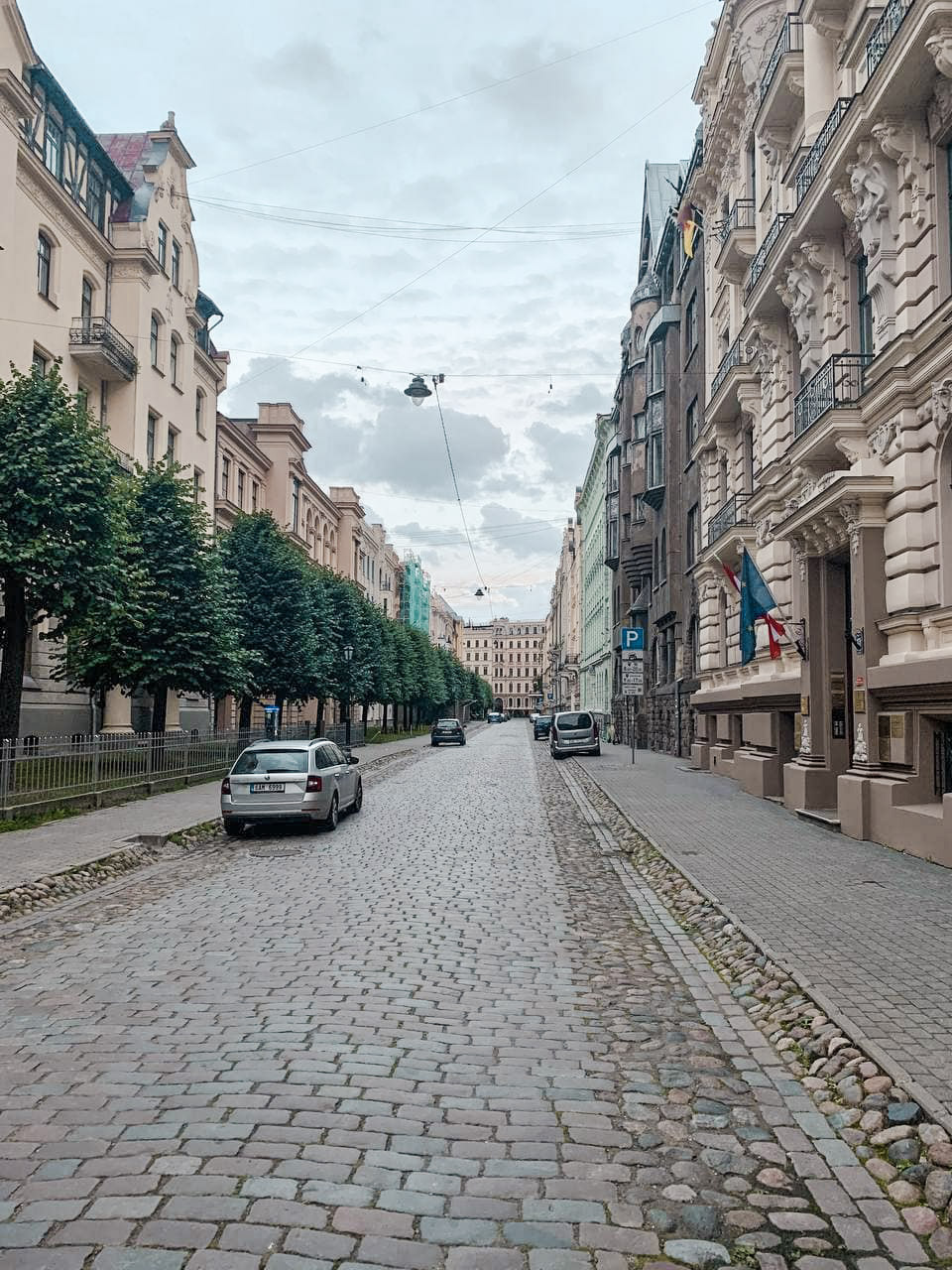 Visit The National Library Of Latvia
If you took a boat ride the day before or strolled along the river you've already seen the building. You also passed it on your way from the airport.
You can get a visitors pass and visit the Library for free. And I strongly recommend you do that.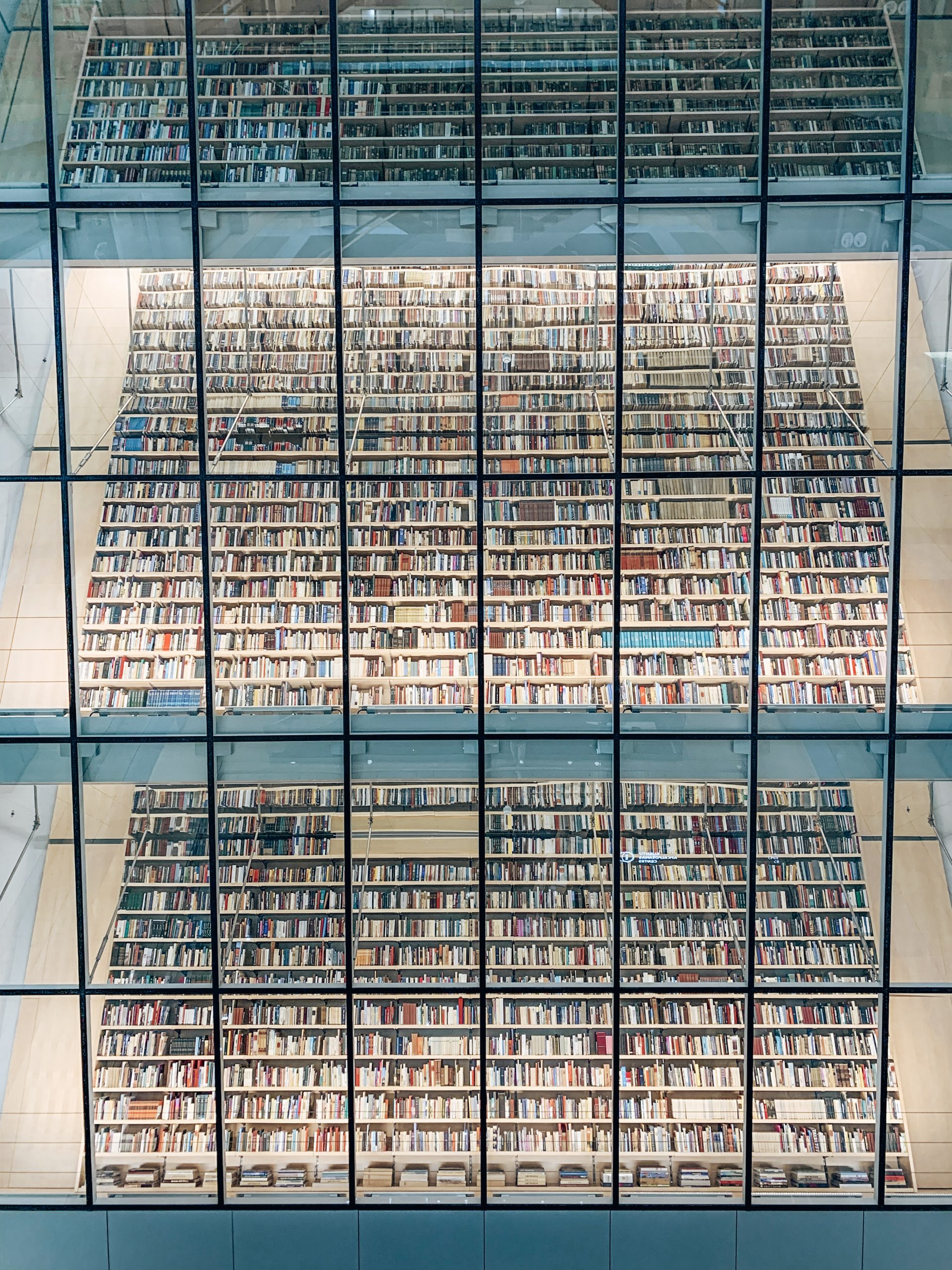 11th and 12th floors are open to the public on Saturdays and Mondays. However, you should call and double check this information.
Digital Nomad Tip: If you're looking for a place to sit down with a laptop and get some work done – the Library is a perfect spot for that.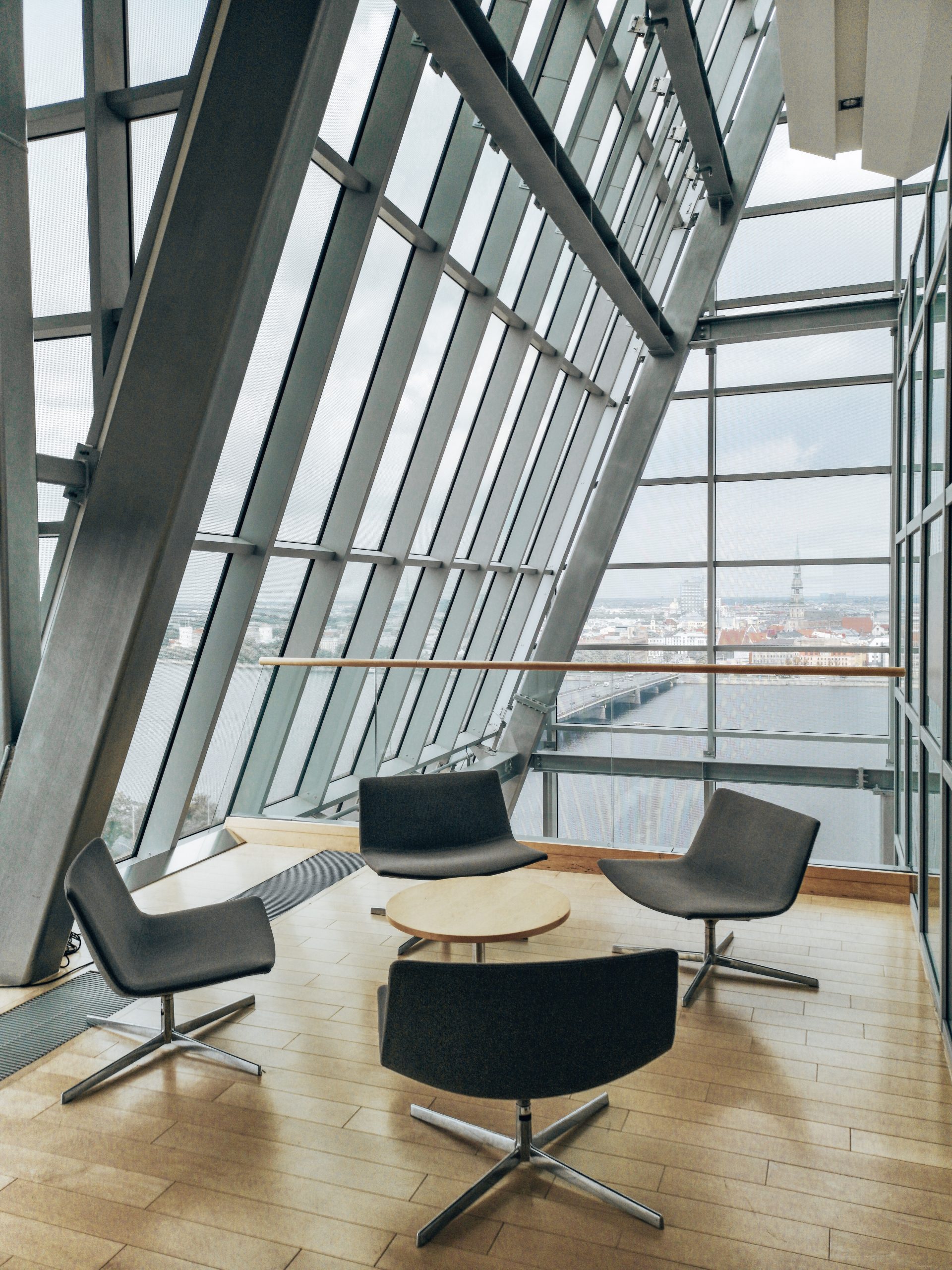 How To Get Around Riga
Since all the major attractions are pretty central it's very easy to get around. Besides public transport there are Bolt scooters all over the city, Skok motorollers and car sharing services such as Citybee and CarGuru.
More Things To Do In Riga
If you are staying longer and have more time in Riga, here are some more places to visit:
Riga Central market
Ethnographic open air museum
Mezaparks
The Latvian Academy of Sciences with another observation deck on 17th floor
What To Do In Riga When It Rains?
It rained almost every day during our stay in Riga. And our itinerary reflects that. But guess what? We had the best time despite the rain. And that is why I'm writing this so you can enjoy Riga even when it's raining! You can still visit House of The Black Heads, KGB House, Museum Of The Occupation Of Latvia and National Library Of Latvia. And you can still have a nice meal at some of the places we mentioned above.
Riga is a city that is definitely worth visiting no matter the weather, as most of its history can be learned indoors. And in between the rain showers, you can still explore the winding cobbled streets and hidden gems of Old Town. So don't let a little rain stop you from exploring Riga!
Pin for later!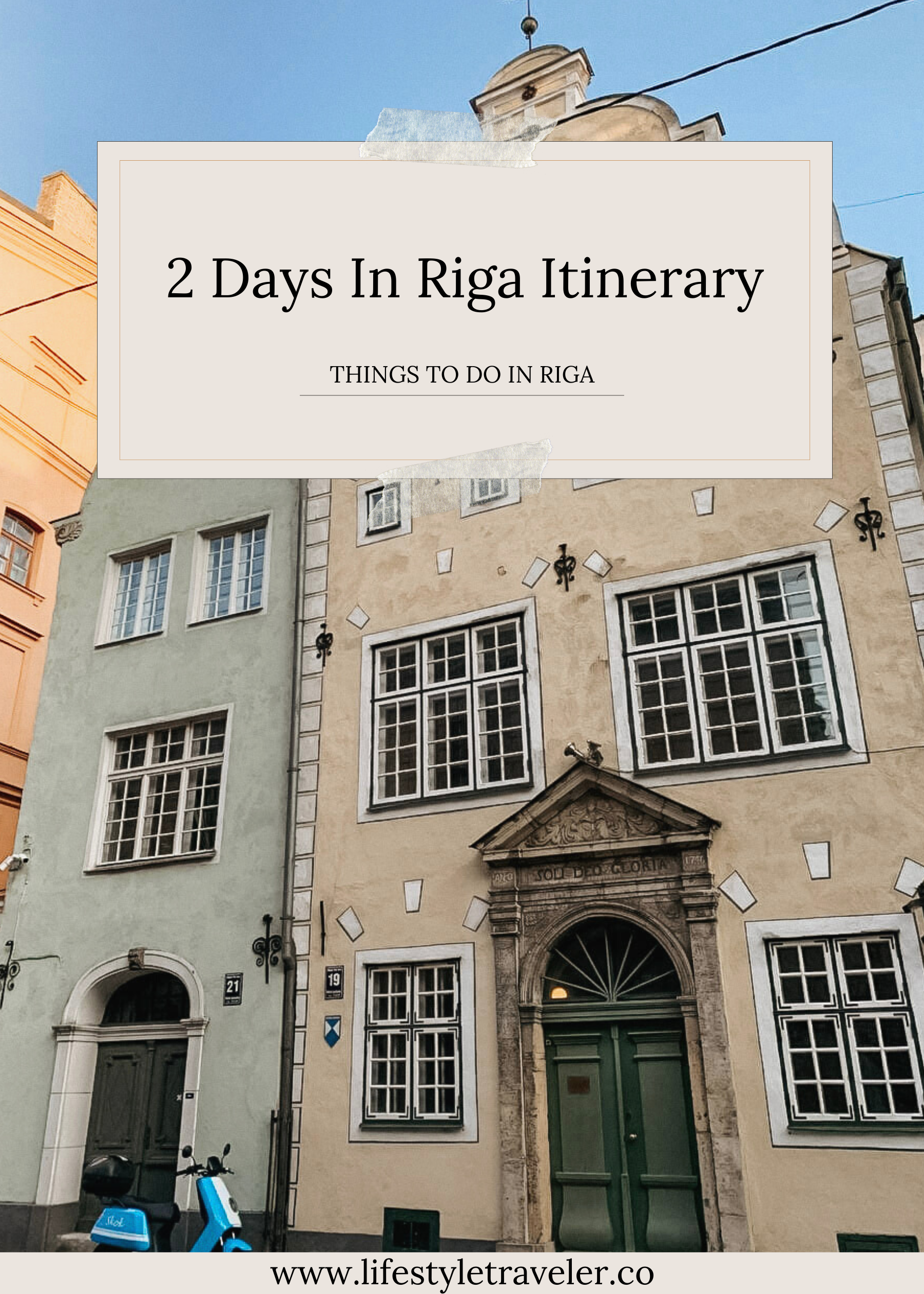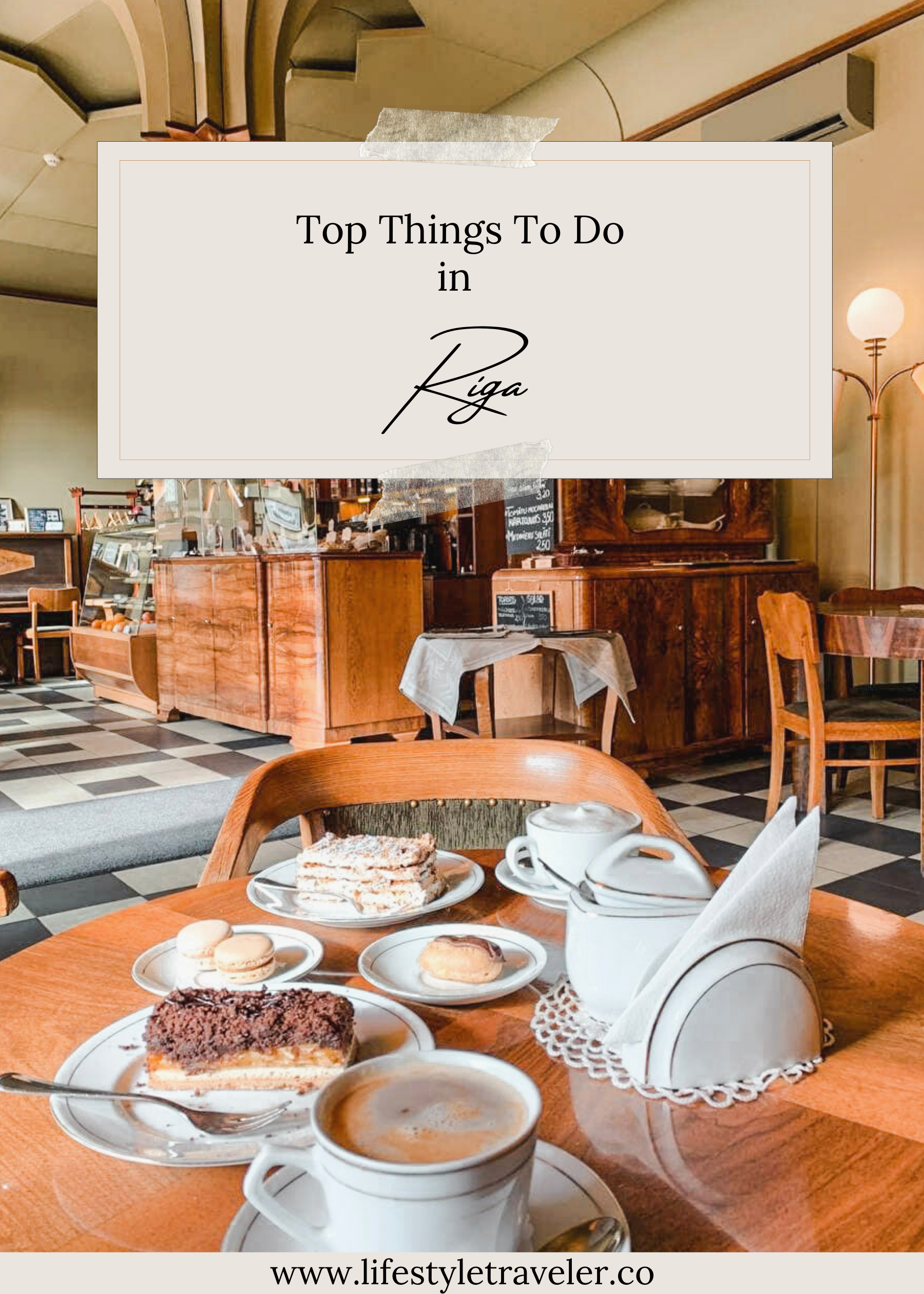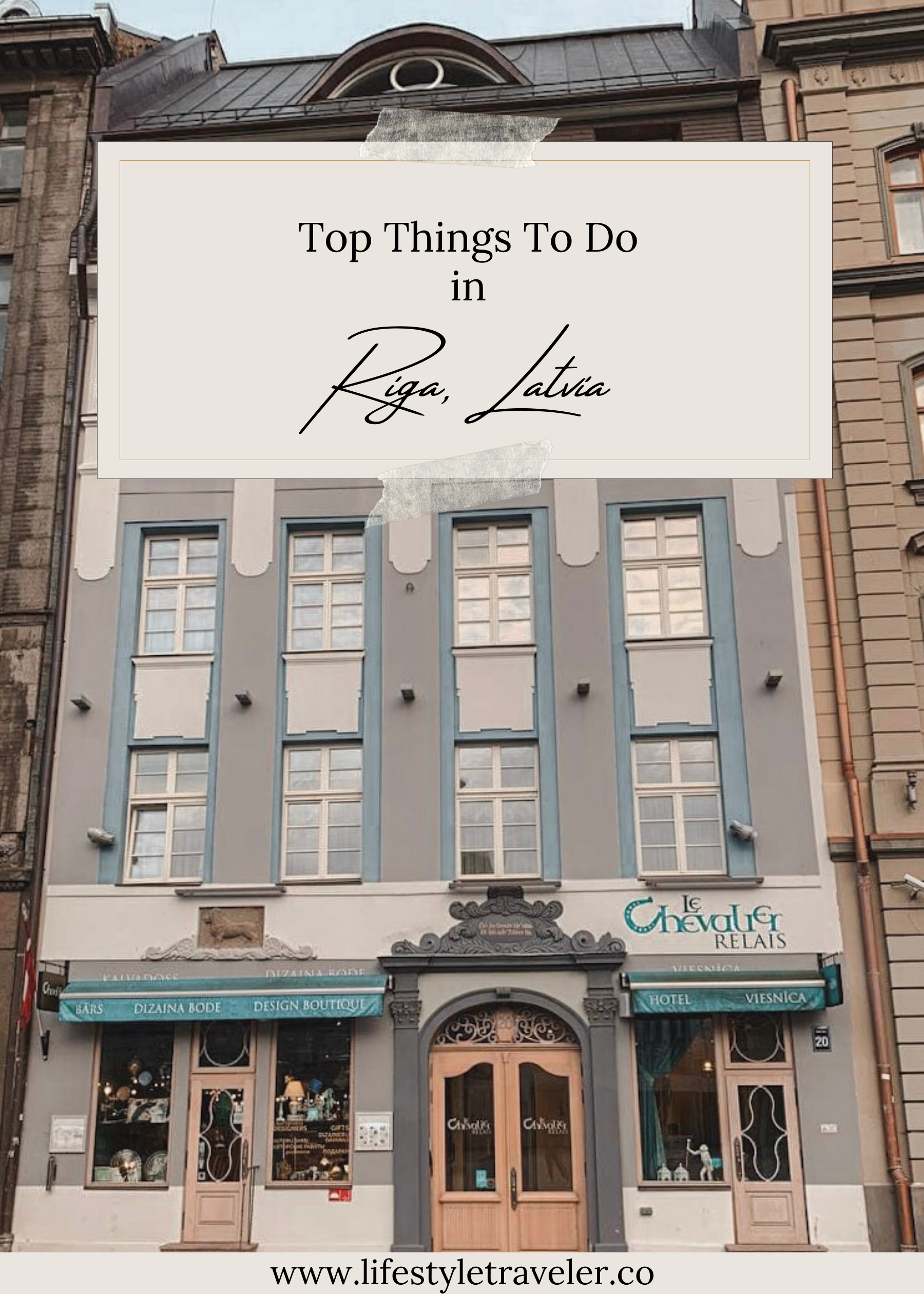 This blog post is also available as a Web Story 👇