Flying can be stressful. One of the ways to ensure an easy experience at the airport is to have a TSA approved quart size bag with your liquids easily accessible in your carry-on bag for security checking.
Before we go any further let's unpack what TSA approved quart size bags are.
What Is A TSA Approved Quart Size Bag?
According to TSA (Transportation Security Administration), each traveler is allowed to bring along a one quart-sized bag of liquids, aerosols, gels, creams, and pastes in a carry-on bag through the checkpoint. These are limited to containers that are 3.4 ounces (100 milliliters) or less per item.
This rule is also known as the TSA's 3-1-1 liquids rule.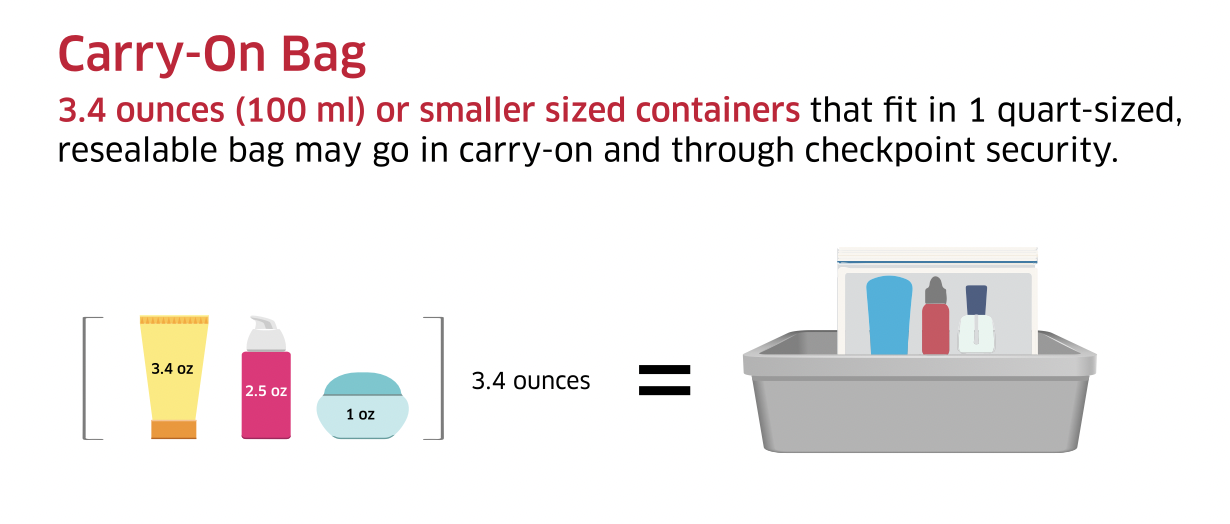 Judging from that information from TSA website and personal experience we can easily say that any clear bag that helps TSA officers to quickly identify the contents of the bag and is of the right size can be considered TSA approved.
Now you may be wondering how big is A 1 – quart bag?
What Are The Dimensions Of A Quart Size Bag?
It's one of the most common TSA questions asked on social media.
1-quart bag is 6 x 9 inches which are 63 cubic inches that equal 33.814 ounces or 1 liter. In cm it's 15 cm x 23 cm.
Why Do I Need To Use A Quart Bag?
We all know the struggle of never having enough space in our luggage, so having an extra sealed bag can make some travelers feel like it is not necessary.
But if you don't want to go through the trouble of having to take your items out, you should consider purchasing one.
Another advantage is that you don't have to worry that your liquids will leak.
Is TSA Strict About Quart Sized Bags?
The good news is that they are not particularly strict about the size.
They simply just want you to use a plastic clear bag to make the screening process faster.
With that being said, there is a variety of clear 1-quart bags with other dimensions that you may still use.
So Can I Use A Sandwich Bag Instead?
As stated earlier, the TSA rules are not that strict about the size and all they require you to have is a clear bag.
As a result of this, travelers can use ziploc sandwich bags instead.
These bags' dimensions are 6.5 x 5.8 inches, which means they are 0.7 quarts and you will have 70% of the space that the TSA requires.
TSA Approved Quart Bag Checklist
There are a variety of different types of clear and resealable bags out there. Before spending money on travel bags, it is essential to know what you need to look for when browsing online and in-store.
Here's a quick checklist:
Transparent Material. Clear bags are the way to go to avoid having to unpack your items at the checkpoint.
Pick the right size. We already covered that.
Lightweight. Remember that you are placing this bag in your carry- on. Make sure you choose a lightweight bag.
Waterproof. This is pretty self-explanatory.
Good quality. It's hard to tell when shopping online, but read the description and reviews. The more long-lasting and durable it will be, the better.
5 Best TSA Approved Quart Bags For Liquids From Amazon
Here are five recommended Amazon clear bags that you can purchase:
First up we have the Olanmark toiletry travel cosmetic bag. This clear bag fits in the TSA size requirements(size 7.9 x 5.9 x bottom depth 3.9 х upper depth 1.2 inches) and has extra side pockets for small items such as eyedrops or earplugs. It is versatile and features zippers that are long-lasting and overall a bag that can be used for various purposes. This affordable TSA bag is available online via Amazon.
This WANDF clear bag is affordable and is in line with the TSA rules. It comes in a pack of 1 or a pack of two. The bags feature thick material and are made with long-lasting fabric and durability. If you looking for a quick and drama-free check in experience at the airport this is the bag for you. Order yours via Amazon here.
Add some color into your flying experience with Ez-Packings different colors to choose from. It's transparent with a nylon backing that makes it sturdy and most importantly TSA approved. You can purchase this 6.25 inches x 2.5 inches bag from Amazon here.
Get organized real quick with this 11 set TSA approved bag for travel. What makes this purchase convenient is that it comes with clear sealed containers that you can use to store all your liquids in. The containers include lotion bottles, spray bottles, flip-cap bottles, cream jars and more. In addition to the containers, labels are included.
If you are someone who loves black this Travel Smart toiletry bag is made for you. This 14-piece travel toiletry bottle set comes with 4 types of TSA approved bottles and personalized labels that can be used at your leisure. Other features include durability, sustainability, and leakproof. This toiletries and accessories kit is on sale on Amazon.
Extra Rules to Consider
How many Quart bags can I use? Can I bring 2 quart-size bags on a plane?
Only 1 Quart bag per traveler is allowed.
Things to keep in mind
If you have liquid containers that exceed 3.4 ounces or 100 milliliters they need to be placed in checked luggage.
And in case you didn't know peanut butter is also considered a liquid.
Special Cases
Only 1 Quart bag is allowed per traveler, however, there are a few exceptions to the rule. For example, medication can be placed into your resealable clear bag, however, this needs to be separate from other liquids. It is recommended that you bring along a letter from a health professional as a precaution.
Another exception is when you are flying with infants, in this case, you pack several things in your clear bag such as baby formula and expressed breast milk and diaper rash cream amongst other things which needs to be packed in a separate bag and presented at the checkpoint.

Score Epic Flight Deals with FareDrop! ✈️💸
Meet FareDrop by travel pros Kara and Nate. Simply enter your home airport and your dream destinations. Get alerts for insane deals – up to 80% off, even in business class!
You Might Also Like To Read: