Airbnb Review Examples For Guests To Leave Hosts
If you're stuck on how to write a helpful review on Airbnb as a guest and need an example, you're going to want to read this guide.
Have you ever looked at a listing, and all its reviews were just single sentences? Vague ratings are not only unhelpful for future guests but also prevent Airbnb hosts from improving their place in the future.
Whether you want to give your host a great review while still providing constructive feedback or want to highlight inaccuracies in the description that impacted your stay, a well-written review is a way to go. Level up your writing skills and bring your message across, so others can benefit from your insights.
This post includes the perfect ready-to-use Airbnb review examples, which you can copy and paste and adjust to fit your needs.
Why You Should Take The Time To Write An Airbnb Review
Taking the time to sit down and write an Airbnb review is most likely not at the top of your to-do list. Despite the reminder emails, many travelers tend to forget to rate their stay and might only remember when the deadline has already passed.
However, investing just five minutes into rating an Airbnb rental can help future travelers significantly when choosing a place to stay. You definitely came across tons of vague reviews that are not very helpful.
Listings with a lot of positive reviews are generally favored by the Airbnb algorithm, giving them an extra boost and possibly turning their owners into super hosts. With far more variety in quality and experience than hotels, Airbnbs depend on the reviews of their community to provide accurate listings and memorable experiences for their guests.
The Problem With The Airbnb Rating System
It's no secret that 5-star rating systems are flawed. People tend to only rate extremely positive or extremely negative experiences with little average ratings in between. Platforms like Airbnb also put an emphasis on 5-star ratings, rewarding hosts and pushing high-ranking properties.
This means that having a 3- or 4-star score could be perceived as negative even though it lies at the upper or center of the scale. Many visitors don't want to negatively impact their Airbnb hosts, causing them to inflate their ratings, leaving, for example, a 4.8-star review for what should have been a 3-star rating.
Keep this in mind when rating your stay and consider the impact of a review on an owner's business. This is why it's incredibly important to make reviews helpful and informative while still being reasonable.
What To Do If You Have A Horrible Airbnb Experience
Unfortunately, bad experiences can occur with any type of accommodation, and Airbnb is no exception. If you've arrived at a place that has major issues, you might feel angry and disappointed. The first step should always be to contact the host and give them some time to respond. Explain your issue in detail and attach photos if possible. This could include things like a dirty apartment, safety concerns such as a door that cannot be locked, a broken toilet, or a pool that doesn't work.
If the host is unable to fix the problem or accommodate your needs, the next step is to discuss possible cancellation or a refund with them. Maybe you can work things out with your host directly and come to an agreement such as a reduced price or a free airport transfer. Hopefully, your host will be friendly and try to make up for the inconvenience.
If not, be persistent and document your communication. Make a note of any verbal or in-person conversations so you can keep track of the situation. If the host can't or is simply unwilling to help, contact Airbnb support.
Finally, leave an accurate review of your experience, taking into account how responsive and helpful the host was. Sometimes it's difficult to change things that are out of the power of the owner, for example, loud construction next door, neighborhood electricity outages or local holidays causing parking to be unavailable. Be reasonable and consider how much your stay was impacted.
Airbnb Review Examples
If you're not sure what rating to give your Airbnb, here are some pointers on how most hosts view star ratings on the platform. Keep in mind that ratings tend to be inflated and are not the same as you might be used to from hotel or Google reviews.
5-stars – Anything from a perfect stay to a good stay with some minor issues. Use the review rather than the star rating to point out anything that bothered you.
4-stars – Average stay with minor to significant issues. Pick this rating if you were unhappy with some things but still had an overall decent experience.
3-stars – Unpleasant stay with significant issues. Maybe the listing was inaccurate, the host unresponsive, or the cleanliness disastrous. Write a detailed review of what was wrong.
2-stars – Unacceptable place and a warning for others not to stay here. Use this rating if it is difficult to find any positives about your experience, or you may request a refund.
1-star – Disastrous stay, the listing needs to be removed. Use this for major safety issues, non-existent rentals or scams.
5-Star Review Examples
Use this section as an example of how to write a positive Airbnb review for 5-star stays. This could include perfect experiences that you want to tell everyone about or good places with some minor details that could be improved.
Example of a helpful 5-star Airbnb review
We stayed at Susan's place with my parents and their friends and had the best experience imaginable. The apartment is located just 5 minutes from the beach, and we walked there every single day because it was so close. There is a communal rooftop terrace that isn't mentioned in the listing, so you get to sit and watch the sunset.

The place also comes with four bicycles and snorkeling gear, so you'll have everything you need during your stay. We loved the small details like free drinks in the fridge on arrival and a hand-written welcome note.

The WiFi is strong (we measured 100mbps), so my husband could do his Zoom calls without any issues. The bedrooms all have their own bathroom and plenty of privacy. We especially loved the top-floor room, which has a small balcony.

The apartment is located on a quiet side street, but it's possible to walk to the center of town with shops and restaurants in less than 15 minutes. The only thing that could be improved is providing a map of the surrounding areas and maybe some recommendations on things to do.
This review is very positive while also including a lot of information. The reader now knows that:
it's close to the beach, and the distance is walkable
there is a shared rooftop space where you can sit
the place comes with bikes and snorkeling equipment
there are free drinks in the fridge on arrival
the WiFi speed is 100mbps, and you can work online
the bedrooms have ensuites, and one has a balcony
the area is quiet but still close to everything you need
Example of an unhelpful 5-star Airbnb review
Wow, we loved this place! Such an amazing time, we'll be back for sure! The location really surprised us, and we loved how Susan made this apartment her own. Highly recommend this to anyone visiting France looking for a comfortable stay. My favorite room was the upstairs one.
This review is very positive but contains no information. It could apply to almost any listing and is too general to be helpful.
4-Star Review Examples
4-star reviews should be good or average experiences with some details that might need to be improved. Mention positive things first and then list what needs to be changed. Don't forget to include the response of the host and how they handled the situation.
Example of a helpful 4-star Airbnb review
This is the perfect apartment for a city trip with friends. The location of Dan's place is fantastic and very close to all of Chicago's main attractions. We loved the shopping mall around the corner where you can get anything you might need during your stay.

Most listings we saw didn't have a full kitchen, so we appreciated that this one did, plus a washing machine which was a lifesaver. However, the bathroom was unfortunately extremely smelly to the point where we couldn't use it. We also noticed that the apartment hadn't really been cleaned, and some of the sheets had stains on them.

Luckily, Dan was very quick to respond and sent his cleaning staff to the apartment only a few hours later. They did a great job in making the place much cleaner while we were out exploring the city. We didn't have any more issues during the rest of the stay, and Dan even refunded us the first night as an apology.

I'd highly recommend staying with such a friendly and thoughtful host!
This review highlights the positives as well as the negatives of the experience. The response of the host is described in detail and informes future travelers of the situation without putting them off staying there. Without the host's quick response, this could have easily been a 2-star review.
Example of an unhelpful 4-star Airbnb review
Loved the place, but it needs some improvements. These people have obviously never cleaned before, and we were very disappointed on our first day. Luckily we made the best of the stay and enjoyed the positives like spending time with friends in an exciting city. Would recommend staying here!
There is no context to this review, and it's very difficult to see what exactly the problem was. Without context or details, travelers can't tell why this guest would still recommend Dan's place despite it being dirty.
2 Or 3-Star Reviews
Leaving a review with 2 or 3 stars is appropriate for places that were unacceptable with extremely inaccurate listings and unresponsive hosts. Three stars should be given to listings that have a chance of being improved, while two stars represent a place that needs to be avoided by travelers.
Example of a helpful 2-star Airbnb review
Mike's cabin has beautiful views over the lake and a spacious yard with a swing which the kids loved. However, our stay here was unfortunately very unpleasant, and I cannot recommend anyone to stay here currently.

Firstly, the cabin felt very unsafe to us due to its remote location and no locks on the back door. There is no security system, and we were afraid to stay here as a family. Secondly, there was construction going on in the cabin next door, which was very noisy and ruined the peaceful atmosphere promised by the listing. We couldn't use the pool since it was closed for maintenance which the host did not inform us about.

Lastly, the upstairs bedroom has a leak in the roof, and on our last night, there were heavy rains causing my daughter's laptop and other electronics to be ruined by the water dripping from the ceiling.

We tried to contact Mike multiple times, but he failed to respond until the last day, when he simply apologized but did nothing to fix the situation. I would not recommend staying here until these concerns are addressed.
This review gives detailed information on what was wrong while also mentioning the positives. Note that most of the issues mentioned could be fixed by the host, so this listing could be improved in the future.
Example of an unhelpful 2-star Airbnb review
Disaster! No pool, super noisy, and ruined electronics. Do not stay here, save your money and go to a nice hotel across the lake. What a horrible experience, and the host didn't even give us a refund.
This review is very unclear and fails to describe the exact problems. A reader wouldn't be able to know that the cabin is most likely usually quiet if it weren't for the construction. There is a pool, but it's simply closed for maintenance, but to a reader, it might sound like there is no pool at all.
1-Star Reviews
A 1-star review is a good choice for a listing that is non-existent, a scam or not as advertised.
Example of a helpful 1-star Airbnb review
This apartment does not exist. The photos are fake, and the real place is nowhere near as nice. Moldy bed sheets, furniture falling apart and clearly hasn't been cleaned in weeks. We saw a rat in the hallway on the way in, and the entire building looks like it needs to be torn down.

It's not actually a private one-bedroom place like described in the listing but a shared apartment with many other people living there. The bathroom and kitchen are shared, and it seems like the other guests are permanent residents. The lady giving us the keys had no idea about the listing and wouldn't help us. We left immediately and requested a refund, but the host never responded. We reported this place to Airbnb, the listing needs to be removed.
A concise description of what happened and a clear warning to other travelers. There is no question why this place was rated one star. The host was unresponsive, and the listing has been reported and will most likely be removed.
Example of an unhelpful 1-star Airbnb review
This place is not as described, and we hated it. Very dirty and not pleasant.
This review is too short to be helpful and doesn't tell you very much about what was wrong. Instead of mentioning that a place is dirty, try to point out specific problems in your Airbnb review, such as, for example, the sheets were dirty or the bathroom hasn't been cleaned.
How To Write An Airbnb Review:
1. Think about what questions you had about the listing when you first booked it.
Maybe it wasn't clear if guests have access to the rooftop. Maybe the WiFi speed wasn't mentioned. Are towels provided? All this could be included in your review to help future visitors adjust their expectations.
2. Let your host know if there are any issues and give them a chance to fix them.
Maybe they are unaware of the situation, which could change your opinion of a place and impact your review. Make sure to be solution-oriented to help improve the listing in the future.
3. Write clear and concise sentences divided into sections if the review is longer.
It can be helpful to separate positive and negative points.
4. Put negative experiences into perspective.
Perhaps the kitchen wasn't very well equipped, but everything else was perfect. If it's only a small issue, don't let it make your overall review sound negative.
5. Read the description of listings carefully and keep an eye out for what the host mentions in advance.
For example, it might be mentioned that the Airbnb can be noisy at night due to its central location in the city center, which can impact your review. If the host is open and honest about this from the beginning, it's not helpful to give a low rating for this reason.
6. Be specific.
Describe problems in detail so future guests can know if their trip could be impacted in a similar way. Not all travelers are the same, so something that is a major issue for one person could be unimportant to someone else.
7. Be respectful and friendly.
Give constructive criticism wherever possible and write honest opinions of your experience. Consider writing a private review for the host in addition to a public one, and contact Airbnb support if necessary.
8. Include the type of trip and who you stayed with to give some perspective on your experience.
For example, a group of friends staying at an apartment for a bachelor's party will have very different needs than a family with small children.
Airbnb Review Template For Guests To Leave Hosts:
Copy and paste this template for your next Airbnb review. Simply fill out the details depending on your personal experience and adjust the sentences to fit your needs. Here are some things you should be including:
location
accuracy of the listing
anything not mentioned in the listing
cleanliness
safety
responsiveness of the host
furniture, kitchen, amenities, etc
how noisy the place is
what type of traveler would enjoy staying here
Our stay at ____'s (host name) place was ________(excellent, great, good, average, not as expected, terrible). The location was_____________ and ___________(exactly as described, a little further away than expected, not where described).
The place is ________(extremely quiet, sometimes a bit noisy, very noisy, unbearably loud), and I would recommend it/not recommend it for _________(families, solo travelers, couples, friend groups), because of ________(the quiet location, the central location, the child-friendly amenities, the proximity to the beach, the noisy bars nearby, the remote location, etc.).
The bedroom(s) ______(are spacious, have an ensuite bathroom, come with large closets, are too small, don't have a TV, could be updated) and the kitchen ________(is well-equipped, needs to be updated, was modern and spacious, is great for cooking, was unusable). We felt _______(welcome, at home, comfortable, uncomfortable, unhappy, unsafe) here and would/would not book this place again.
_____'s (host name) place is _______(extremely clean, clean, somewhat clean, not clean at all, extremely dirty), and the furniture _____(made it feel like home, was modern, was functional, needs to be replaced, was dirty).
_____ (host name) was ______(very responsive, responsive, not really responsive, unresponsive) which made us feel ________(welcome, glad to have stayed here, unhappy, ignored, like they didn't care)
What could be improved is_______(the cleanliness, the locks on the door, the noise insulation, the furniture, the kitchen etc.)
Pin for later!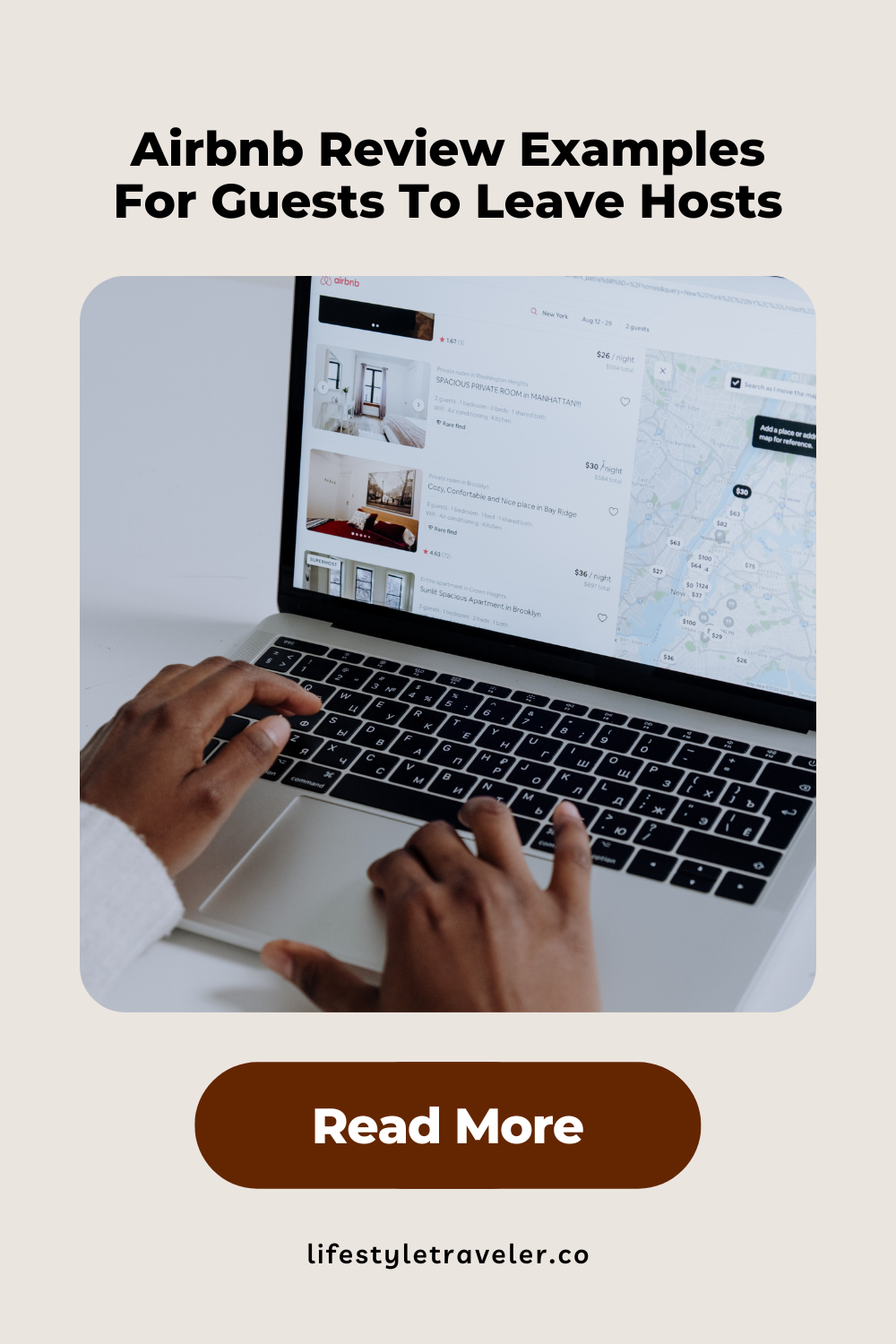 Before you go…
Let's get ready for your next adventure! Check out some of our packing tips: