For my first 2 nights in Geneva I had the pleasure of staying at the Intercontinental. I have stayed at other IHG hotels, mainly Crowne Plaza, around Europe but this was my first time staying at an Intercontinental. I was happy to find there the same above-and-beyond service, but with even more luxuries.
The Intercontinental Geneva is located right in front of the United Nations – the main thing Geneva is known for and why people visit the city. This is also about 10 minutes to the center (lake and old town) by public transport. Upon checking in you also get a Geneva Card for the duration of your trip which covers all public transportation in the city – bus, train, and boat! This is given to every guest (of every hotel) by the city of Geneva. What a generous city!
The Intercontinental hotel itself is very luxurious yet doesn't feel over the top or tacky. It boasts 2 restaurants, 2 bars, a cigar lounge, and amazing views of the city. It also has the largest pool in all of Geneva! It's a great place for both business and leisure.
As for the rooms, I stayed in one of their deluxe lake view rooms which also had an amazing view of Geneva. The room was spacious with a comfortable king-sized bed, a desk area, and bathtub (#robelife). I had an amazing night's sleep and woke up happy in the morning to a marvelous view of the city, lake, and surrounding mountains.
I was given a tour of the hotel during my stay and got to check out some of Intercontinental's most luxurious suites. The standard suite had impressive all-around views but my favorite was the bathtub! It was marble and also had an insane view of the city. It's what Instagram dreams are made of!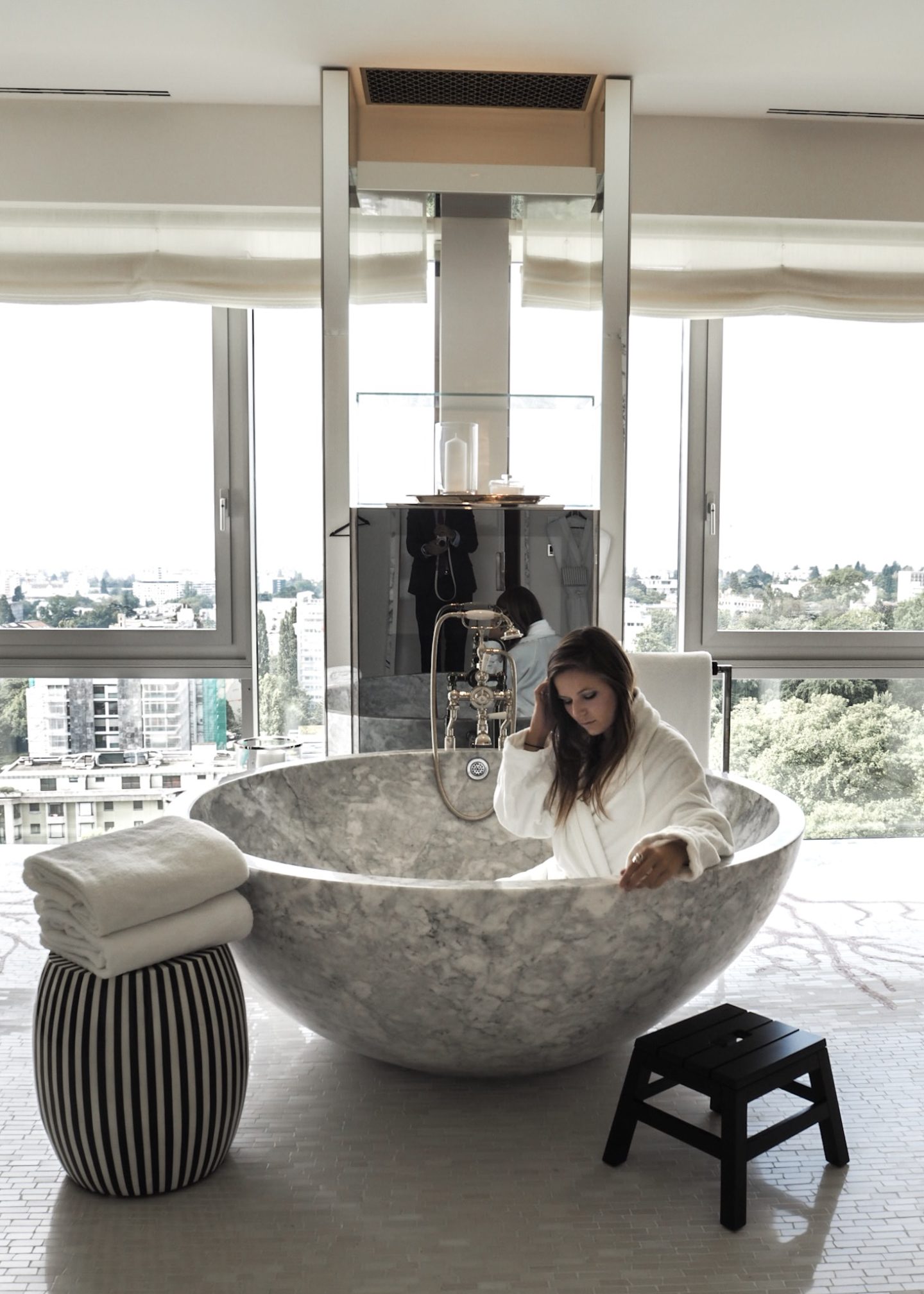 I also got to check out the presidential suite on the 18th floor. This suite is often used for photo shoots and to host private parties. It is HUGE! It has 2 living rooms, 2 dining rooms, 2 kitchens, a bar, and 2 massive master bedrooms with bathrooms to match. The place is beautifully decorated and even has silver-work made exclusively for Intercontinental. Again, my favorite part about it all were the views – they're 360 from here! Every room in the presidential suite (including the bathrooms!) have impressive views of the city.
Apart from the rooms, views, amenities, and service I also greatly enjoyed the breakfast. Breakfast has become my favorite meal of the day especially when I'm staying at a 5-star hotel. I wake up every morning eager to see what's in store. Intercontinental Geneva did not disappoint with their varied buffet breakfast full of different fruits, breads, hams, and Swiss cheeses. Since Intercontinental gets many international business guests, they have something for everyone. From typical American breakfast items like eggs and bacon, to Chinese rice and soup, to local dishes, you will not be disappointed with breakfast! Being the foodie that I am, I went full on international and tried a little bit of everything (and everything was delicious!)
All in all my stay at Intercontinental Geneva was one of the best I've had from a city hotel. It's location, amenities, service, and views (I can't get enough!) all make it the perfect hotel for both business and leisure and to explore Geneva.
Have you stayed at an Intercontinental hotel before? In which city? What was your experience like? Let me know in the comments below!
Xx, Karen