The Best Cafes For Digital Nomads In Barcelona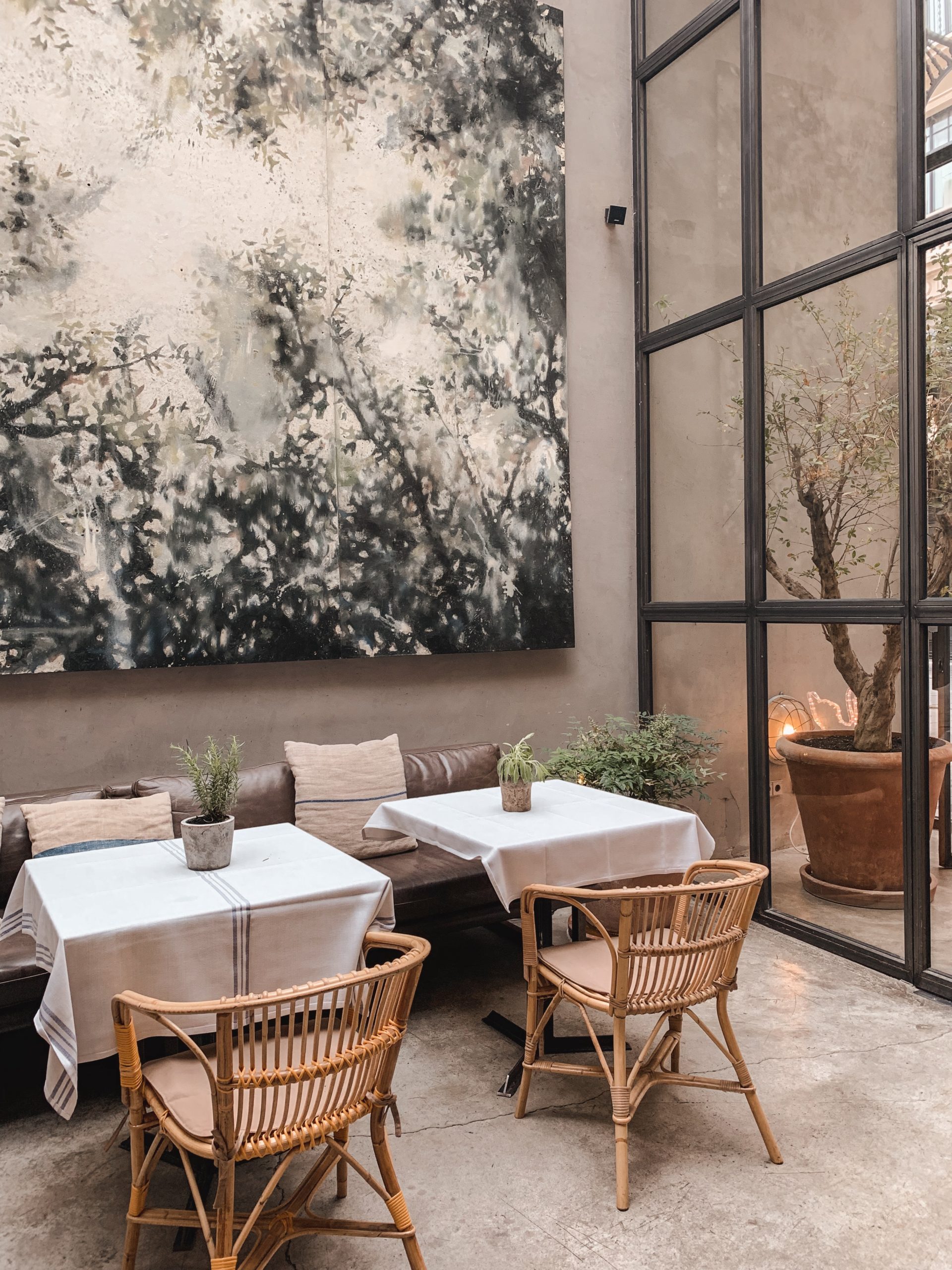 Throughout my years as a digital nomad I've explored many cities around the world, but my favorite is definitely Barcelona. This is why I made it my home! Since moving back to the city I have been searching high and low for the best cafes for digital nomads in Barcelona. Now I'm sharing my findings with you so you don't have to suffer through bad wifi, seating, or coffee 😉
This blog post is also available as Web Story 👉  "The Best Cafes For Digital Nomads In Barcelona"
The Best Cafes For Digital Nomads In Barcelona
Lulus
Neighborhood: El Born
My number one place to work from! Since its remodeling Lulu has become on of the go-to cafes for digital nomads in Barcelona. The space is cozy, has Fast Wifi, great coffee & lattes (hello matcha!). It is also vegan-friendly and has an inspiring vibe. You will want to work here for a long time! Space is limited inside, so I don't recommend trying to work from this cafe on the weekend. However, you can usually find me here Coworking with friends while sipping on a matcha latte on weekdays!
La Cala Barceloneta
Neighborhood: Barceloneta
A small, but super cute digital nomad spot in Barceloneta. This is one of my favorite cafes for digital nomads in Barcelona mainly because it's hidden! It's located near my old coworking space, One Cowork, and it's cute decor always attached me. It wasn't until I moved back to the city this year that I finally tried it and now I'm hooked! La Cala has amazing tea, coffee, and snacking options. It also has inspiring decor, Fast Wifi, and it's near the water so you'll get an extra dose of inspiration! I absolutely love working from here.
Sabio Infante
Neighborhood: Gracia
This was my favorite go-to cafe to work from when I used to hang around Gracia more, and I still highly recommend it! Sabio Infante is always packed with people working from their laptops. The space is nicely decorated, their latte options are great, they have yummy desserts and tapas, fast & reliable wifi, plus an inspiring vibe. After work you can also head to one of the many amazing restaurants or bodegas in the neighborhood to end a perfect work day! Its inspiring ambiance, reliability, and great location make it one of the best cafes for digital nomads in Barcelona.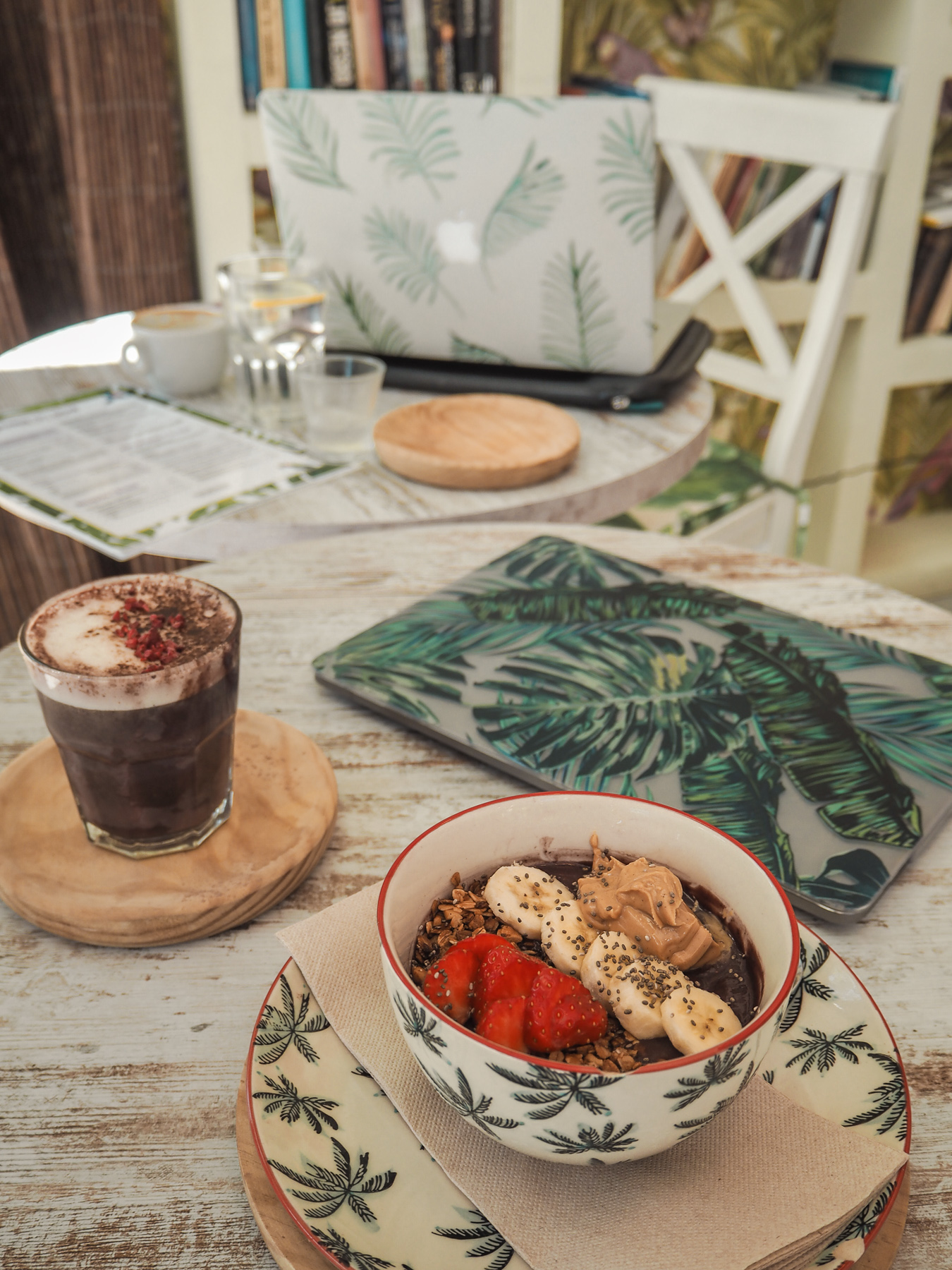 Casa Do Açai Brunch
Neighborhood: Sant Antoni
This amazing cafe has the some of the best Açai bowls in Barcelona, delicious lattes, and the most gorgeous decor with lots of natural light. I love working from Casa do Açai Brunch whenever I'm in the Sant Antoni region. Their wifi is always reliable, the ambiance is inspiring, and you get the best healthy treats to fuel you up!
Super Coffee & Food
Neighborhood: Eixample
My latest find is a cool coffee shop near Plaça Catalunya! Super Coffee & Food is an absolute gem as are their baristas. This cafe is ideal for digital nomads with Fast Wifi, good selection of teas & coffee, and a great location! The cafe is relatively small, but you shouldn't have too much of a hard time finding a seat as it's still underrated.
Taranna
Neighborhood: Raval
This is the best cafe to work at if you're looking for peace and quiet (and strong WiFi). Taranna is really cozy and cute upstairs, but offers an underground section that is perfect for work. This area is like a small coworking space where you will find creatives in-the-loop working away on their laptops. The WiFi signal reaches perfectly, there are plugs by every table, and you are away from the noise of those coming here to eat. I randomly discover this spot one day when walking around my Parlament street and it became my go-to spot for productivity. Have a coffee or tea and work away! Update: I've been informed that the cafe has sealed up its outlets, so be aware of this if you need to plug in your laptop! 
Sandwichez
Neighborhood: Multiple
This is a chain coffee house, yet it's still an amazing place to check out. I typically avoid chains, but Sandwichez has won me over with its comforting spaces, calm and quiet ambiance, strong WiFi, great tea selection, and always-centric locations. Each of their locations is spacey yet cozy and you'll find plenty of people on their laptops. I've been to most of their locations already and always end up staying around 5 hours 🤓. A great place if you don't want to risk having spotty WiFi or not finding a spot to plug your laptop in. Dependable.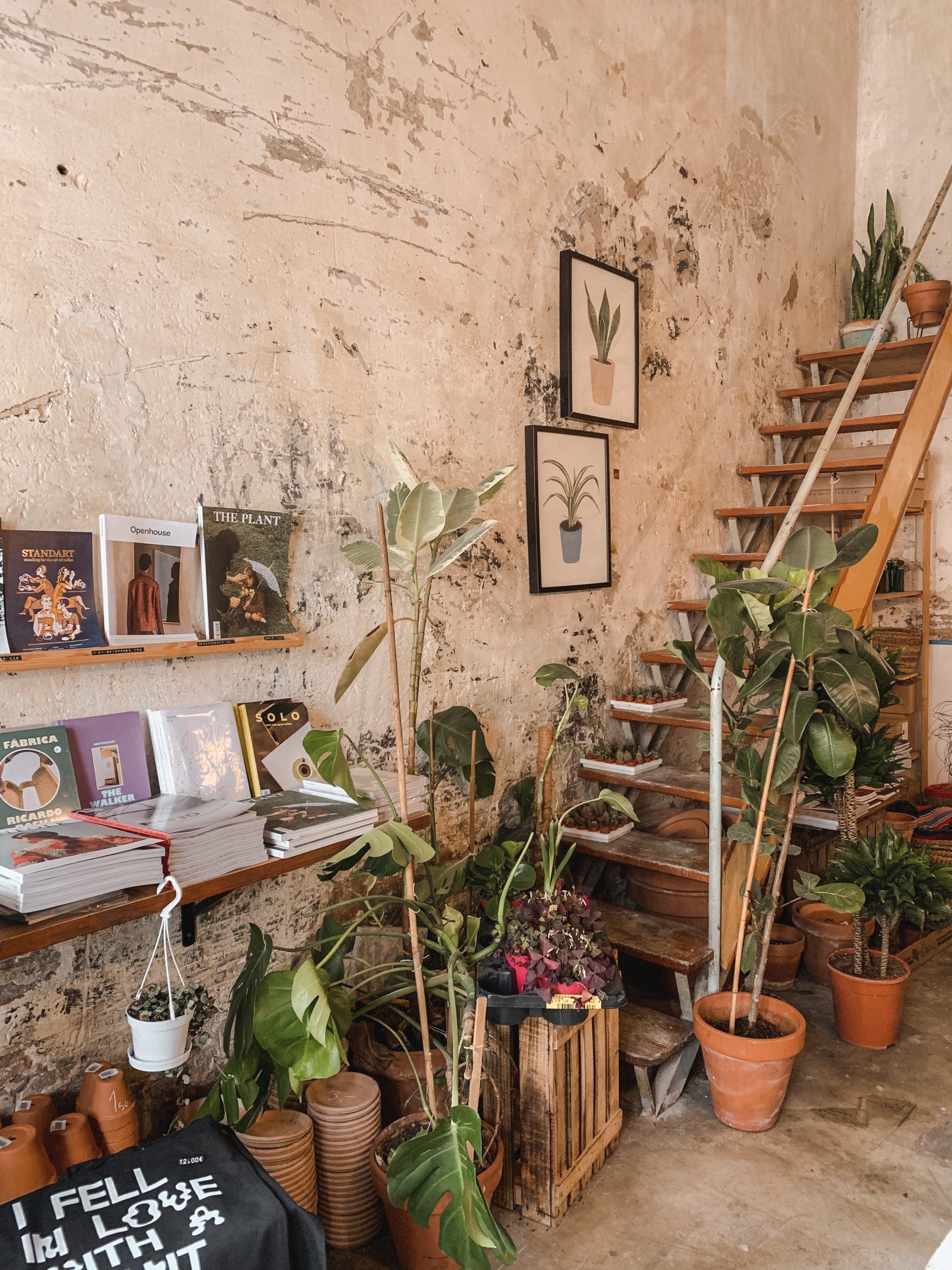 Espai Joliu
Neighborhood: Poble Nou
This is the CUTEST cafe you will find in Barcelona. Espai Joliu is part coffee shop part plant shop, so you already know the decor is on point & inspiring. Their cafe part offers a great selection of coffee & teas, treats (some vegan!), fun seating, and great wifi! It's located further from the center in the up-and-coming neighborhood of Poble Nou (where I would like to live next!). This area has tons of cool cafes for digital nomads, but this is definitely my favorite. All the best vibes here!
Hidden Cafe
Neighborhood: Les Corts
The cutest coffee house in the neighborhood! Hidden cafe is not only a great place to get some work done, but it's also one of my favorite coffee shops in Barcelona. They have a matcha bar, plenty of seating, cute decor, amigable staff, and strong WiFi (& plugs!). You'll love working from here! They also have some healthy food options in case you work up an appetite.
Federal Café
Neighborhood: Several locations
Another cafe I love to work from is Federal Cafe. Strangely, this is also technically a chain but doesn't feel like one. I love their Raval/poble sec location and go there often as it's only 5 minutes walking from my house (It's near Taranna). I love the designated community table where other creatives sit around working on their laptops. They have yummy coffee, brunch food, and strong WiFi. It's made it to several of my favorites lists! Must-try!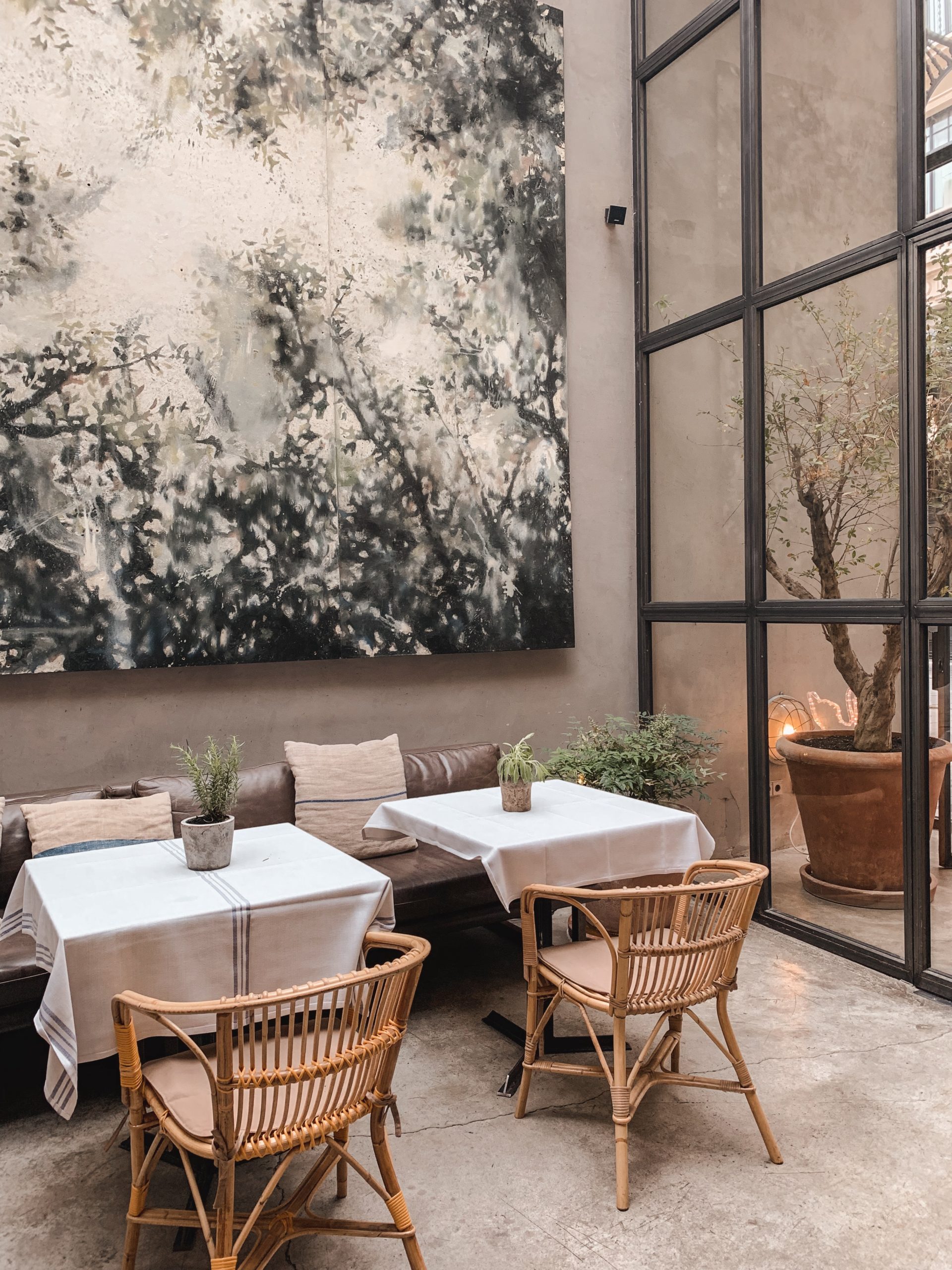 Gats
Neighborhood: El Raval 
This spot has the coolest cat-themed decor. Although this may sound cutes-y, it's a very modern, open, airy and inspiring space. Gats is located close the Las Ramblas, making it an ideal location for anyone staying near the center of Barcelona. You will find plenty of seating options here, Fast Wifi, great food, nice coffee & tea, and an overall cool ambiance. Gats is not your typical coffee shop, but more of a cool restaurant that allows you to sit with your laptop for as long as you'd like. I love coming here when I want to work undisturbed for a while, and sit in their sunny covered terrace. It's sure to become one of your favorite cafes for digital nomads in Barcelona as well!
Black Remedy
Neighborhood: Gothic Quarter
Black Remedy was recommended to me by a friend and I've been hooked on it ever since! The space is great, with positive vibes, friendly staff, a nice tea and coffee selection, strong WiFi, and plenty of seating. It's a great coffee shop to get some work done in between sightseeing due to its centric location! It's one of my favorite coffee houses in the neighborhood. You'll want to stay awhile!
Pin for later!