11 Best Coworking Spaces In Barcelona For Digital Nomads
Barcelona is a vibrant city with millions of international visitors every year.
It is a top city for expats and creatives.
It's no wonder that there are so many coworking spaces in Barcelona.
Digital nomads favor this enchanting metropolitan for its food, lifestyle, beaches, and people. 
When you first become a digital nomad in Barcelona, the first step is to find a coworking space so you can network and hang out with like-minded people.
After spending much time exploring incredible offices around town, I have come up with these 11 best coworking spaces in Barcelona for your next trip!
11 Best Coworking Spaces In Barcelona
1. CahootCoworking Barcelona
Best for: Short-term visitors, entrepreneurs
Price: Monthly €185 (flexible desk), Day Pass €21
Address: C. de Floridablanca, 94, 08015 Barcelona, Spain
Located in the heart of one of the coolest areas in Barcelona, you can expect to meet and greet plenty of awesome freelancers and digital nomads here.
Although CahootCoworking is always packed with ambitious entrepreneurs, its 800 square meter space still gives everyone enough privacy and space.
Once you move away from the main open office area, there are private rooms and booths to take your business calls.
There are private offices available, which is perfect if you are running a small team locally.
You can book a free tour to check out its facility first before committing to it.
2. Aurea Coworking
Best for: Artists, creative directors, networking, writers
Price: Monthly €210 (flexible desk), Day Pass €25
Address: Av, Via Augusta, 318, local 4, 08017 Barcelona, Spain
Looking for a quieter place to work in?
Aurea Coworking ticks the box!
The space is ample, with plenty of seating, a conference room, and kitchen.
When I tried out Aurea Coworking the space was pretty empty, which was nice, as there weren't many distractions.
I had to do a Zoom conference call and was allowed to go into a quieter room to do so.
Aurea is the perfect coworking space in Barcelona if you're looking for a quieter place to focus on work.
Aurea Coworking is the best place for some alone time to pace your mind and get into the workflow without getting distracted.
At the same time, there is an exquisite bar area and lunch break room for you to network with other members.
3. Espai Born
Best for: Budget digital nomads, young professionals
Price: Monthly €150 (flexible desk), Day Pass €15
Address: C/ dels Vigatans, 11, 08003 Barcelona, Spain
Espai Born is a beautiful coworking space located in the heart of Barcelona's old city center.
El Born is where I lived for part of my time and it's possibly my favorite neighborhood in Barcelona.
This coworking space captures the essence of Born perfectly in its aesthetic with exposed brick walls, modern-rustic decor, and an overall cozy feel.
Espai Born has several shared tables to work from, a coffee and tea station, and very strong wifi!
The coworking space is located underground so natural light is lacking, but it works in this cozy environment.
It's the perfect spot to work on your laptop while cozying up with a cup of coffee.
This place is relatively small in membership size, but that's how it is able to create an intimate bond among members.
Espai Born is particularly popular among young digital nomads who want to build friendships.
With a friendly price tag of just €150 per month, Espai Born is the perfect place for budget freelancers or those new in the digital nomad world.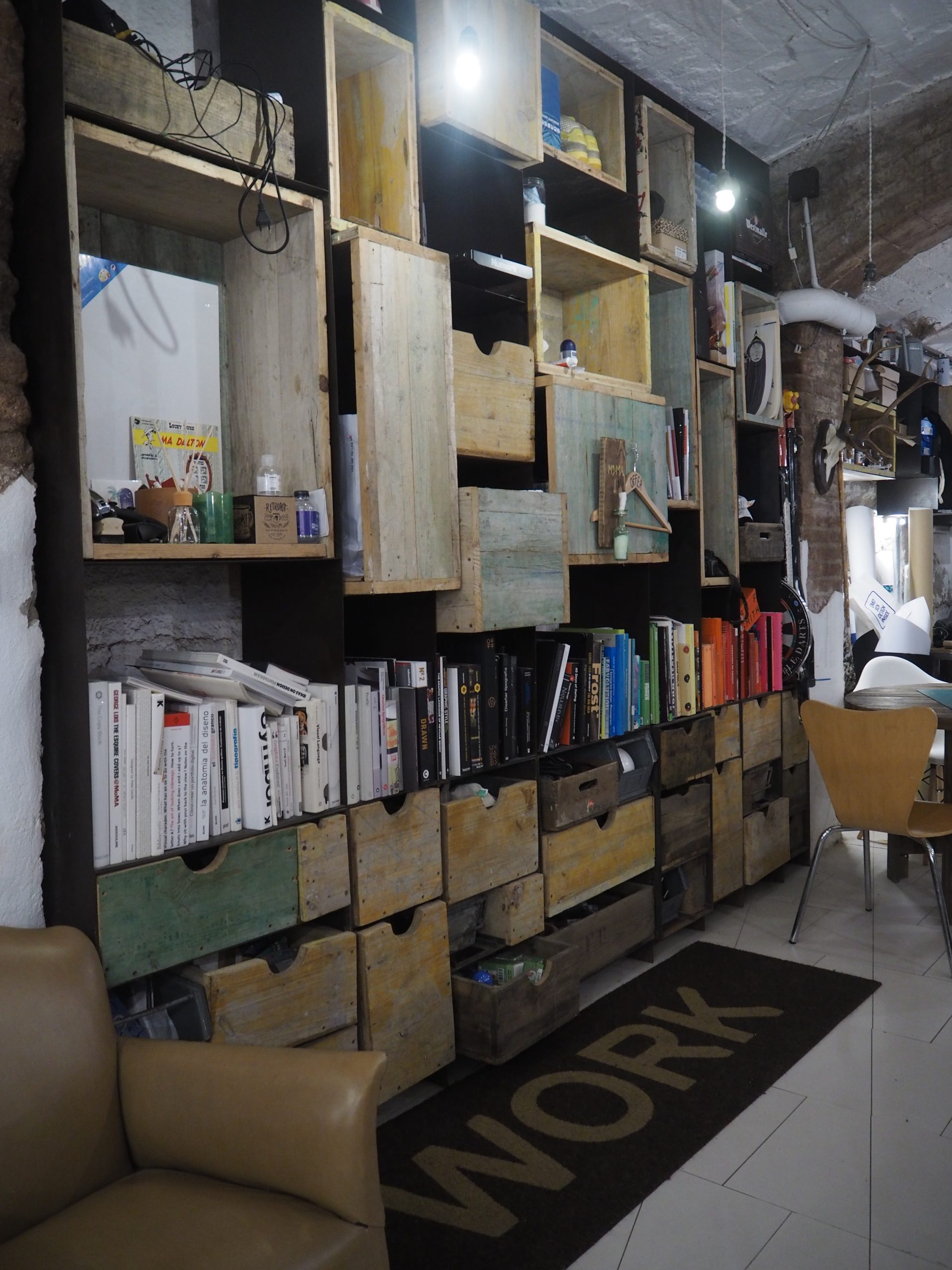 4. PAU
Best for: Small business owners, programmers
Price: Monthly €155 (flexible desk), Day Pass €18
Address: Rda. de Sant Pau, 47, 08015 Barcelona, Spain
PAU offers you a local, home office vibe with cozy wood interiors, ample natural lights, and a gorgeous rooftop for after-work drinks.
It steers away from the typical modern coworking space design and has a down-to-earth tone overall.
At this coworking space, you will make friends every day.
There is a large common lounge to relax in and play board games. It emphasizes the perfect work-life balance.
You will be making friends from all over the world and enjoy enriching conversations about your travels.
There are regular networking events to encourage collaboration among members.
As a small business, it gives precious opportunities to partner with others and grow together.
5. MOB Bailen
Best for: Writers, coaches, designers, artists
Price: Monthly €160 (flexible desk), Day Pass €20
Address: C/ de Bailèn 11, bajos, 08010 Barcelona, Spain
Just next to the famous Arco de Triunfo de Barcelona, you will find the cozy MOB Bailen.
Being the original MOB branch that opened in 2011, this is one of the oldest and most popular coworking spaces in Barcelona.
The whole building is a renovated textile factory with many of the historic features remaining.
Instead of a modern tech vibe, this place gives a warm cultural atmosphere for those seeking a more intimate touch with Barcelona.
MOB Bailen offers a free day trial for you to feel the awesome and welcoming vibe.
Grab your laptop and explore the community!
6. BDN Lab
Best for: Budget digital nomads, entrepreneurs, freelancers switching career paths
Price: Monthly €120 (flexible desk), Day Pass €15
Address: C/ del Gral. Weyler, 128, 08912 Badalona, Barcelona, Spain
When you first embark on your digital nomad journey, the cost and uncertainty can be overwhelming.
BDN Lab is a coworking space that not only provides a table for you to work from but also mentorship programs to nurture and grow your business.
BDN Lab offers monthly workshops focusing on various disciplines.
From filing your taxes to registering your business, their programs give you a detailed look into many possible digital nomad paths.
Through their programs, you will meet like-minded entrepreneurs that you could collaborate with for your next business proposal.
You can add on any courses anytime to enrich your portfolio.
7. Betahaus
Best for: Investors, traders, analysts, accountants, marketers, business meetings
Price: Monthly €269 (flexible desk), Day Pass €17
Address: Carrer de Vilafranca, 7, 08024 Barcelona, Spain
Betahaus is a relatively large-scale coworking company with six branches across different European cities.
It attracts successful businessmen and multi-million startup unicorns to base their teams here.
In the Barcelona office, there are several office areas, entertainment facilities, two outdoor areas, and a few break rooms for meals and drinks.
In this massive space, you can brainstorm your next millionaire idea and partner up with other established businesses.
If you are scaling up your business and looking for a coworking space with iconic meeting rooms, Betahaus is the right choice.
Its meeting rooms are designed for various purposes.
8. OneCoWork Portal de l´Àngel
Best for: Designers, artists, social media managers, illustrators, writers, bloggers, influencers
Price: Monthly €200 (flexible desk), Day Pass €30
Address: Avda. del Portal de l'Àngel, 40, 08002 Barcelona, Spain
Once upon a time, digital nomads in Barcelona were going crazy about OneCoWork Marina Port Vell because it sat right next to Barceloneta Beach.
Since that branch has closed off, people seem to have forgotten the incredible features OneCoWork offers.
OneCoWork Portal de l´Àngel is another branch slightly away from the beach but still within walking distance.
It is one of the best coworking spaces in Barcelona to take in a full view of the city while focusing on your work.
The unobstructed view from the rooftop instantly revitalizes you with new business ideas while taking off your work stress.
Its high-speed wifi, friendly atmosphere, and affordable packages are all reasons to try OneCoWork.
9. La Vaca Coworking Barcelona
Best for: Software engineers, programmers, web developers/designers, brand managers, networking
Price: Monthly €185 (flexible desk), Day pass not available
Address: Carrer de la Creu dels Molers, 19, 08004 Barcelona, Spain
The most hipster, electric coworking space in Barcelona has got to be La Vaca Coworking.
The entire space is designed to mimic vintage video games. Its game room comes with pool tables, pinball machines, hammocks, classic board games, and a quirky bar area.
Whenever you need a break to recharge, just head over to the next room!
While the desks are more compact with less space between everyone, you get to be a part of a big family with every international and local member.
There are daily activities going on in the common lounge. Both La Vaca Coworking and members will organize events, such as yoga lessons, video game nights, and community lunches, to boost community morale.
In this dynamic place, there are lots of artists, designers, and programmers.
If you work in one of these fields, you have to check out the space. 
10. The Office Coworking Barcelona
Best for: Coaches, investors, virtual assistants, office admins, web developers, business meetings
Price: Monthly €150 (fixed desk), Day pass not available
Address: Carrer Calàbria 149, entresol 1a, 08015 Barcelona, Spain
For those of you working in coaching, admin, virtual assistance, or anything that requires a more formal office setting, The Office Coworking Barcelona is here for you.
Unlike most other coworking spaces that emphasize sitting next to strangers and chitchatting, The Office Coworking aims to provide a more career-focus, independent working experience.
Each workspace is sectioned off with a separator.
While members are happy to chat over a coffee in the pantry, most people will leave you alone in the office area.
There are desktop computers available if you need a strong processor for graphics and video calls. 
The Office is fantastic for those seeking a workstation outside of their house but who want to avoid social pressure to chat with others at the same table. 
11. Valkiria Hub Space
Best for: Filmmakers, journalists, videographers, photographers, writers, directors, social and leisure activities
Price: You have to contact Valkiria Hub Space for pricing as it depends on the duration, support, and space needed.
Address: C. de Pujades, 126, 08005 Barcelona, Spain
Valkiria Hub Space is a place for constant stimulation and excitement.
The community wants members to enrich their lives and take their careers further by hosting regular seminars, dinners, concerts, and other fun activities. People working in the media field such as social media influencers, writers, and filmmakers love using this space as their hub.
Members adore Valkiria Hub Space as it fulfills both their social and professional needs.
During the day, you can hang out in the open office.
When nightfall arrives, change into your party heels and have a few drinks with other digital nomads. 
You can also rent out their rooms for your private events.
If you have clients in Barcelona and want to arrange a fun quiz night, Valkiria Hub Space has the best sound effects and light shows!
Felisa Coworking

(permanently closed)
Felisa Cowork is a small but bright coworking space in the beautiful area of Vila de Gracia – one of my other favorite areas in Barcelona.
This coworking space was the most sought after out of all the ones I tried, perhaps due to its ideal location in Gracia, away from tourists, or due to its great work environment.
I tried this spot with one of my Barcelona digital nomad friends and fellow blogger, Daisy.
The space has just 12 open desks, keeping the amount of people limited.
This allows digital nomads to really focus on their work. The desks are spacious and comfortable, and each guest gets their own to get organized as they please.
I appreciate this as I usually have my laptop, camera, planner, and notebook with me for work and sometimes shared tables can feel cramped with all my stuff out.
Felisa Cowork also has a nice kitchen where you have free access to coffee, a range of teas, and fruit.
This was my favorite coworking space in Barcelona for productivity.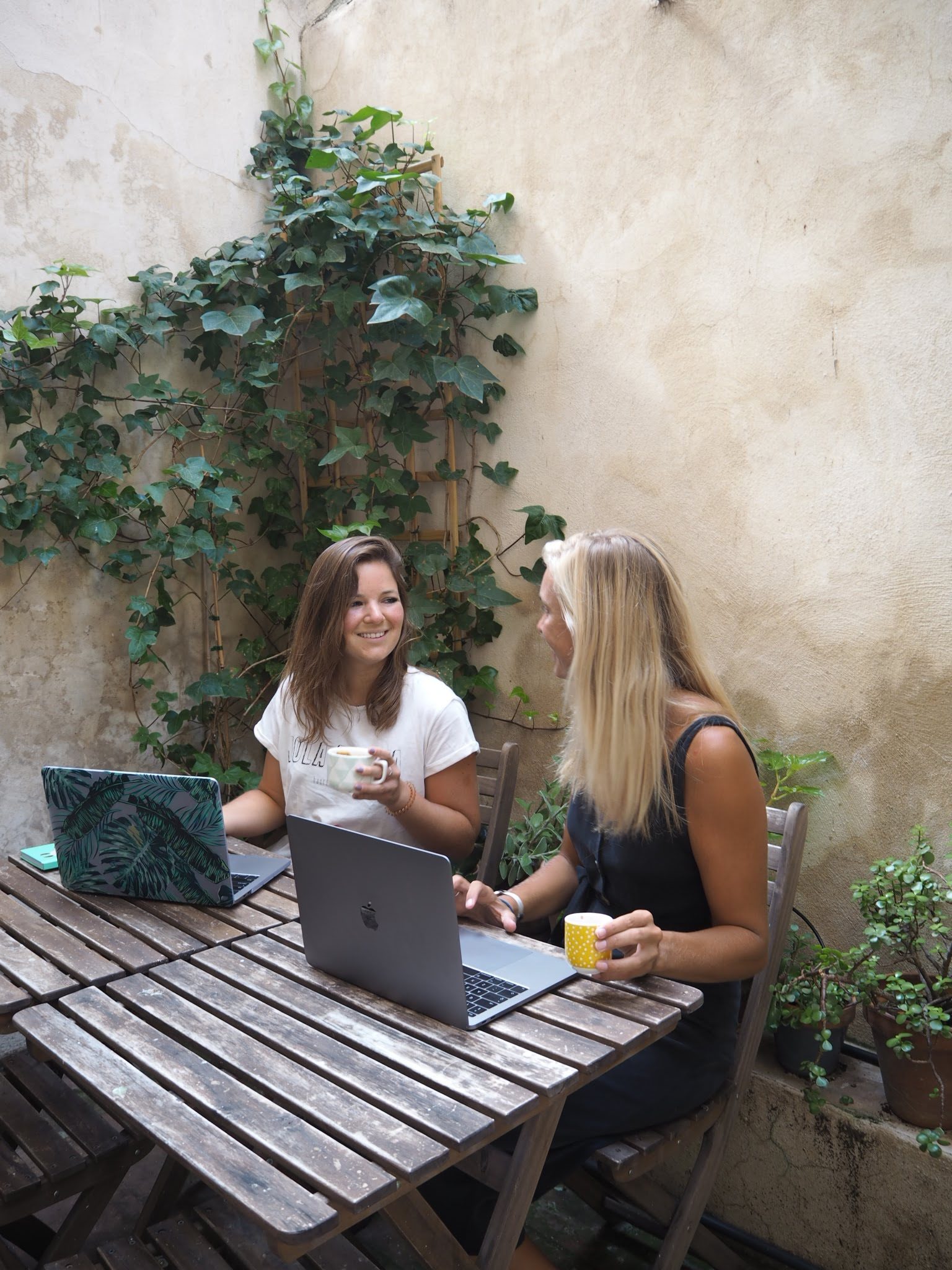 City Bar

(closed)
City Bar is the most unique coworking space in the city simply because it's actually a bar.
City bar belongs to Grand Hotel Central, one of the top hotels in Barcelona.
The coworking space is really a restaurant that has been made work-friendly with outlets at each table, strong wifi.
This was the most luxurious work experience I had while in Barcelona, being waited on and given top customer service while working from my MacBook in a gorgeous environment.
It felt like I was working at a coffee shop in Vienna vs. a coworking space in Barcelona.
This is definitely the spot to be if you prefer a more cozy environment over the office feel of most typical coworking spaces.
How do I choose a coworking space?
Duration
Most coworking spaces will allow you to purchase day or week passes independently but a few places may require you to sign up for at least one month.
Places with stricter membership requirements usually want to foster strong community bonds by hosting long-term members only.
Have a look at their pricing plans and see if they offer a day trial. 
Location
Barcelona is a massive city with dozens of cool neighborhoods and also less accessible suburbs.
When you are evaluating your options, it is essential to consider the location.
Ideally, you want an office in a vibrant area so you can enjoy an exciting after-work life.
In these areas, you are also more likely to make new digital nomad friends.
Purpose
Are you a solo digital nomad or do you have a small local team to manage?
Do you need a private meeting room regularly?
Do you need a formal office setup for calls or want a chill environment?
Think about the purpose of your business to decide which style and atmosphere resonates with you the most.
Career
Joining the right coworking community can take your career forward. While coworking offices are great for making friends, the truth is, it is unlikely that every coworking space attracts similar digital nomads to you.
For example, some coworking communities attract those on the IT side more while others draw artists to join. Choosing a space that aligns with your career and values can connect you to the right decision-makers. 
Coworking Space Prices In Barcelona
It can be hard to set a range for coworking space prices in Barcelona due to each of them offering different features. Some coworking spaces with regular events, 24/7 access, and career support can charge double than those offering just a table and a chair.
Still, looking at quality coworking spaces around this beautiful city, you will find most of them charging between €80 to €250 a month for one person.
Is It Worth Paying For A Coworking Space?
Without a doubt!
Joining a coworking community has always been rewarding and helpful. Whether I'm working alone or exchanging ideas with others, I find it much more pleasing and efficient to be in a space with similar people.
A good coworking space is not just about having a solid table and stable internet. It is about fostering a positive business environment for entrepreneurs, freelancers, and remote workers to collaborate with and grow together. That's why many coworking spaces organize workshops and design a layout that facilitates conversations.
Once you have tried coworking spaces in Barcelona, you can't go back! With the help of a large network, you can easily find the right contacts for better outreach and transform your business. 
Free Coworking Spaces In Barcelona
It's okay if you are new in town and iffy about binding yourself to a coworking space contract.
In a bewitching city like Barcelona, there are plenty of coworking spaces for free. 
To begin with, local cafes are awesome.
They are authentic, lively, and friendly. Order a few snacks and coffee and sit outside to soak in the sun while you bring out your laptop.
The best part is that you can visit a new cafe every day to keep things fresh. 
Public libraries are another great option for a quieter workspace.
You can fully concentrate on work without the noises of car engines and chattering to distract you.
There are plenty of local libraries, big or small, scattered across Barcelona.
Wherever you stay, there will likely be one within walking distance.
Conclusion
Barcelona is one of the best cities for digital nomads.
There are endless career opportunities and friendly faces to welcome you.
If you are ready to embark on your next trip to Barcelona, try one of these coworking spaces to complete your digital nomad journey.
You Might Also Like To Read: