The 14 Most Instagrammable Spots In Barcelona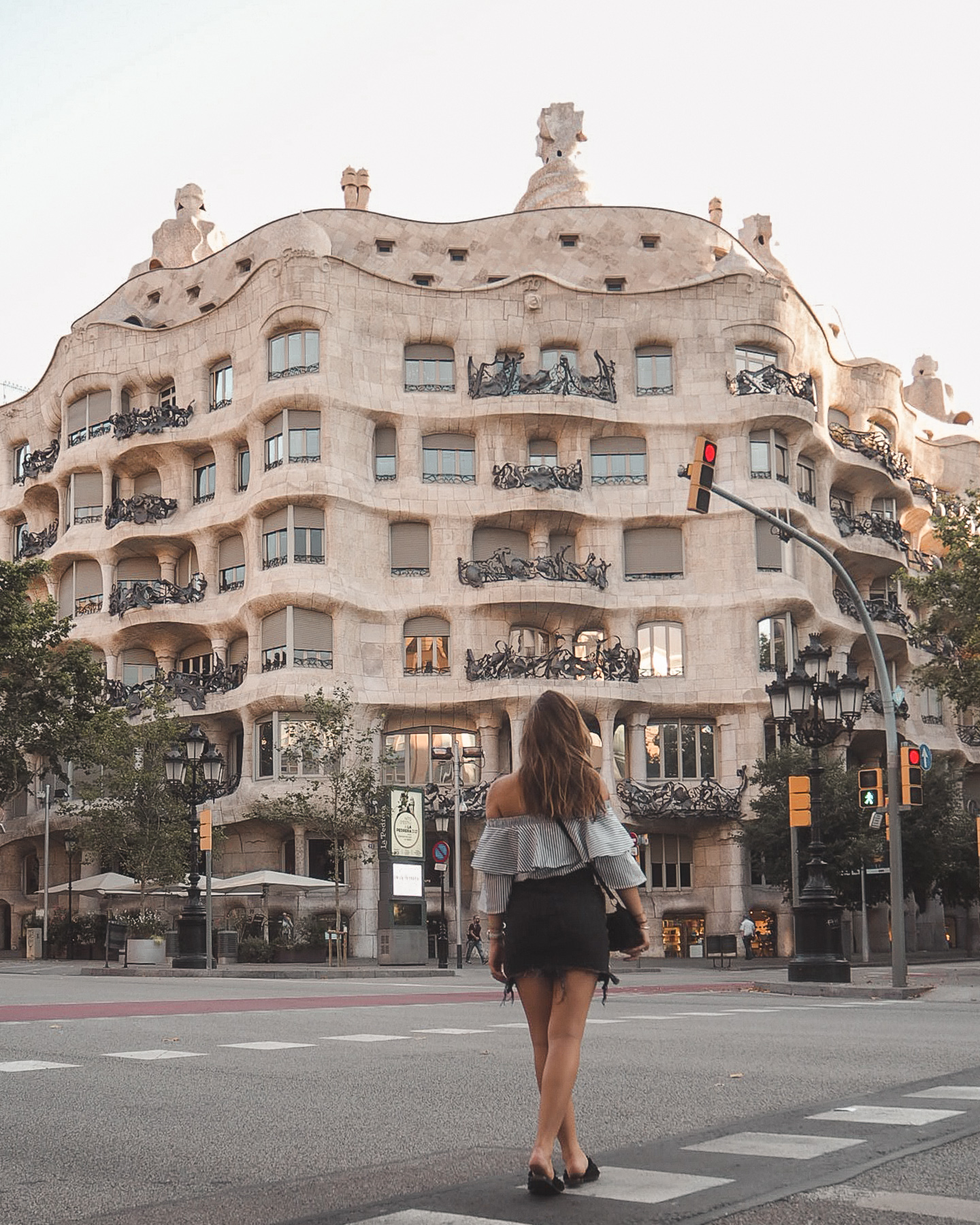 Barcelona is one of the most instagrammable cities I have ever seen. I still can't believe I got to live there as a digital nomad. My Instagram has definitely seen a boost in engagement since moving here. Barcelona has so many amazing and photogenic buildings (thanks Gaudí!) that you can simply go for a walk around the city and run into stuff. Every time I leave my house I find new, instagrammable spots in Barcelona. There are so many spots to shoot in this city that it can be a little overwhelming if you're short on time. How do you choose?! That is why I've narrowed them down to my absolute favorite, instagrammable spots in Barcelona. These spots are proven (through my own posting) to get you the most likes on Instagram 😉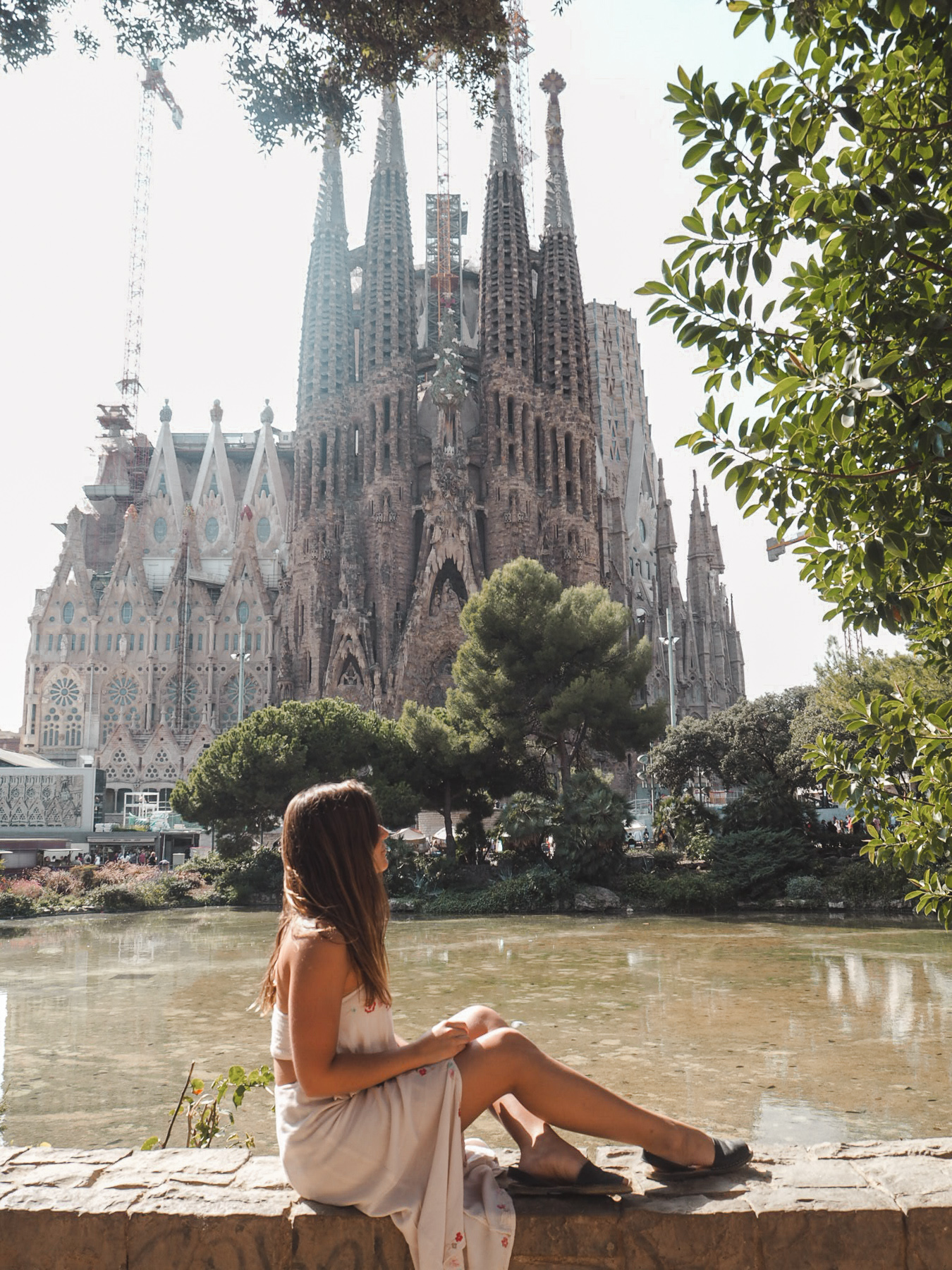 1. Basílica de la Sagrada Familia
Neighborhood: Sagrada Familia
The Sagrada Familia is Gaudi's most famous masterpiece and the main reason many people come to Barcelona. It is insanely beautiful! You won't believe your eyes even when you're inside. This is the most mesmerizing building I have seen in my life. The colors inside even change depending on the time of day. My favorite? Sunset, of course!
Where to get the best shots:
Park – there is a park in front of the Sagrada Familia where you can get the most Instagram-worthy shot. Just beware that it's always packed and watch out for pickpockets.
Rooftop at Sercotel Hotel Rosellon – this hotel has the most prime rooftop! Here you can enjoy a drink and get a shot with the back part of Sagrada Familia (aka the unfinished part; it's been under- construction for over 100 years!). Talk about an instagrammable view!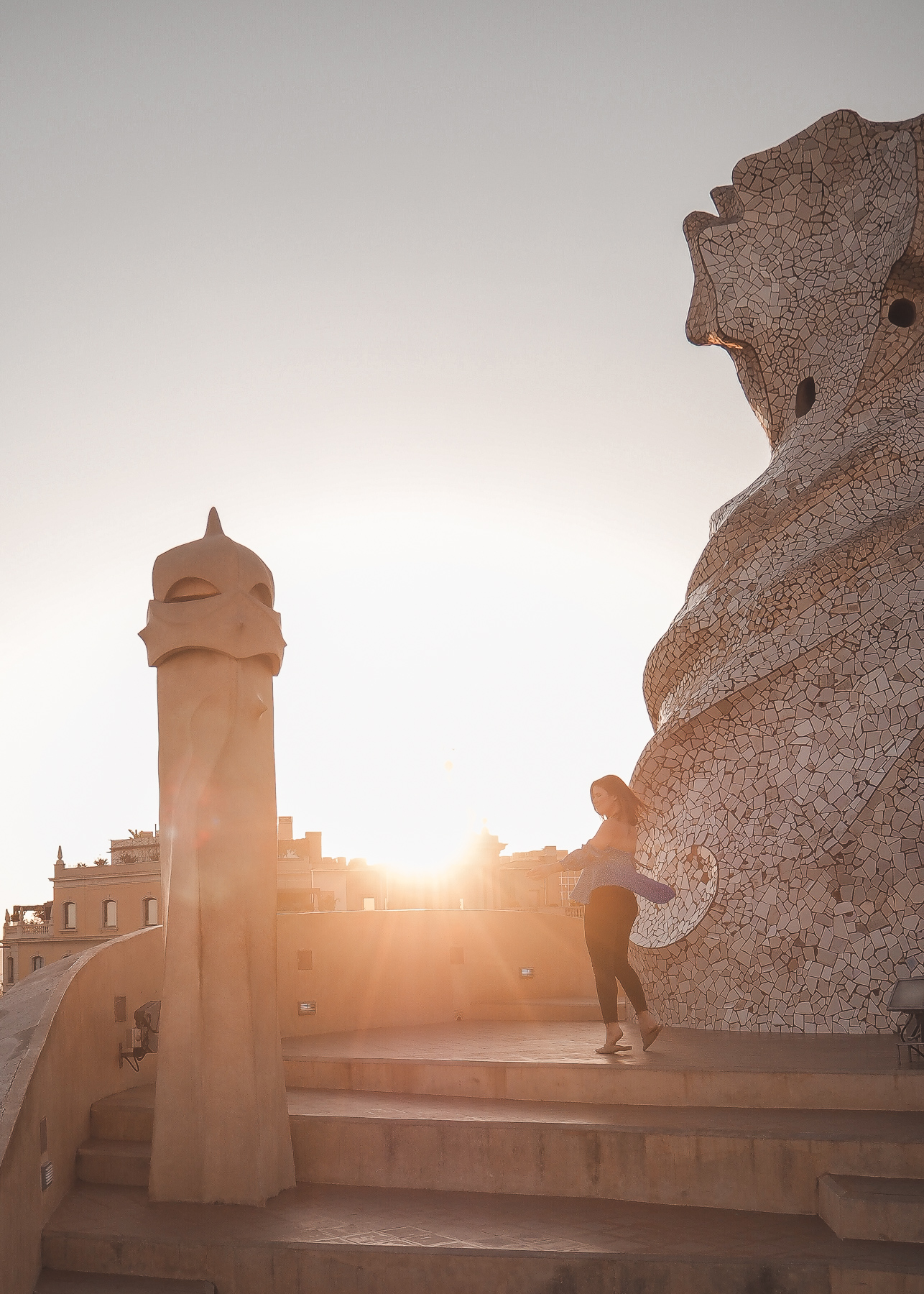 2. Casa Batlo & Casa Mila
Neighborhood: Eixample
These two Gaudí houses are located right on the popular shopping street- Passeig de Gracia. These are some of the most instagrammable and well-known works of Gaudí. They are definitely worth going by (and entering!). Make sure to also walk around Passeig de Gràcia as this street is also perfect for an Instagram photo!
Where to get the best shots:
Right on the street – in order to get a shot of the buildings' facades, you need to stand on Passeig de Gràcia (with every other tourist). Tip: come early in the morning for un-obstructed views. Photo on the left was right after sunrise, photo on the right was mid-day. See the difference in the amount of people?
Inside the houses- both houses are amazingly beautiful from the inside as well. Casa Mila (or La Pedrera) has a mega cool rooftop!
El Nacional
Neighborhood: Passeig de Gracia
This is the absolute most gorgeous spot to get foodie/drink photos. El Nacional is a stunning collection of restaurants and bars located right on Passeig de Gracia. It's loved by both locals and tourists – you'll understand why when you visit. Too Instagrammable!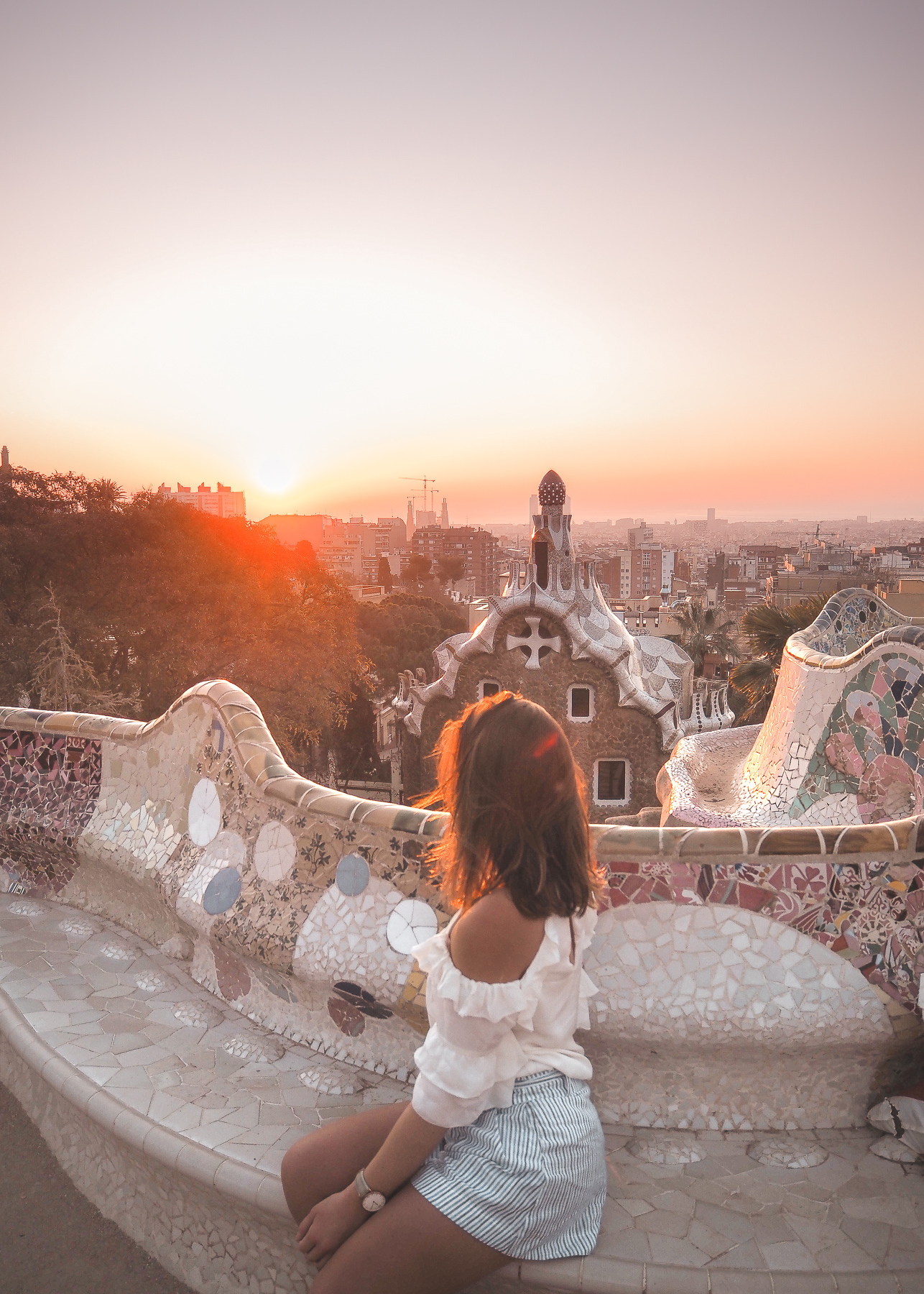 3. Park Güell
Neighborhood: Gràcia
Park Güell is an insanely beautiful park located high above Barcelona. You can get some stunning shots of the city from here. The architecture will have you in awe, as will your mega instagrammable photos. Be sure to take photos from multiple angles; you will want to post more than one!
Tip: come here before 8:30am aka before the park officially opens for tourists. You will get free access and catch the sunrise! Talk about an Instagrammable moment!
4. Casa Vicens
Neighborhood: Gràcia
This Gaudí house just opened up to the public in November of 2017. It's the first time (since it was built) that tourists can access it. Take advantage of this and check out another one of Gaudi's impressive works of art – they are always Instagram-worthy! Did I mention it's one of his first works in the city? Pretty cool to see where he started!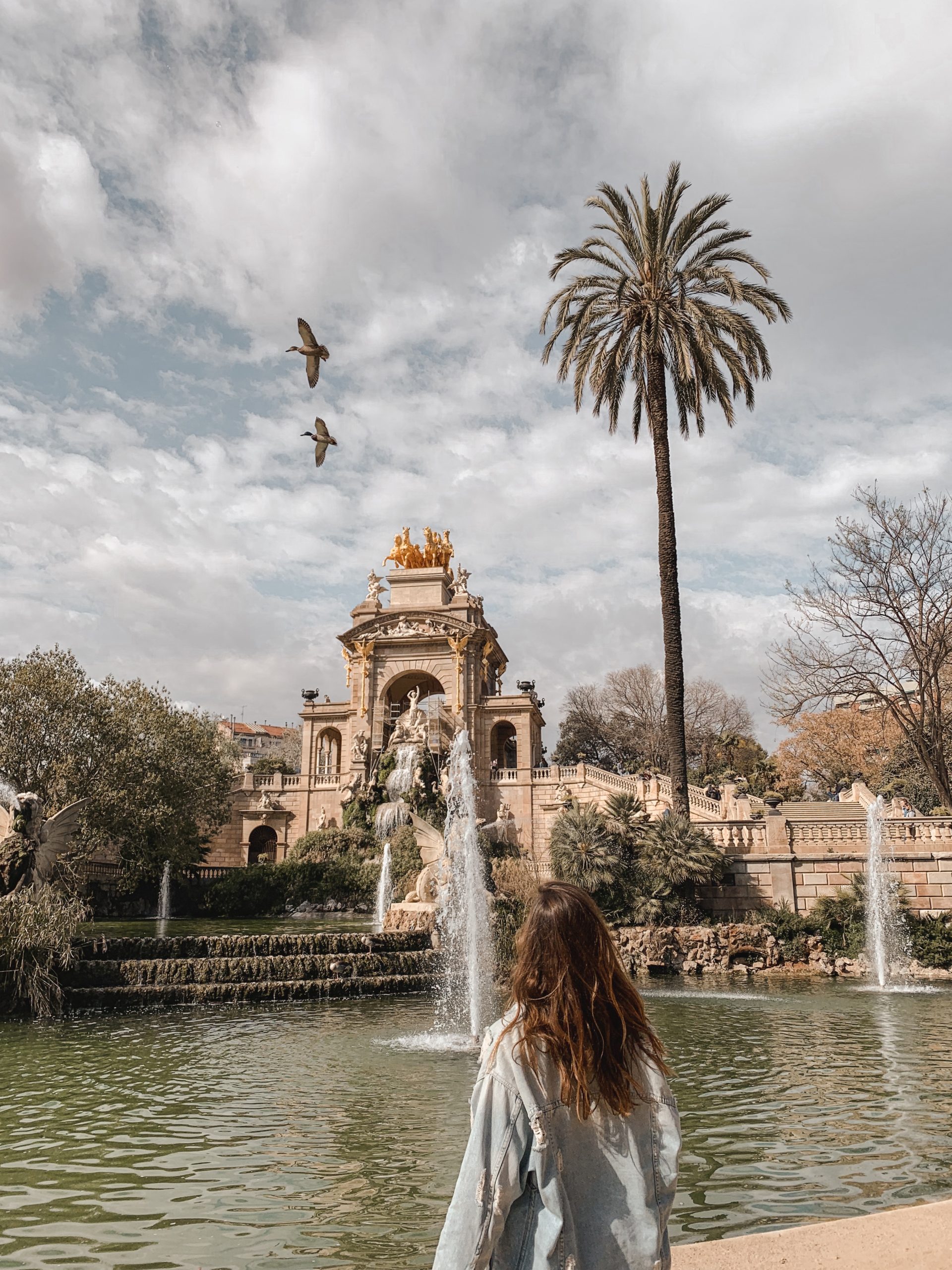 5. Parc de la Ciutadella
Neighborhood: El Born
I've spent many mornings at this park as it was right next to my original flat when I first moved to Barcelona (September 2017). Needless to say, this park has a special place in my heart. It's not only a perfect spot for a morning workout, but also plain gorgeous! The fountain area is so instagrammable you won't believe your eyes! Come early for undisturbed views.
6. Arc de Triumph
Neighborhood: El Born
Located right by Parc de la Ciutadella, this is also an iconic spot in the city, and oh so Instagrammable! Pick up a bike, some friends, or just twirl underneath the arc for the best shot. It's awesome shooting early with the sunrise colors (and without the crowds).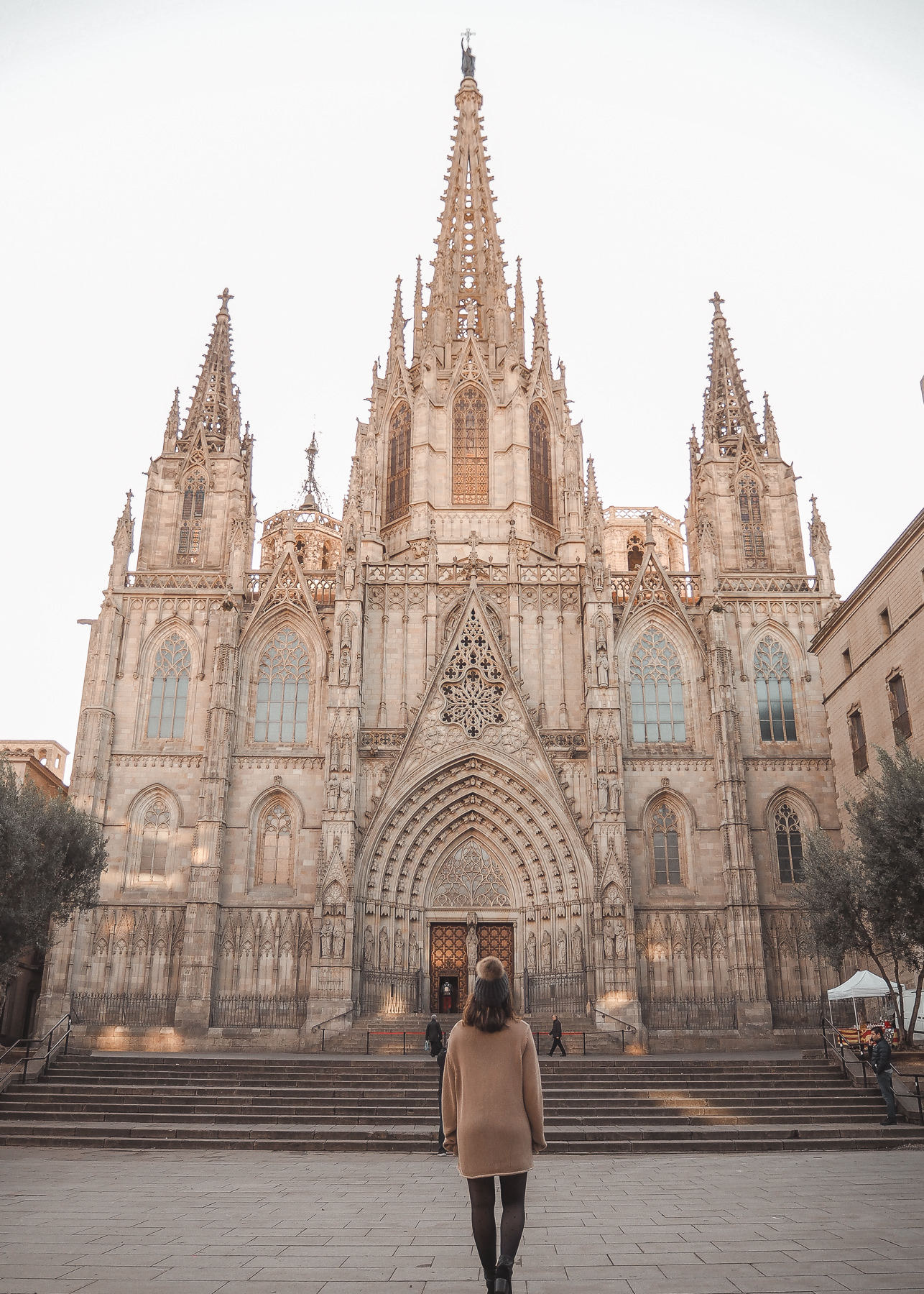 7. Barcelona Cathedral
Neighborhood: Gothic Quarter
Easily one of the more popular tourist destinations in Barcelona.
Probably the most stunning building in Barcelona (aside from Sagrada Familia).
Where to get the best shots:
Set yourself up infront of it
Go inside to the rooftop
Head to my favorite side street (just off of Via Laietana) for a unique perspective.
Pro-Tip: To capture the whole cathedral, it's best to walk towards the opposite end of the plaza (right in front of a line of tables where people are eating) and get your shots. Just throw in a light "Perdóneme" to avoid getting yelled at.
I love walking by this Cathedral. There's always something going on here – whether it be a market, street musicians, or just flocks of birds chirping in the early morning hours. This cathedral is sooo instagrammable.
8. Inside The Barcelona Cathedral Cloister
Continuing on with the Barcelona Cathedral, the inside is just as (if not more) photogenic than its facade.
The walls are lined with ancient religious relics, mosaics and a rainbow of colorful window panes.
But the most magical spot in the cathedral is just outside in the cloister.
Its partial ceiling lets waves of natural light flood through the palm trees and reflect off the fountains and pools.
The best part about the cloister?
It's the permanent home of 13 white geese to honor Saint Eulalia, who the cathedral is dedicated to. Get a photo with the geese–but be careful they don't snatch your phone out of your hand!
I'm not kidding. They actually do this.
9. Plaça Reial
One of Barcelona's most beautiful squares. No wonder they named it "Royal". Plaça Reial is one of the focal points of the Gothic Quarter punctuated by a gorgeous fountain in the middle of the square. Pro-tip: Take your photos at night when the square lights up from all its surrounding bars, restaurants, and hot spots.
10. Pont del Bisbe
Neighborhood: Gothic Quarter
The bridge located right off the Barcelona Cathedral was in fact, not built during the Medieval era but in the 1920's by Joan Rubió i Bellver.
Creepy side note: Bellver was said to have hidden a human skull somewhere in the bridge and anyone who finds it will become a victim of its curse!
11. Columns of Temple Augustus
This ancient wonder is so hidden that you'd walk right past it and never know it was there. Built around 1 BC for the Temple of Augustus, these ancient Roman columns can be found in a narrow back alley of the Gothic Quarter. They are completely surrounded by modern apartments and office spaces. They are free and open to the public most of the day so this should definitely be a place to hit on your Instagram checklist. Pro-tip: get as low to the ground as you can to capture the full length of the columns!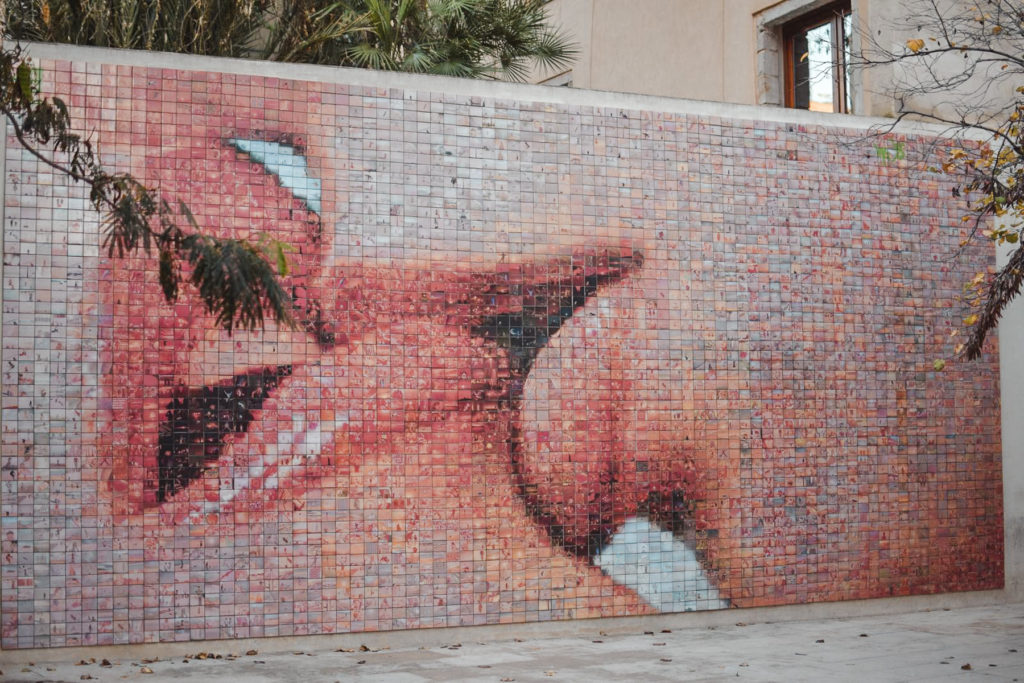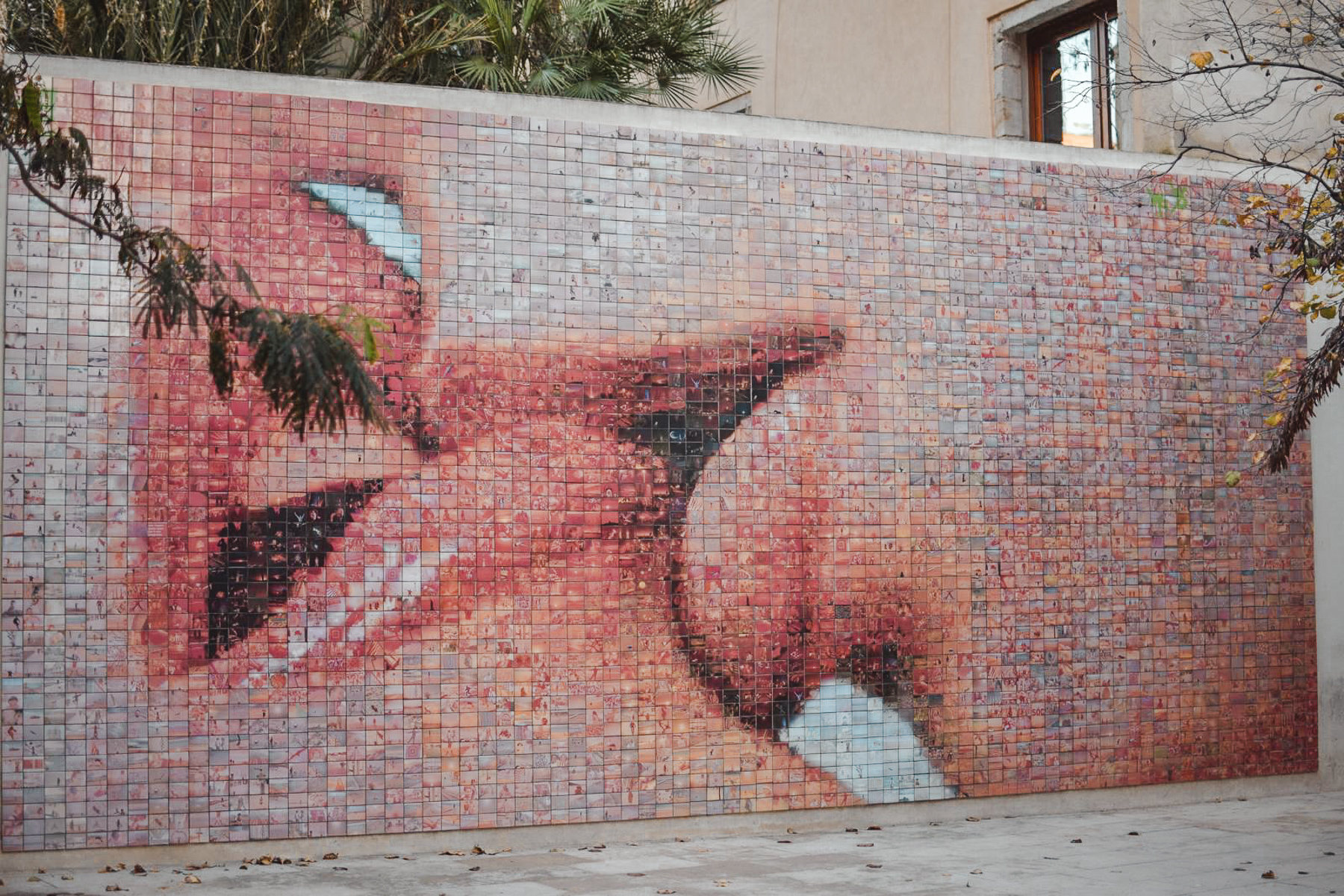 12. "The World Begins With Every Kiss"
While this mural is technically in adjacent Raval, it is a must for this tour.
What is more Instagrammable than a photo in front of a romantic work of art? In this case, Joan Fontcuberta's mural, "The World Begins With Every Kiss," is as romantic as you can get.
The giant mural, which forms two lovers mid liplock is actually a mosaic made of thousands of ceramic tiles.
These tiles show people, places, and things that represent the idea of love and freedom. I mean, do I need to say more with this one?
Take a photo solo or with your partner and celebrate love!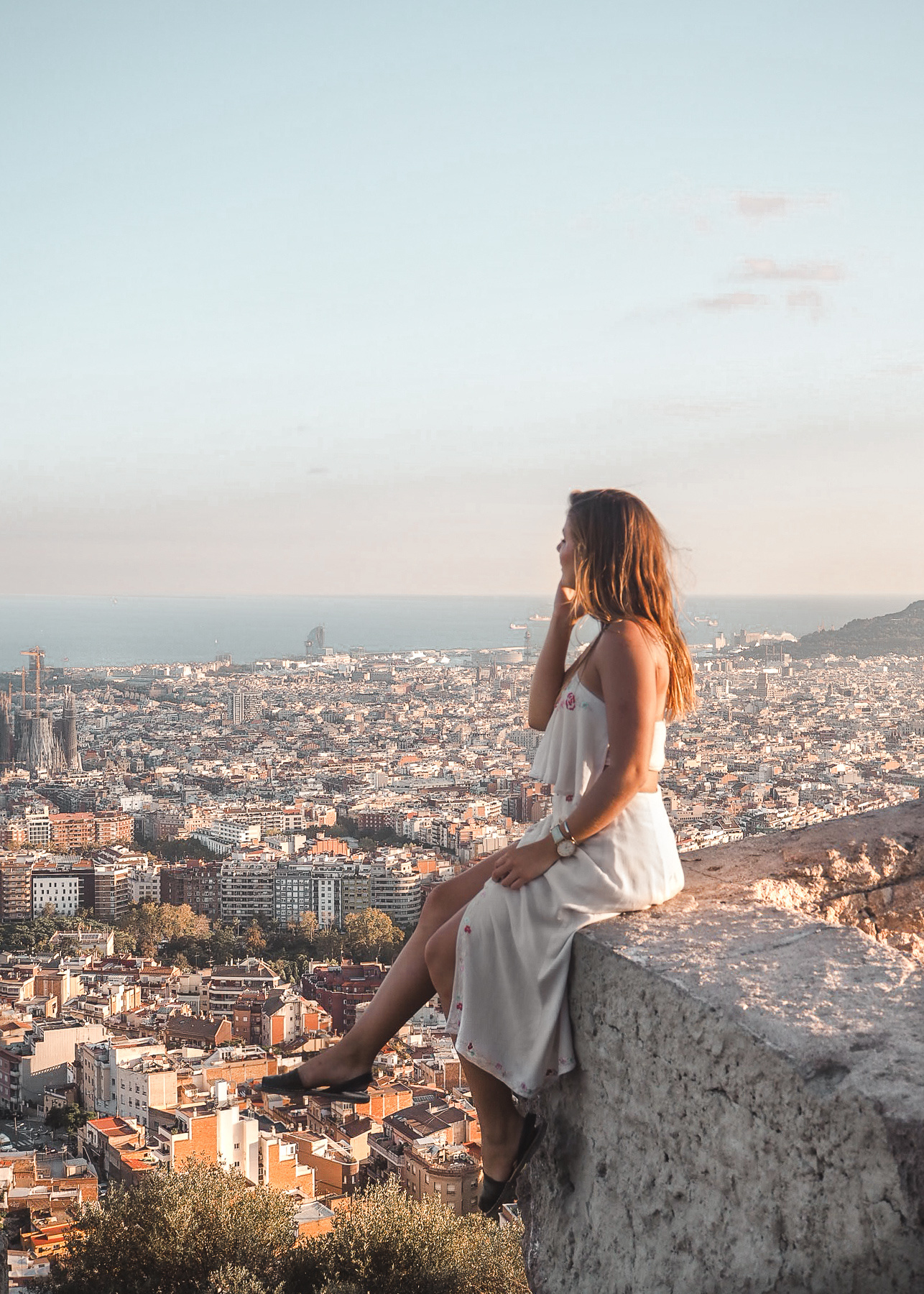 13. Bunkers del Carmel
Neighborhood: Gracia
This is by far my favorite spot to catch the sunset. You get insane views of Barcelona from here. You will always find locals having picnics, enjoying red wine, and taking in the sunset colors all around them. Grab some wine, fruit, baguette (& hummus?) and enjoy this instagrammable moment. You will want to come back here over and over again.
& a little extra….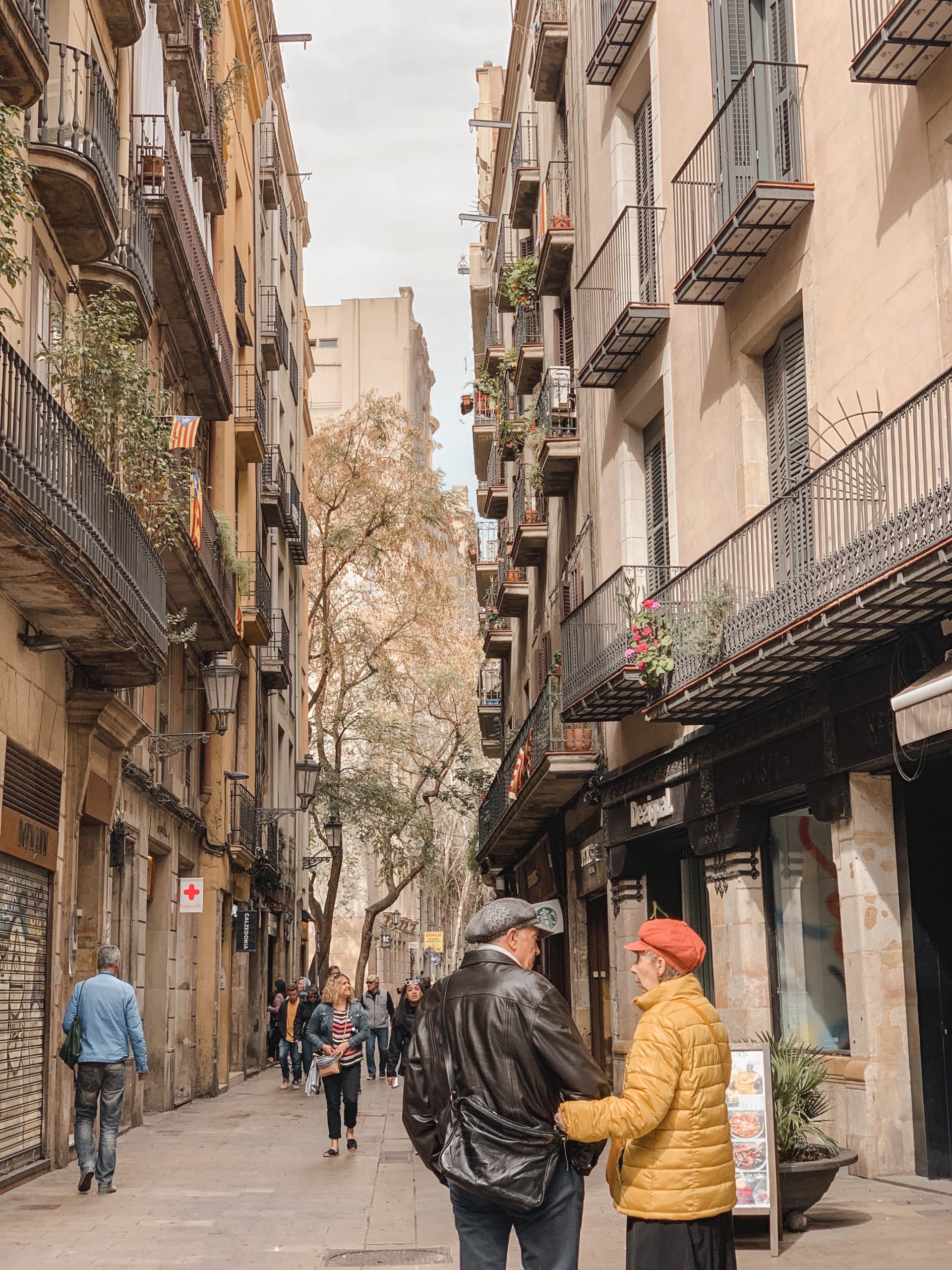 14. El Born
Neighborhood: El Born
This is not a specific spot, but it is my absolute favorite neighborhood to shoot in Barcelona. El Born is a neighborhood located in between Parc de la Ciutadella and Gothic Quarter. It is full of cute cafes, boutiques, picturesque alleys, and just cute everything. This is where I lived when I first moved to Barcelona and, even now that I've gotten to know the city's neighborhoods better, it's still my favorite. Just get lost in El Born and you will find some of the cutest instagrammable spots in Barcelona.
This blog post is also available as a Web Story 👇