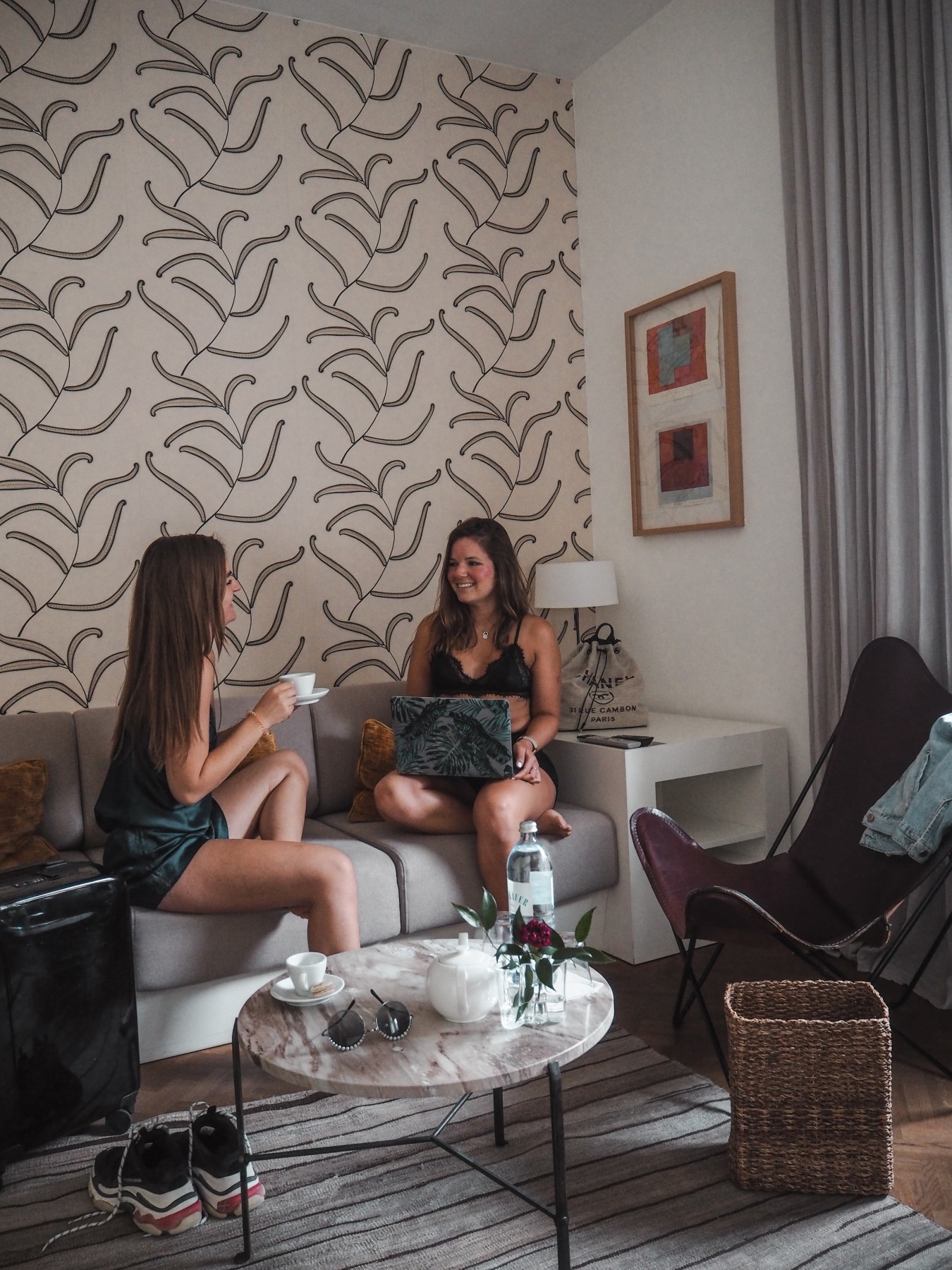 When I arrived at Cortiina Hotel I had no real expectations. Typically city hotels don't impress me much as they are not as in line with my aesthetic as beach resorts. However, Cortiina, a design hotel,  blew my mind with its minimalist decor, outstanding service, and vegan-friendly breakfast. It brought a little sunshine to my rainy days in Munich and was the perfect place to relax after doing a walking tour of Munich.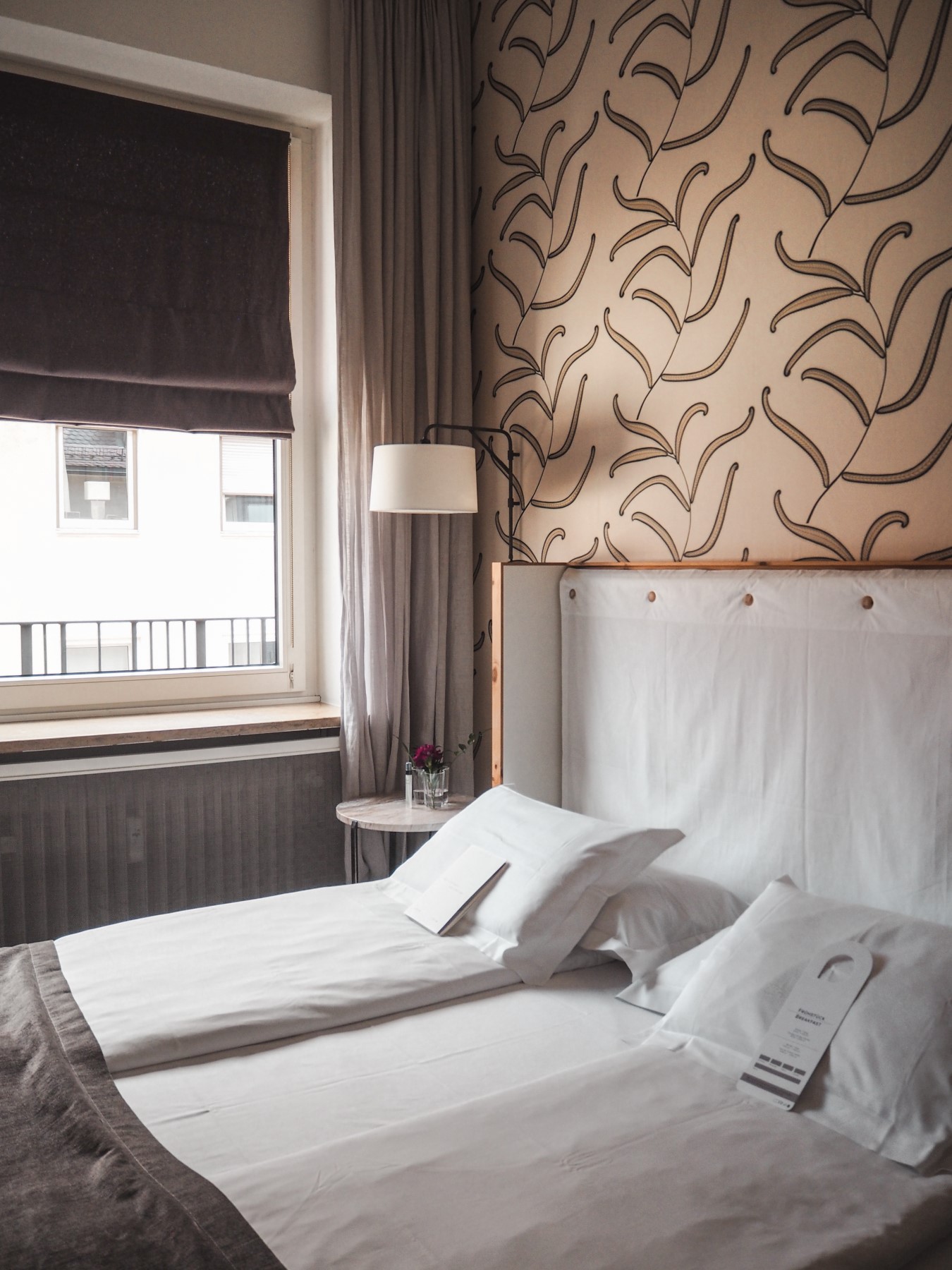 I stayed at Cortiina hotel for my first days in Munich. I came to the city to visit one of my best friends from Barcelona, Viki (@chiliconfashion). I'm sure you've seen her before if you follow me on IG! She stayed with me at Cortiina and we had the most amazing time goofing around, eating the entire breakfast buffet, and just catching up on these 4 months apart. It was the most amazing setting for a reunion!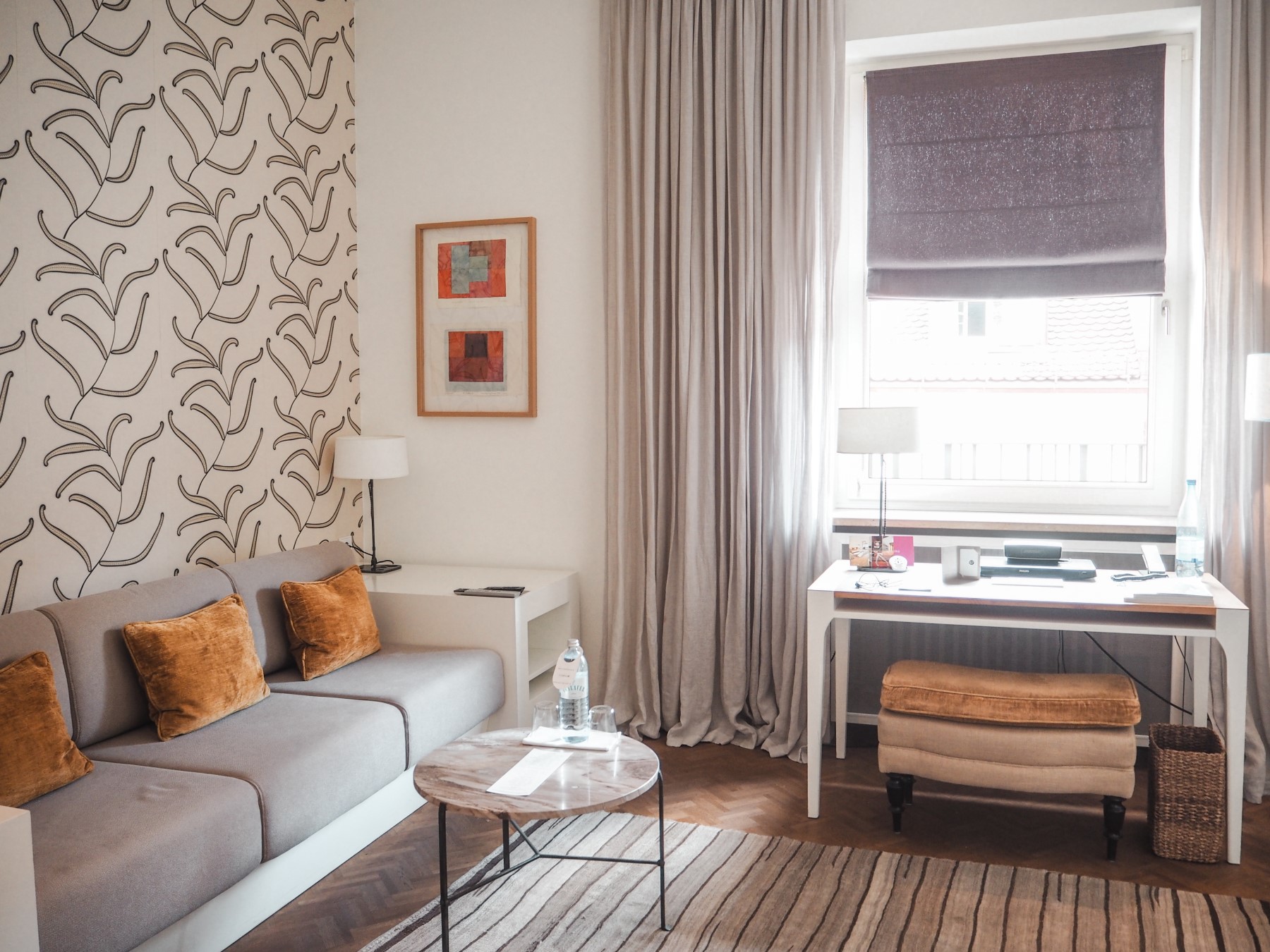 The hotel's decor is beyond beautiful, exactly the style of how I would like to decorate my apartment… once I finally find a spot to set some roots. It's very minimalistic, with a light color palette that almost feels beach-y but in a very elevated way that fits with Munich perfectly. Cortiina is a member of Design Hotels, and rightfully so with its stunning decor. I've been staying at mainly Design Hotels lately and have become a huge fan. They feel more home-y than traditional chain hotels and are always stunningly decorated. My suite was equal parts beautiful, comfortable, and practical – I even discovered a secret kitchen!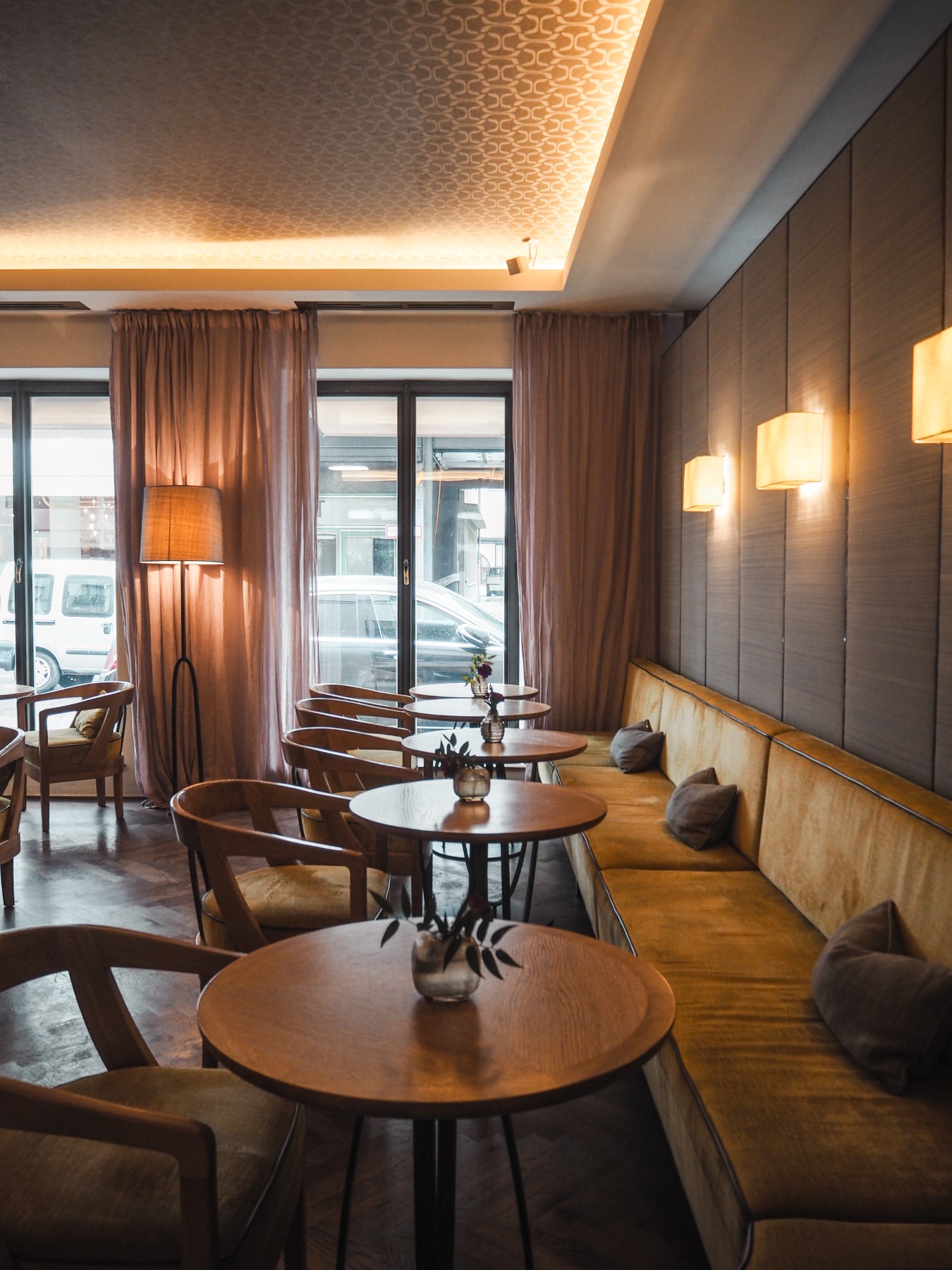 The staff at Cortiina hotel are what made this stay that much more special. They really went above and beyond to cater to our needs, from delivering us special pillows at 1am the first night to creating a smoothie bowl for me at breakfast, and always having a smile on their faces ready to answer any questions.
The breakfast was one of the best I've had at a hotel. It was so vegan-friendly that it blew my mind. Think avocado toast, hummus, grilled veggies, German bread, fresh fruit, loose leaf teas, nut milk, and even kombucha! So so delicious!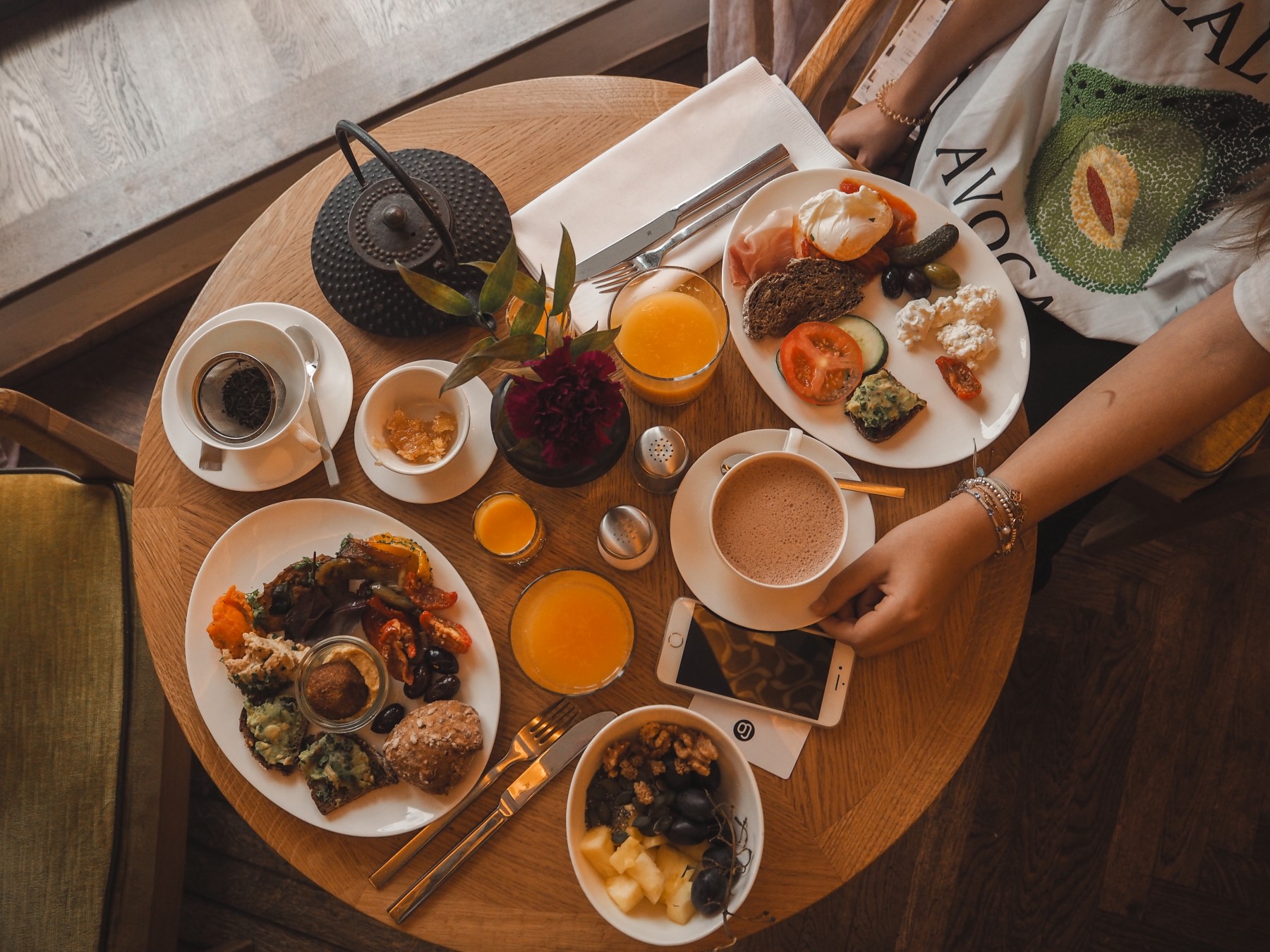 Overall I highly recommend Cortiina Hotel for your stay in Munich. If you value attention to detail in both design and service, then this is the place for you. This design hotel is also located in the heart of Munich so it's the perfect base to explore the city.
Have you been to Munich? Where did you stay? Let me know in the comments below!
Xx, Karen
Pin for later!