9 Most Beautiful Towns In Mallorca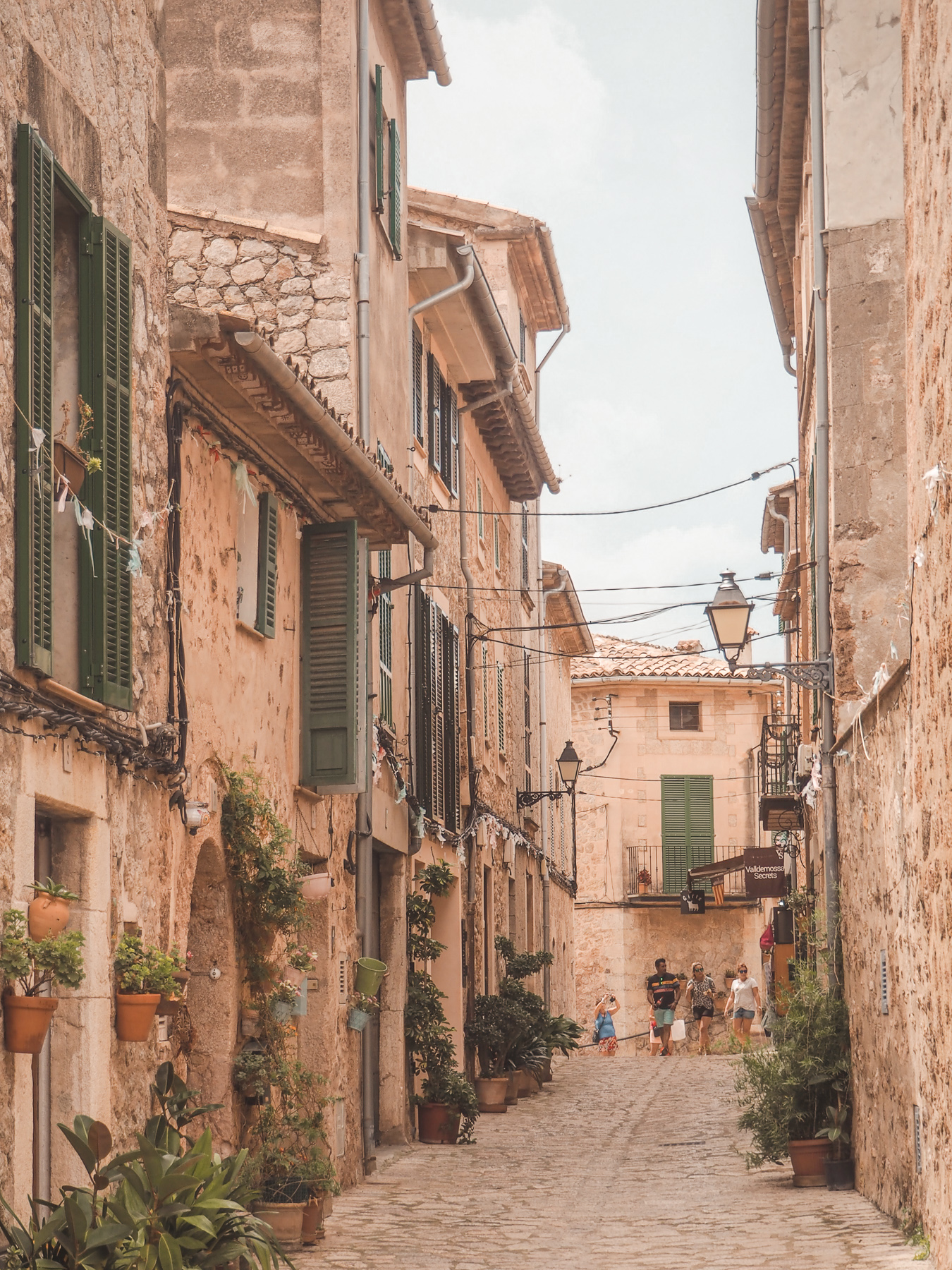 Mallorca is best known for being one of the top destinations for summer vacation in Europe.
I know, this is not news to anyone.
This is why I thought it would be a good idea to share another side of Mallorca.
The one most people don't know about and have not had the opportunity to see.
But as it happens, the fall can be a great time to visit Mallorca at a slower, more intimate pace.
You get the chance to see the island in a pleasant, milder climate.
If you happen to be organizing a visit this fall, please consider my selection of the 9 Top Picturesque towns in Mallorca to visit. Enjoy!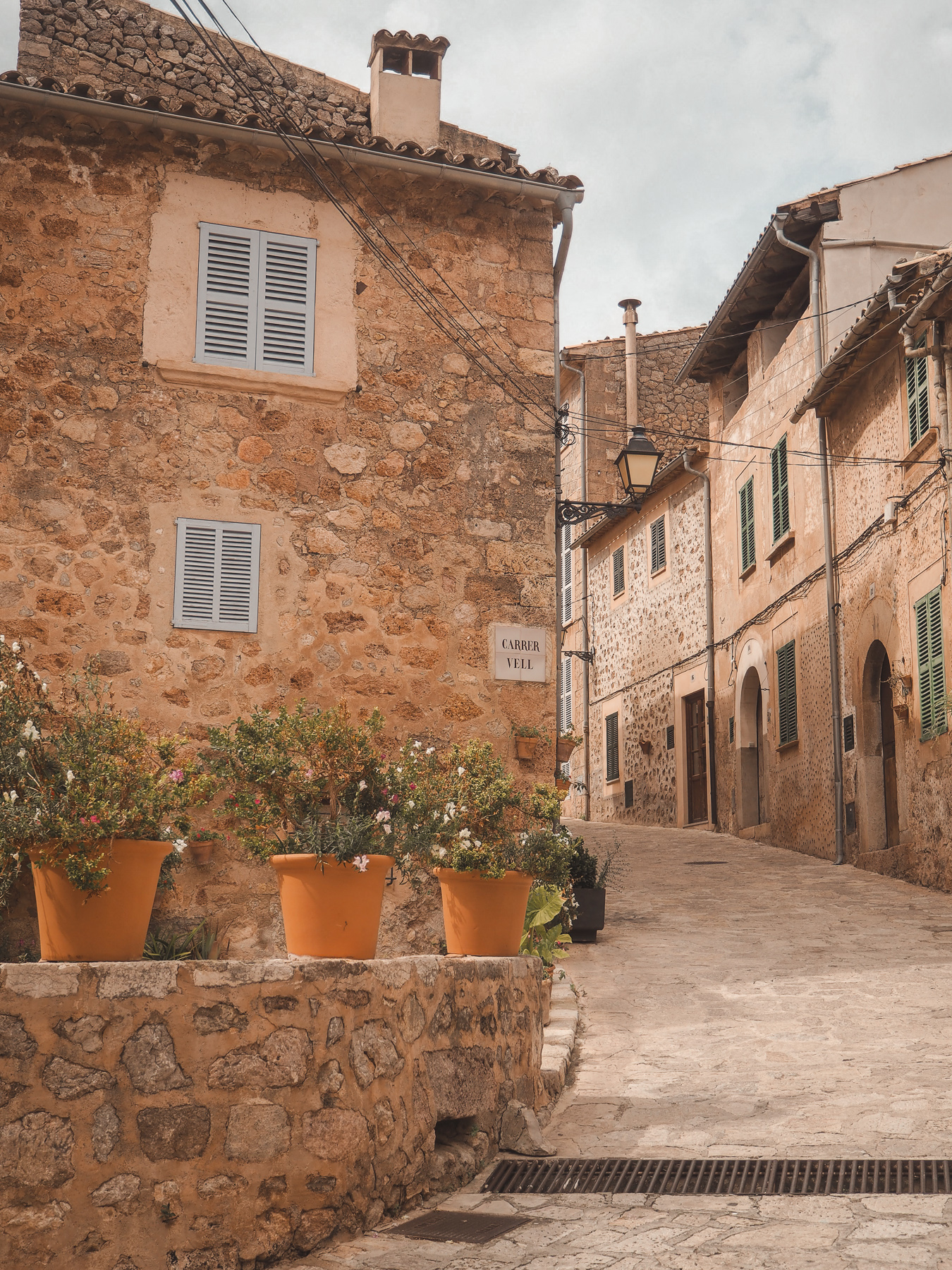 About Mallorca
Mallorca, also known as Majorca, is a Spanish island situated off the east coast of the country.
There is a large ex-pat community on the island, making it a world-class travel destination for digital nomads.
Medieval stone houses, crystal-clear waters, traditional fishing villages…
These are just some of the sceneries Mallorca offers.
Once you leave the biggest city and the capital, Palma, it feels like you are traveling back in time.
Best Towns In Mallorca
1. Valldemossa – Ancient village with Instagrammable spots
I already included Valldemossa in the top 10 instagrammable spots in Mallorca, but I felt I definitely could not leave it out of this top 5.
The drive to this town is already picturesque in itself.
On the horizon, you will see the "Serra de Tramuntana", the mountain range considered World Heritage by UNESCO since 2011. How's that for a view?
In contrast to the beach scene, you probably know Mallorca for, in the fall you will be able to see greener scenery along the way.
Things To Do In Valldemossa:
La Cartuja – You will get excellent views of Valldemossa here, as well as learn about the history of this former royal residence.
Walk along the town's streets to admire its architectural beauty.
And never leave without taking a picture of your hot chocolate and "coca de patata", a local sweet delicacy.
Valldemossa Charterhouse – Whether you are coming for the mesmerizing music atmosphere or medieval architecture, Carthusian Monastery is a must-see in this elegant hillside town.
At the monastery, you get a good view of the entire town with the mountains majestically sitting in the background.
Hiking – Valldemossa is the perfect gateway for hikers as well.
From here, the magnificent Tramuntana mountains are at your doorstep.
The hiking trails vary in difficulty, which gives you many options to choose from.
Where To Stay In Valldemossa
Although Valldemossa has no shortage of options, some of the accommodations can be quite pricey.
Overall, Residencial Suites Valldemossa is an excellent choice.
The hotel has a massive rooftop. There is no better place in Valldemossa to cheer a glass of wine while working on your remote projects.
2. Deià – Best beach destination
Deià is also one of the most picturesque towns in Mallorca.
And also the perfect place to add to your itinerary.
Why you say?
Because if you continue North after Valldemossa, it is the next town on your way. If you are short on town, it is a great idea to squeeze both towns in one day.
Things To Do In Deià
Terraces – With a similar vibe to Valldemossa, my best suggestion for Deià is that you choose one of the beautiful terraces along the center of the town.
Enjoy the views of the mountain and the sound of the flowing water torrents whilst you sip on a hot cup of coffee or tea.
The view from these terraces is simply the best thing you can admire here.
Cala de Deià – The incredible Cala de Deià is just moments away from the town center.
It is a popular tourist destination for beach lovers.
The blue and shallow shore does not bring in strong waves or tides.
You can soak your body in the cool water and take a nap while appreciating the mild breeze.
Ceramics by Joanna – This local pottery shop has become visitors' all-time favorite because of its delicate, hand-painted ceramics.
Shop owner Joanna is an artist who wants to share the local art of Deià with the world.
Her story has been featured in many publications.
Where To Stay In Deià
If you want to stay close to the center while meeting fellow digital nomads, Hostal Villaverde is the right place.
This three-story stone hostel has an exquisite common area with wooden interiors.
Budget travelers and backpackers usually stay here to make friends and share travel stories.
3. Cala Figuera – Idyllic Fishing Village With Fresh Seafood
Cala Figuera gives you an authentic Mallorca experience.
Located in the southeast of the island, this traditional fishing village is not rated as a tourist destination at all.
It still runs as a local port to transport freshly caught seafood to local restaurants in surrounding areas.
Most visitors only come to Cala Figuera for a stop before carrying on with their journey.
There are very few who choose to stay.
With few foreigners and ex-pats, you are bound to see a different side of Mallorca here.
Things To Do In Cala Figuera
Seafood – Every day at dawn, local fishermen come back to the port with their harvest all boxed up.
It is a chaotic, yet enchanting, scene to witness.
With a top supply line, you have to try the seafood while you are in Cala Figuera.
Local boat tours – Explore Cala Figuera with a boat tour.
It is the only way to maximize your stay.
A lot of hidden gems such as the rock caves and hidden beaches are only accessible by boat.
There is no need to book online as you will find local operators at the port.
Your hotel will also have several contact numbers ready for you.
Where To Stay In Cala Figuera
The best place to stay in Cala Figuera is Hotel Rocamar!
This 2-star hotel sits right by the port. From your balcony, you will see the sun rises above the horizon, guiding the fishing boats back to shore every morning.
Just imagine that view – it is worth your visit.
4. Soller – Picturesque Town With Wooden Trams
The picturesque part of Soller is already included in an alternative means of transport to get there: by train!
And although a train per se does not sound alternative at all, please bear with me!
The train you can take from Palma to Soller is a beautiful antique conserved train.
As well as taking you to Soller itself, it takes you to another time.
Things to do in Soller
Train ride – The journey to Soller on the train and the town itself.
Also, admire the orange and lemon trees along the way and take yourself to the Port of Soller with an antique tram.
Wooden trams – Taking the wooden trams in Soller is a must.
These historic wooden trams run all the way to Port de Sóller, where you can spend an afternoon along the coast and visit some beautiful beaches like Sóller Playa and Platja den Repic.
Gambas de Soller – During your time here, try the "gambas de Soller", which is a signature shrimp dish in town!
Fornalutx – Another small town 15 minutes away from Soller. At Fornalutx, you can see Puig Major, the summit of Mallorca.
This mountain peak at 1,436 m above sea level is a must-see.
Where To Stay In Soller
Accommodations in Soller are not as expensive as in other towns.
Hostal Nadal is the top choice because it is affordable and down to earth. This place has good wifi, which is essential for digital nomads.
Aside from caring for your professional needs, this place also has a bar area where visitors can get together and have a fun night in!
5. Banyalbufar – Best For A Wine-Tasting Experience
Like all of the towns mentioned in this post, Banyalbufar is located on Mallorca's west coast and in the "Serra de Tramuntana" area.
All towns have a similar style, but each of them has a unique essence to it.
I highly encourage you to include Banyalbufar in your plans.
Wander around and find all of the picturesque corners awaiting.
Things To Do In Banyalbufar
Wine tasting – When you are in Banyalbufar, you have to try the wine!
The village is famous for its wine production from Malvasia grapes.
Depending on the season, there can be exceptional vineyard experiences available.
Torre del Verger – This top landmark is found between Estellencs and Banyalbufar.
Therefore, it is a great place to include in your itinerary to connect both towns.
You also get to admire the tower itself, pretty well preserved considering it was built in 1579.
Where To Stay In Banyalbufar
In Banyalbufar, your options are admittedly limited.
Among the few places available, Son Borguny comes with the most irresistible holiday atmosphere!
Being elevated up on a hill, every room has access to incredible views that either sees the sea or the town.
6. Puerto Pollensa – Best seaside town for water sports
Outdoor lovers will fall in love with Puerto Pollensa immediately.
This seaside town is famous for all sorts of water sports including kayaking, canoeing, surfing, snorkeling, sailing, diving, and so much more.
Things to do in Puerto Pollensa
Platja de Can Cap de Bou – This beach is right at the town center that extends along the coastline.
If you plan to do water sports, there are several rental places to get your gear and have a fun time at sea.
Pollensa Market – Time your visit so you can visit the Pollensa Market on Sunday.
You will find loads of handcraft items, local specialties, dresses, and accessories.
If you are looking for unique souvenirs for friends and family, this is the place to be.
Sail tours – There are various sail tours locally.
You can either book a tour online or locally with cash.
These sail tours usually offer wine and tapas.
They take you out to the sea and sail along the coast for the day so you can discover sceneries only visible from the other side.
Where To Stay In Puerto Pollensa
Treat yourself to a luxurious hotel with a friendly price tag!
Hoposa Hotel Uyal is the cheapest, yet equally good, option along the beach in Puerto Pollensa.
There are spa treatment packages exclusive for guests as well.
7. Alcúdia – Best town for nightlife
Get ready to put your party hat on!
If you think small towns are not for partying, think again.
Alcúdia attracts lots of fun-loving visitors to its seaside resorts and clubs for an unforgettable night out in Mallorca.
Along the Alcudia beach, there are lots of local pubs that stay open all night long.
When the sun sets, the bar area turns into a dance floor. It's the right place to be for a good time.
Things To Do In Alcúdia
Old town – Alcohol and parties are not the only things Alcúdia has.
This resort town is one of the oldest towns in Mallorca. Discover the Mallorcan heritage with a stroll down the old town.
Every corner is photo-worthy!
Museo Sa Bassa Blanca – In this museum, you will learn to appreciate spectacular sculptures and how art has blended in with the local Alcúdia landscape.
You can spend the whole morning learning about art history and exploring the garden.
Where To Stay In Alcúdia
Being a popular party town, you will find all kinds of accommodations in Alcúdia.
Hostal Alma is a great choice for budget travelers.
It is close to the beach, spacious, and comes with a private swimming pool.
VIVA Golf Adults Only 18+ is the ultimate choice to stay away from screaming kids and chaotic family vacations.
Situated right next to the beach and a ton of bars, the hotel only accepts adult guests.
8. Estellencs – Best Hidden Gem Away From Tourists
If you are looking for authenticity, Estellencs is the place for you.
With no huge resorts and only small hotels to stay, it is great if you are looking for a place to retreat and enjoy a peaceful, fall weekend in Mallorca.
The town has a population of just under 400, so expect it to be the perfect place for an off-grid experience.
Things To Do In Estellencs
Hiking – The hikes you can take in this small town are its best quality.
You can admire the beautiful Mediterranean water on one side and the stunning "Serra de Tramuntana" mountain range on the other.
Historic stone houses – There are quite a lot of worn-down stone houses and ports in Estellencs.
The town has witnessed changes on the island and is the perfect place to immerse yourself in history.
You will not find any major hotels or resorts here. The village is almost the same as hundreds of years ago.
Cala Estellencs – For a fabulous sunset, go down to Cala Estellencs to see the sun shining its remaining glory over the astounding rock cliffs.
Where to stay in Estellencs
Unfortunately, there are only a few hotels in Estellencs. Hotel Maristel is a great one but given the number of rooms, it may not always be available.
I recommend coming to Estellencs for a day trip and staying in Banyalbufar to give yourself more flexibility.
9. Santanyí – Most exquisite town for shopping
Nestled between the mountains and the coast, Santanyí is a compact rural town with narrow and hilly roads.
The town is the perfect size to deliver the most original small-town vibe in Mallorca.
Going up and down the hilly streets can be exhausting, but you will not be disappointed because every vintage street is super photogenic.
They set the most ideal vacation photos for your Instagram.
Things to do in Santanyí
Saturday market – Every Saturday, street artists and vendors set up booths right in the town center, occupying several streets. They sell paintings, art products, jewelry, clothes, and street food. Locals love shopping at the Saturday market too, so it is not a tourist trap!
Caló del Moro – Simply 10 minutes in the car will get you to this secluded beach with minimal traffic!
Unless you go during the busiest months, this beautiful beach is usually quite calm.
You get to soak in the whole view and claim your territory here!
Where to stay in Santanyí
Finding a room in Santanyí can be a challenge. Since it is not a typical tourist town, there are fewer hotels for visits.
S'Hotelet de Santanyí is an excellent choice with the fairest pricing, quality, and convenience. Don't panic if you can't book a place here.
Cala Figuera is only 6 minutes away by car so you can always travel back down to stay by the sea.
Conclusion
What can I say, Mallorca is just incredible! The island is gifted with rich history and nature.
Most importantly, its small towns are preserved with their original looks and landscapes.
Once you step foot in these beautiful small towns, you are taken back to medieval times.
Visit these places in Mallorca to escape the ordinary vacation spots and add a little unusual element to your trip!
Pin for later!