Palm Springs is my second home.
It's only 2 hours away from Los Angeles and I have family that lives there so I find myself in the desert quite often.
Over time I've come to realize that I always pack the same type of items.
Whether I'm going to Palm Springs for a weekend or a full week, these are the items I bring along with me during the hot months (just add more for more days).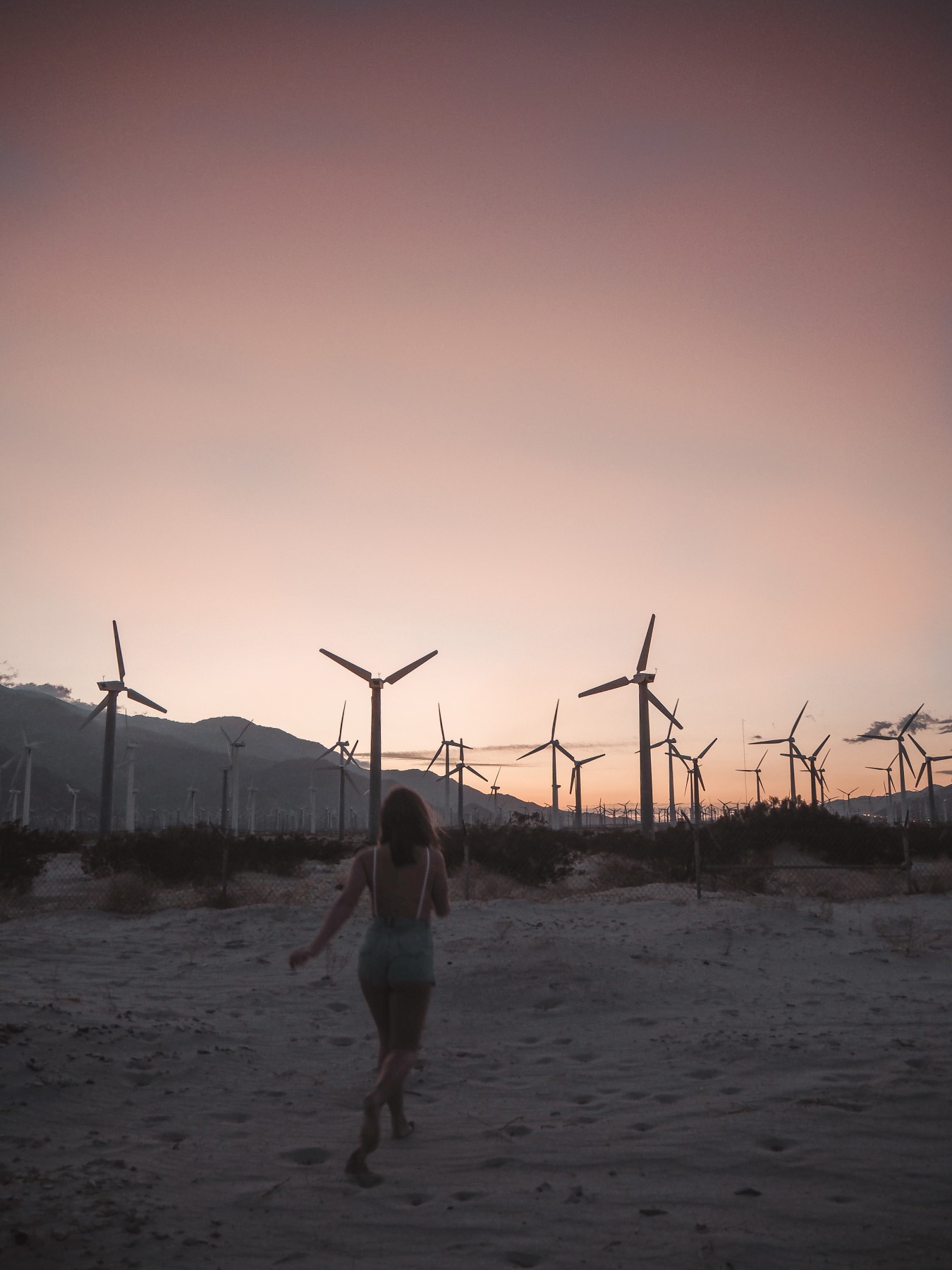 Before I jump into the packing list, I want to point out one surprising item that you'll want to pack year-round: a swimsuit.
Palm Springs is usually pretty hot (with the exception of winter, obviously). But even then I bring a swimsuit just in case I want to get in a hot tub.
Palm Springs is a desert oasis and it's a place where you'll have many pool moments. With that being said, if you're a water lover like me, bringing a few bikinis is essential no matter the season!
Now that we have this cleared up, onto the Palm Springs packing list and essentials, including what to wear in spring, summer, fall, and winter!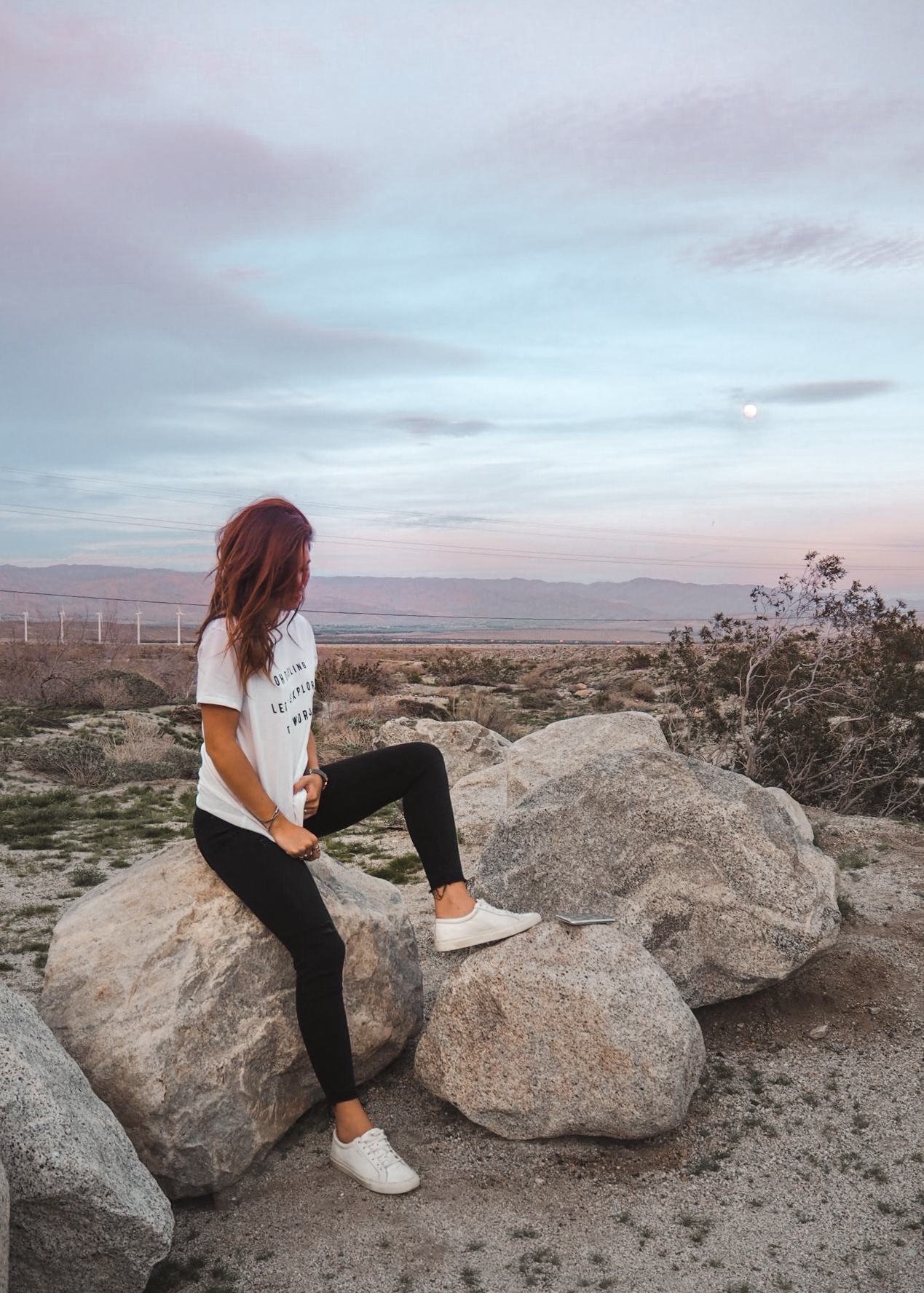 Palm Springs Weather
The weather in Palm Springs is warm year-round, with hot summers and mild winters.
California is known for its comfortable climate, so there is never a bad time to visit Palm Springs, assuming you know what to pack and wear.
If you're still feeling a bit lost on what to pack for a trip to Palm Springs in cold months like December or January or hot summers during July and August, we've got you covered!
What To Wear In Palm Springs In Summer
Summers in Palm Springs are very hot, with next to no rain and temperatures as high as 105° Fahrenheit. If you're visiting Palm Springs during this time, you should make sure to wear lots of loose clothing such as dresses, flowy skirts, or shorts.
You definitely won't need to pack a jacket because temperatures will still be in the 70s, even at night.
If you're wondering what to pack for a trip to Palm Springs in months like June, July, and August, just consider what you'll actually like to wear.
When the weather is hot, you'll want to be comfortable, so leave outfits that are too tight at home.
What To Wear In Palm Springs In Fall
In late September, temperatures in Palm Springs begin to drop, and by October, you'll have to wear a light jacket in the evenings.
You'll still be able to get a lot of use out of your summer outfits, but packing long pants and maybe even a sweatshirt is recommended if you're visiting Palm Springs in October and November.
Expect temperatures in the 70s and 80s during the day and 50s at night.
If you're still not sure what to wear in Palm Springs in fall, scroll down to read our outfit ideas.
What To Wear In Palm Springs In Winter
Luckily it never really gets cold in California even in winter.
In December, January and February, you'll want to pack a few sweaters to wear during your time in Palm Springs, but you'll still get plenty of sunny days.
Expect a little bit more rain and maybe even pack a coat.
No need for gloves or scarves, though!
Temperatures rarely go below 50° during the day, and nights are only slightly colder.
Picking what to wear in Palm Springs in cold months like December or January might seem tricky, but it's easier than you think with our outfit ideas below.
What To Wear In Palm Springs In Spring
Spring might just be the best time to visit Palm Springs.
In March, the weather starts to become warmer and by May, you'll almost be ready to wear your summer outfits again in Palm Springs.
Bring long pants but lots of t-shirts and tops.
A sweater or two might be smart to pack if you're coming to Palm Springs in spring because you'll never know when you might need to layer up.
Temperatures will be in the 80s and 90s, so plenty of opportunities to go to the beach.
Palm Springs Outfit Ideas For Spring And Summer
Palm Springs can get incredibly hot.
If you're not dressed for summer, you'll be regretting your outfit choices and will end up a sweaty mess during your trip.
If you're still wondering what to wear in Palm Springs in summer, you need to try an outfit with a white dress similar to this one.
Choose the fabric like linen or octton that is light and breathable and will keep you cool on hot days.
Leave your sneakers at home and grab a comfortable pair of Birkenstocks or basic sandals instead.
Now accessorize with gold jewelry and a little leather backpack so you can easily carry your belongings during a day out and about.
If you're not much of a dress person and aren't sure what else to wear in Palm Springs in summer or spring, the next outfit is for you.
You'll want to choose a comfortable pair of denim shorts, ideally with a mom cut.
If they're too tight, you'll be sweaty. Now pair them with a crop top or even just a bikini top.
Complete your look with a baseball cap to keep the sun out of your eyes and a big tote bag to hold your towels and sunscreen.
You're ready to go!
Palm Springs Outfit Ideas For Fall And Winter
Fall and winter are fantastic in Palm Springs, especially if you're trying to escape the snow and cold.
A great outfit to wear in fall in Palm Springs is a plaid skirt with an oversize sweater and a tank top underneath.
Since you'll still get some hot days you'll want to have the option to take off your sweater in case you feel warm.
Finish off your outfit with a pair of leather boots and a cross-body bag.
These are some absolute essentials you need to add to your Palm Springs packing list.
In winter, you'll want to layer up and wear warmer clothes in Palm Springs.
While it doesn't snow, there can be some rainy days, so pack an umbrella.
Pick a pair of comfortable denim jeans with wide legs.
Pair them with a tight long sleeve top and silver jewelry.
Finish up your look with a cozy fluffy jacket and boots.
You'll be warm all day and ready to explore Palm Springs. If you're unsure what to wear in Palm Springs in December, this outfit is foolproof.
Palm Springs Packing List
Here's what you absolutely need to pack for Palm Springs:
Swimsuits – Bring a couple!
Beach-y dresses – the more lightweight the better (it's the desert).
Denim Cut-offs – too hot for pants.
Natural fabrics – lightweight cotton and linen tops will be your BFFs. Why? These fabrics BREATHE.
Sandals – one for the pool, one for walking around, one heeled for dinner.
Towel or Sarong – to layout by the pool.
Sunscreen – the desert sun is no joke. You'll need some SPF. Don't forget to pack one for your face too! We like using this tinted one so we don't have to wear makeup. This CC cream is also great and provides more coverage.
Hats – cover up your face so you don't get wrinkles + they're cute for pics.
Face moisturizer – the dry weather will dry out your skin so fast. This is a must! We love these ultra-moisturizing serums.
Water bottle – The desert heat is very dehydrating in the summer. Keeping a reusable water bottle with you at all times is a wise choice. We love this one here.
Beach bag – try to bring one that also doubles as a normal day bag. We love straw bags for the pool/beach and exploring.
Toiletries – Obviously don't forget to pack the rest of the essentials. (Razor, toothbrush, hairbrush, face wash, deodorant, etc).
Underwear – unless you like to go commando. You do you.
There you have it! These were our Palm Springs essentials.
You Might Also Like To Read:
Pin for Later!