Palm Springs is one of those places you constantly see on Instagram. Ever since Coachella became a world-wide phenomenon people from all over flock to Palm Springs for weekend escapes, and to get a photograph with that pink door.
Let's not be so basic here and point out the obvious Insta-famous spots in Palm Springs. Everyone and their mama already has a photo with #thatpinkdoor and frankly, I'm sure the neighbors aren't too thrilled about its fame.
Other common Instagram-photo spots? Hotels – The Parker, Arrive, ACE, Korakia Pensione, etc. While these are all beautiful places, they are not a true representation of the desert landscape and don't show any natural beauty. If you want to capture those #desertvibes then move away from the Insta-famous spots and head to these underrated photography spots in Palm Springs instead.
The Best Underrated Photography Spots in Palm Springs
So let's dive into the best places to take pictures in Palm Springs: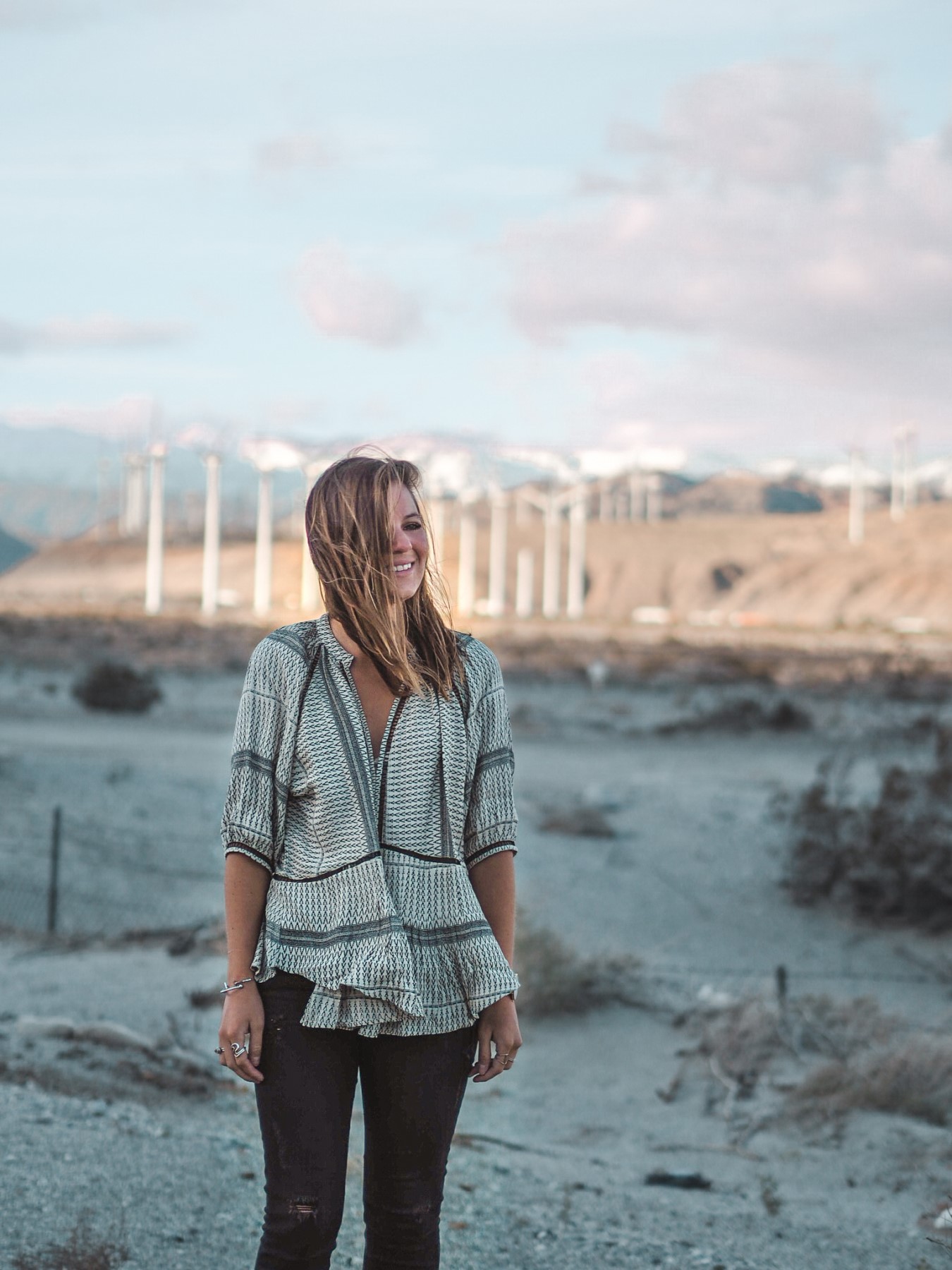 The Windmills – Best Place to Watch Sunset in Palm Springs
The key to getting the best photos at the windmills is to go for sunset. Golden hour is magical here and you are bound to see at least one other photoshoot going on. Here you will catch the beautiful colors of the sunset set against an open desert landscape. The mountains have a misty glow that will give you some amazing photos.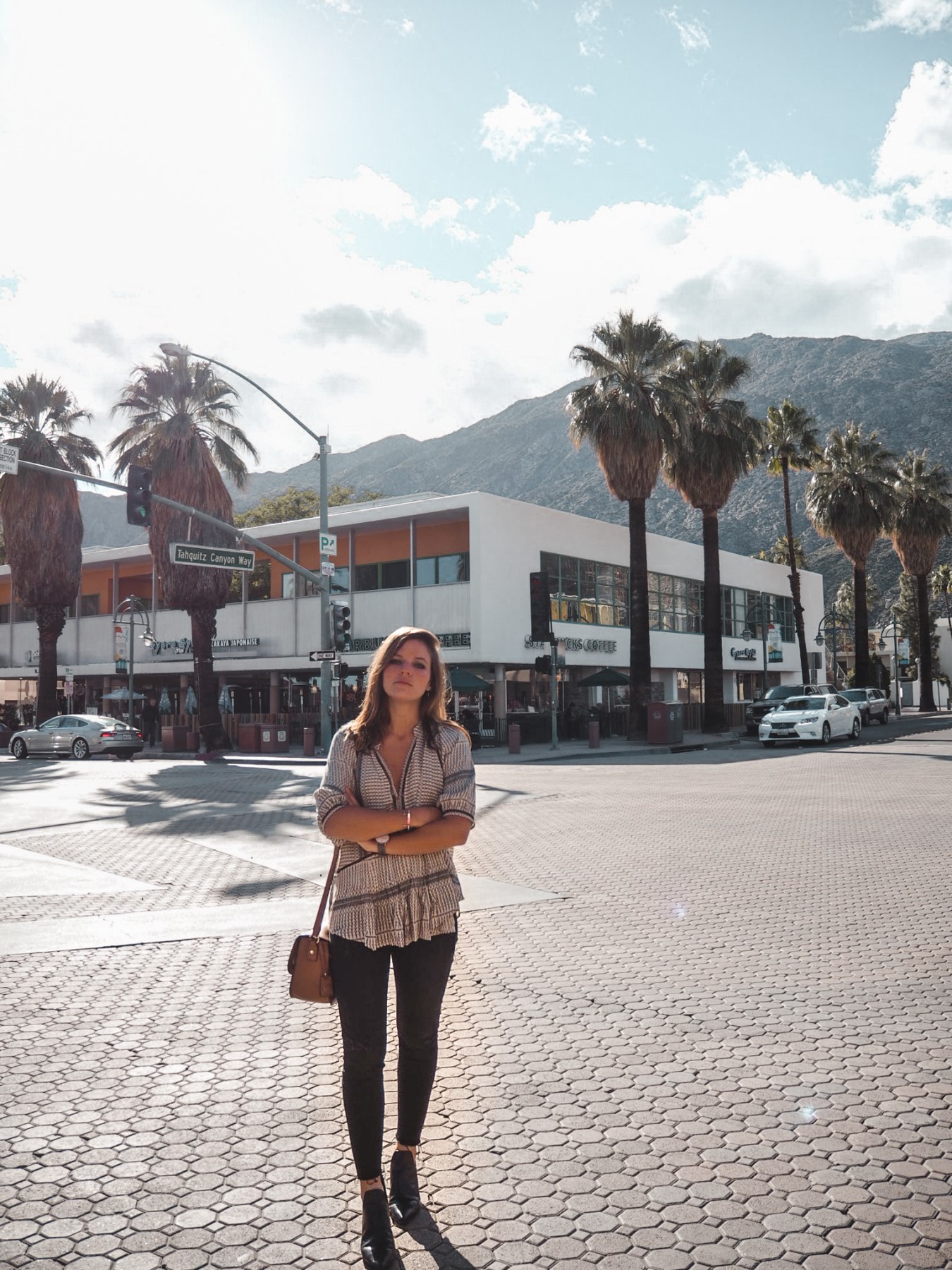 Residential Streets by Palm Canyon
Step slightly out of the downtown area and into the residential streets and you'll find some great underrated photography spots in Palm Springs. The streets are lined with palm trees and have great mountain views – both amazing backdrops for a road pic. We found a street near the Korakia Pensione that is perfectly lined with palm trees.
Morten Botanical Garden
This place has become more popular on Instagram, and for good reason. Morten Botanical Garden is located near downtown Palm Springs and is full of cacti. The admission fee is $5 per adult and $3 per child. The whole place is filled with beautiful varieties of desert flora, but the main photography spot is the greenhouse. Therefore, this is where you'll get perfect lighting no matter the time of day, and it's full of the coolest cactus and succulents you could ever imagine.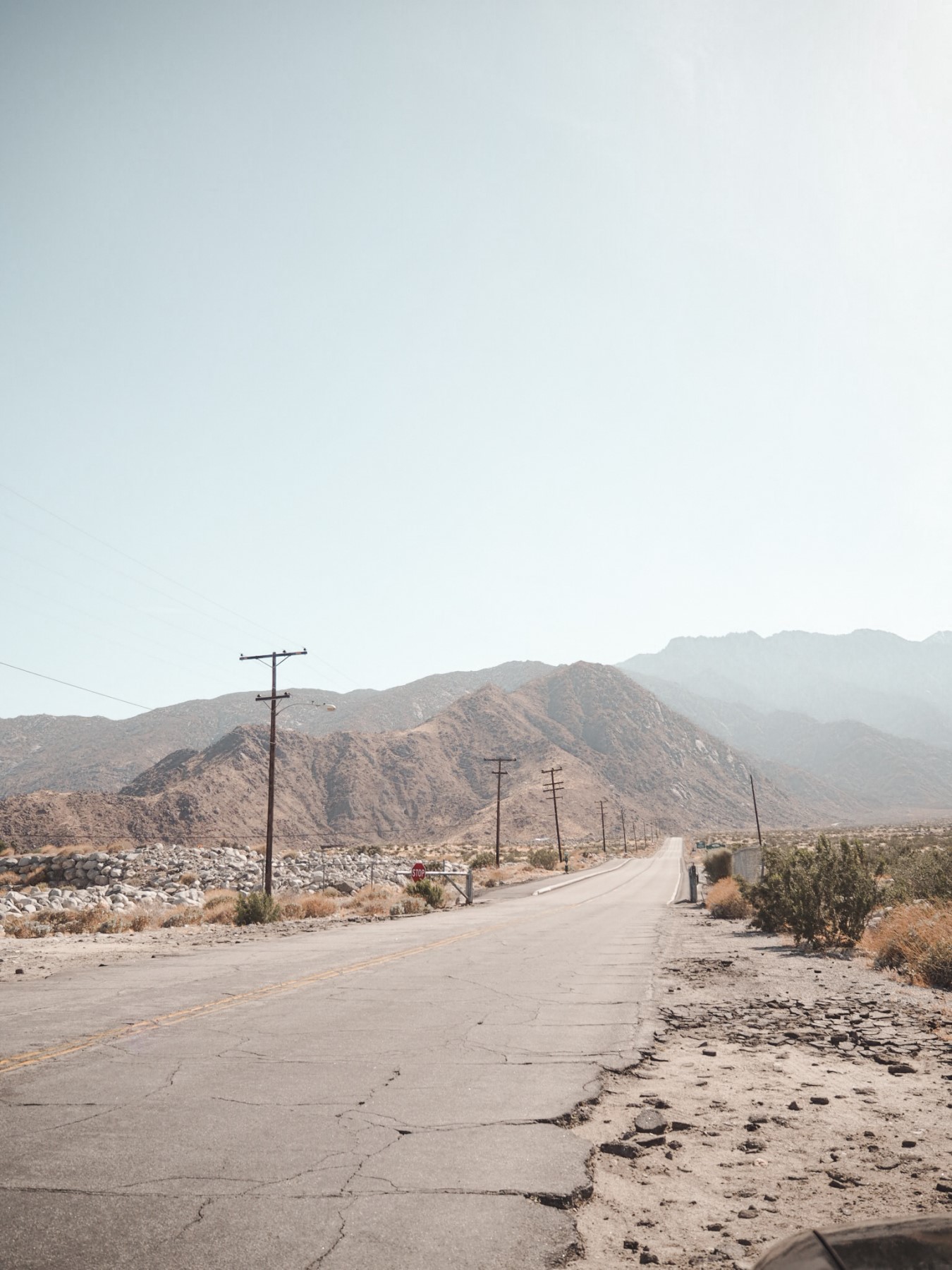 Empty roads off of Highway 111
Keep your eyes peeled when heading back to the freeway. As you get closer to the I-10 you'll find some amazing empty cracked roads. They are what road trip dreams are made of! Pull over and get in the middle for the perfect desert road trip photo op. Sometimes the unexpected places in Palm Springs are the best if you want to take pictures.
Parker Palm Springs
Parker in Palm Springs is one of the most popular instagrammable places in Palm Springs. This luxury hotel has an iconic breezeblock wall with a bright orange door that will look great on any Instagram feed. Luckily you don't even need to stay at the hotel to take a photo here. Just make sure you come early, as this is definitely not one of the more secret spots on this list of instagrammable places in Palm Springs. You might even have to wait in line to take a photo here.
Palm Greens Cafe
Located in Palm Canyon, this cafe and restaurant might seem inconspicuous at first. But it's actually home to a beautiful outdoor mural wall which is perfect for taking photos. It's also one of the most scenic spots in Palm Springs because of its beautiful mountain vista backdrop. Who can resist two instagrammable features in one?
Flamingos at JW Marriott Desert Springs Resort & Spa
The JW Marriott Desert Springs Resort & Spa is a beautiful luxury hotel with several pools and lakes for guests. This is somewhat of an unexpected Instagram spot because, surprisingly enough, the resort has flamingos in one of their lakes. In fact, they have a whole flamingo island right at the entrance to the property. You can pretend you took an exotic vacation without even leaving Palm Springs if you take a photo at this Instagram spot.
The Shops at Thirteen Forty Five
You've heard of the pink door now, get ready for Palm Springs' very own pink wall. The Shops at Thirteen Forty Five is home to several stores and even art galleries and should be on your list of things to do anyway. While you're shopping, you can grab a
quick picture at one of the best photo spots in Palm Springs. It may not be as well known as the pink door but the pink wall is definitely gaining popularity, so pack an unusual outfit to make your picture unique.
Salvation Mountain
An hour outside of Palm Springs, you'll find Salvation Mountain, a quirky and unusual place. If you're looking for weird and wonderful scenic spots in Palm Springs, this secret location is definitely a great choice. The colorful art installation has religious origins but has become somewhat of a roadside attraction. With dozens of places to take pictures, you'll never run out of instagrammable content on your trip to Palm Springs.
Hotel California
What is more photo-worthy than the Hotel California? Everything about this place is aesthetically pleasing. The muted colors, the palm trees, and of course, the vintage lettering. Pack your camera and your best sundress to snap the perfect picture.
Definitely make sure to visit these instagrammable spots in Palm Springs on a sunny day to really get the California vibe across.
Aloha Hotel
You might have noticed that bright-pink things tend to attract those on the lookout for the best photo spots in Palm Springs. The Aloha Hotel is no exception, and its giant pink sign goes perfectly with the pink door and pink wall. Bonus points if you manage to
get the surrounding palm trees in the shot as well.
Coachella
It's safe to say that a good amount of people mainly go to Coachella for the Instagram content. Who can blame them? This world-famous festival is just way too photogenic to pass up. The giant Ferris wheel is definitely one of the best photo spots on the grounds, but if that's too basic for you, there are plenty of more secret places to take pictures at this annual Palm Springs extravaganza.
Monster Shakes
You might have seen these giant milkshakes on social media before. They come with extras like cotton candy, whole ice cream cones, or even donuts. There is no way you can order one of these without snapping a picture first. This is one of the coolest places
to take pictures in Palm Springs, and of course, the milkshakes alone are more than worth it! If you're not in the mood for a sugary treat, you'll be pleased to hear that the inside of the Monster Shakes cafe is just as pretty as their products. Their vintage
cotton candy machine is a favorite!
Desert X Wishing Well
This impressive art installation might not be pink, but the yellow is just as pretty against clear blue skies. Use the hundreds of yellow cubes as a backdrop for your photos or capture the entire statue in front of the desert landscape. Plus, there are two of the giant yellow boxes, so you won't have to wait to take a photo here. If you're looking for unusual places to take photos in Palm Springs, you'll love the Wishing Well statue.
Colorful Building at The Saguaro Palm Springs​​
Hotels in Palm Springs are far from boring. Head to the Saguaro to snap pictures of the iconic colorful columns that decorate the exterior of the building. They come in all shades of the rainbow, so you can either pick one that fits your Instagram feed or get
them all in the frame. To take your picture to the next level, make sure to get one of the beautiful palm trees in there as well.
Instagrammable Bathroom at Boozehounds Palm Springs
Boozehounds is a cute bar located in the heart of Palm Springs and the perfect spot to grab a few delicious cocktails after a long day of visiting photo spots. However, the true instagrammable location is hidden away in the women's bathroom. This place is
surprisingly beautiful with neon signs and, of course, lots of pink. Grab your girlfriends and your photogenic cocktail and get to work.
Cabazon Dinosaurs
Name one person who has actual dinosaurs on their Instagram feed. Luckily in Palm Springs, you'll have your pick between not one but two giant dinos located right in the city. One is bright pink and one green, so you can decide which one fits your feed. Low
angle photos are highly recommended here! That's how large these actually are.
Good Times Are Calling
In Palm Springs, good times are always calling. The Wesley Palm Springs, which is a beautiful luxury hotel, has provided us with one of the most fun instagrammable photo spots in the area. A large neon sign with several vintage phones makes for the ideal
photo opportunity and props to go along with it. There are three phones, so this is the ideal excuse to pose with a partner or best friend. Did I mention the wall is pink? You'll love how these photos turn out.
Colorful Doors
Palm Springs is known for its colorful doors. The famous pink door is only one example of the iconic Instagram photo spots the city has to offer. With lots of pastel shades and brightly colored doorways around town, you'll always have an excuse to stop and snap a picture. Just make sure you're respectful when recording private properties, and ifpossible, ask the owners first. Some of the best streets for finding colorful doors are Murray Canyon Drive, E Sierra Way, Kings Point, and Alhambra.
Rowan Kimpton Hotel – Rooftop Wings Mural
The Rowan Kimpton Hotel has a beautiful rooftop with little seating spots and scenic views of Palm Springs. The most exciting part is a giant wings mural painted on the wall. It's colorful and bright and is one of the best places to take photos in this part ofPalm Springs.
Rooftop access is limited to hotel guests only, but if you ask the staff at the front desk nicely, they will most likely allow you to go up and take pictures. Just make sure you're visiting during a quiet time and don't stay for too long.
Rancho Mirage Vintage Car Wash Sign
There is a fantastic selection of cool instagrammable spots in Palm Springs, and the Rancho Mirage Car Wash Sign is one of the best places. It's – you guessed it – bright pink, so it will perfectly go with the photos you've taken in Palm Springs so far. We all
know a consistent feed is the goal! And who wouldn't want to have a pink elephant in their Instagram photo? This place is not only unusual but also one of the more secret instagrammable spots in Palm Springs.
Indian Canyons
Indian Canyons is a stunningly beautiful nature reserve located outside of Palm Springs. This is a fantastic area to take photos of palm trees which this part of California is so well known for. Make sure to go on a hike to truly get to the best instagrammable places in the canyons of Palm Springs. You'll find yourself in awe of the stunning beauty of this reserve and the many photo opportunities at every corner. If you're looking for scenic Instagram spots in Palm Springs, put Indian Canyons at the top of your list.
You Might Also Like To Read:
Pin for later!